141st Jagannath Rath Yatra begins in Ahmedabad amid unprecedented security, CM,Dy CM use golden brooms for Pahind ritual
July 14, 2018

Ahmedabad:
Amid unprecedented security, the 141st annual Jagannath Rath Yatra here started at 7 this morning with Pahind Vidhi by CM Vijay Rupani and Deputy CM Nitin Patel in the Jagannath temple in Jamapur area of the city.
Earlier BJP president Amit Shah participated in the Mangla Aarti in the temple early morning at 4am. The eyes of the 3 main deities Lord Jagannath, elder brother Balbhadra and sister Subhadra tied with cloth stips two days ago during Netrotsav ritual were also later opened amid chants of mantras. They golden crowns donated by a group of devotees to the deities yesterday have also been put on the heads of the idols.
The CM and the DyCM jointly performed Pahind ritual before start of the rath-yatra amid tight security. They used golden brooms to symbolic cleaning of the temple premises.
CM Rupani later said that he has prayed for the prosperity and development of the people and state of Gujarat and also for the good monsoon.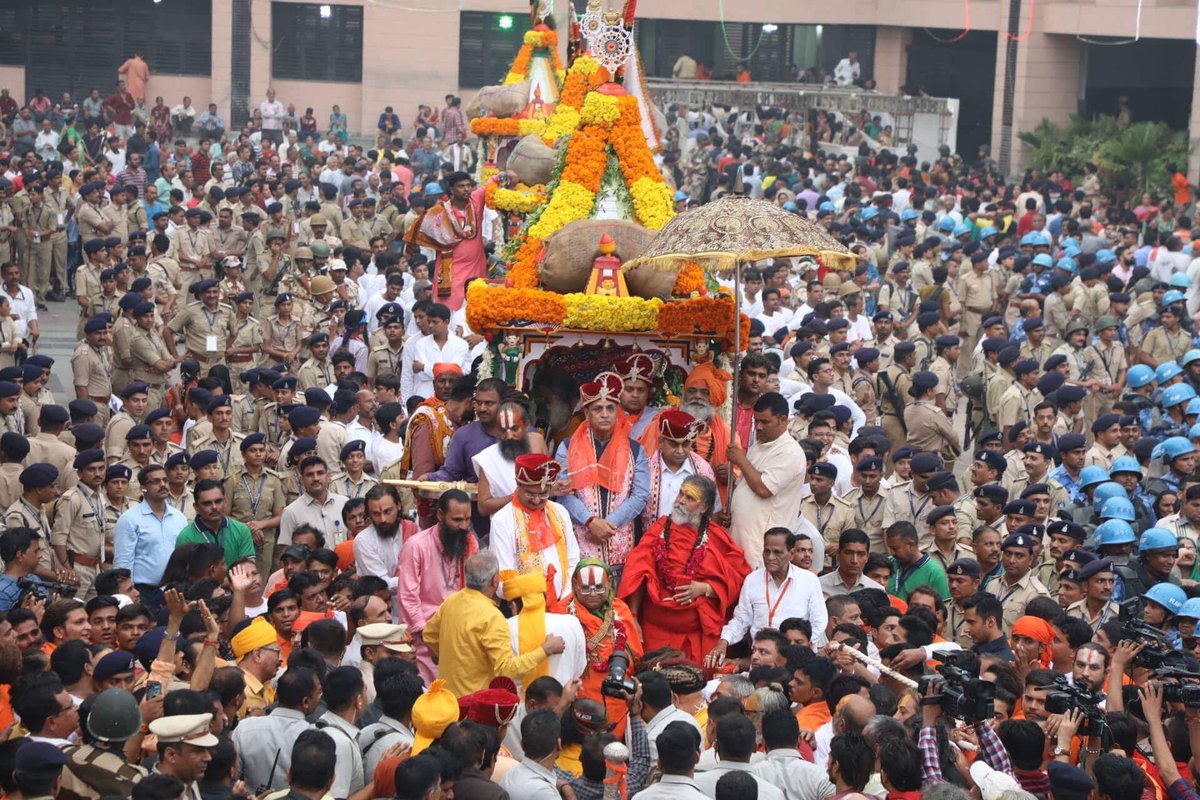 CM Rupani had also visited the temple last evening to participate in Sandhya Aarti. He had taken stock of the security arrangements for Rath-yatra through his dash-board in his official residence in capital Gandhinagar yesterday. NSG commandoes had also marched on the yatra route in their vehicles.
Offerings sent by PM Narendra Modi were also received by the temple yesterday.
The Rath Yatra will take the traditional route via Municipal Corporation, Raipur Chakla, Khadiya crossing, Kalupur cirlce to reach the Mosal at Sarspur and return to the temple late in the evening via Prem Darwaja, Delhi Chakla, Shahpur, Ghee Kanta, Manek Chowk.
Over a dozen decked up elephants, 101 tableau, 30 akhadas, 18 bhajan mandalis and 3 band parties are part of the rath yatra. Over 2500 saints from across the country are also participating in it. Around 30000 kg of Moong (green gram), 500 kg Jamun (Indian blackberry), 300 kg of mangoes and 400 kg of cucumber/pomegranate would be used for prasad.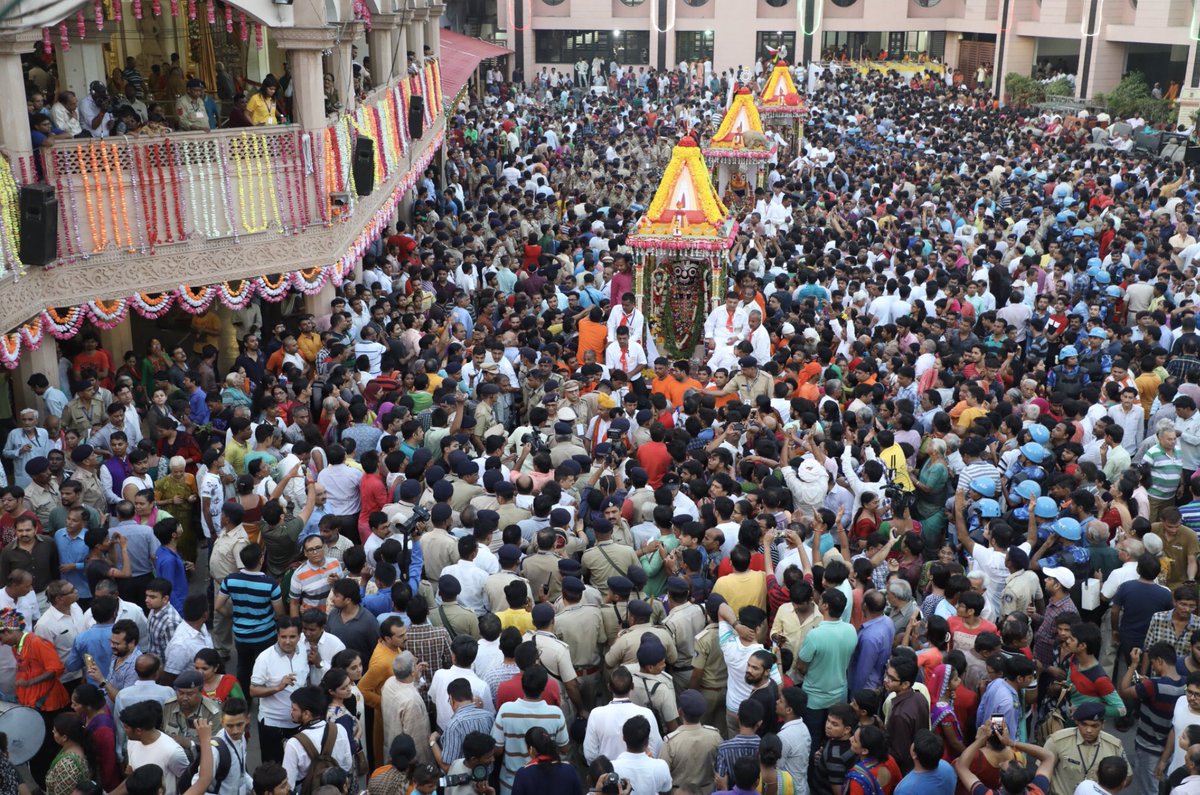 Notably, over 20000 security personnel including SRP and para military forces, NSG have been deployed on the rath yatra route which is under the eye of over 190 CCTV cameras and drone cameras. Israel made Drone guard system and helium balloon are also being used for security of the procession.
14 routes will remain closed at different times for the yatra. Several routes of the AMTS and BRTS bus services have been diverted. Over 1100 traffic personnel have been deployed for maintaining the traffic during the yatra.
Met department has ruled out any possibility of heavy or very heavy rain in the city today, however light to moderate rain is expected.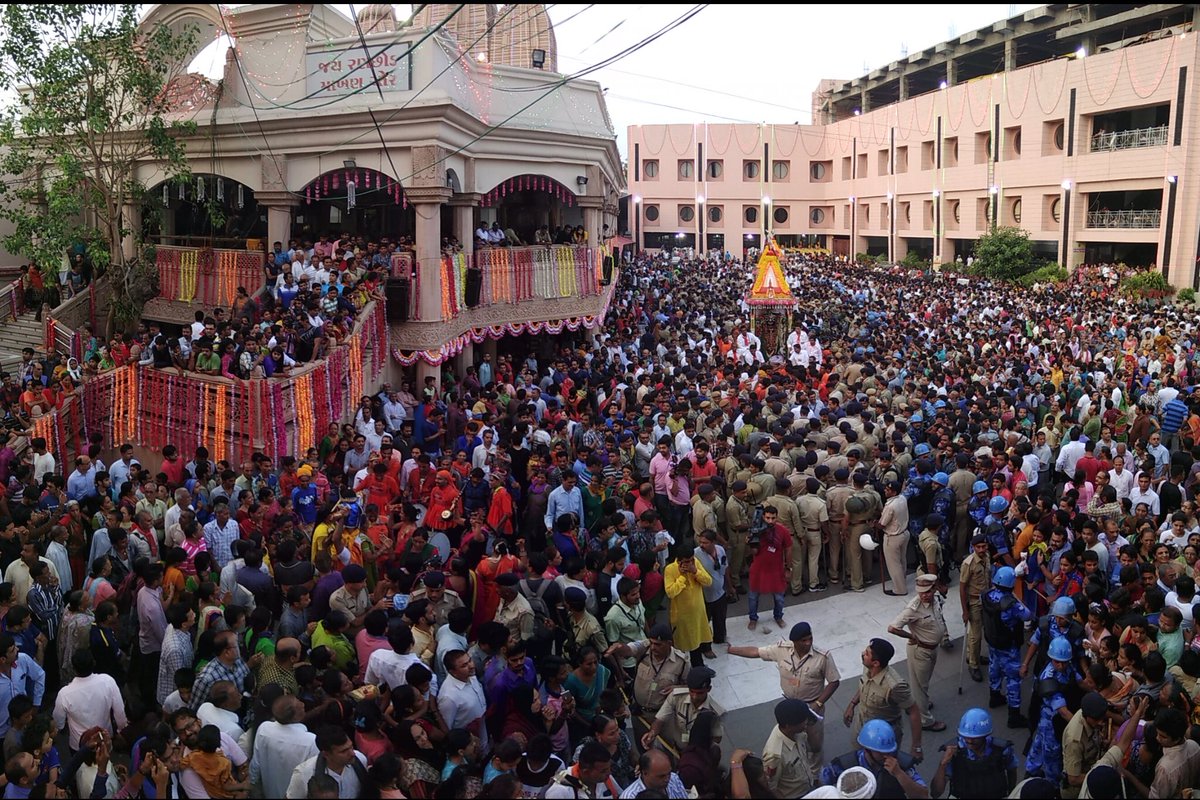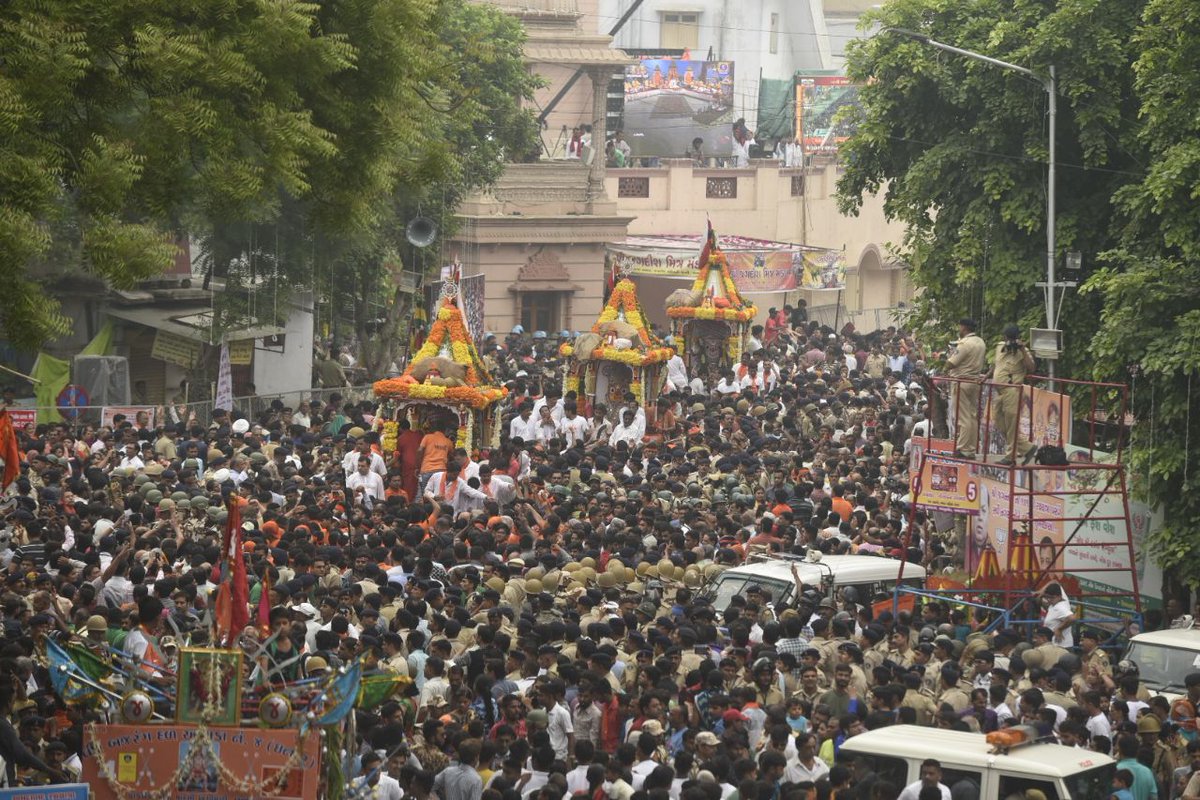 DeshGujarat