'RFP for 1000 MW first phase of Dholera Solar Park project to be out in a month period'
July 20, 2018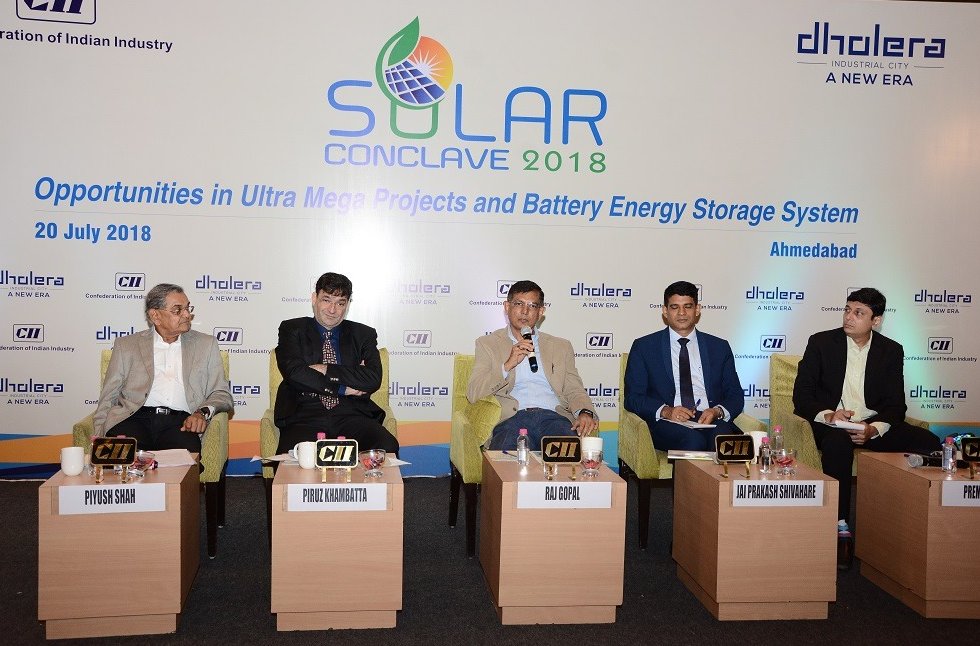 Ahmedabad: A Request for Proposal(RFP) for setting up 1000 MW solar park at Dholera will be out in week or two, said Raj Gopal, Principal Secretary for Energy and Petrochemicals, Government of Gujarat speaking at CII Solar conclave here today.
It will be the phase-one of proposed 5000 MW solar park project. The first phase is likely to be functional over a period of two years from now according to Raj Gopal.
He said, setting up solar park at Dholera has several challenges such as salinity condition, corrosive nature of air, need to clean solar panels frequently and need to invest more in foundation work. However the advantages are far more than challenges. Solar power generation is highly land intensive while in Dholera, a barren cheap land is available with government. While in typical solar power park project, transmission cost will be high, the solar park at Dholera will have generation and load both placed within Dholera area, which will bring transmission cost lower. Also there will be an advantage of Gigawatt level scale.
In reply to a question he said, the terrain of Dholera solar park project site. Both challenges and advantages will be factored in RFP. Technical details are awaited.
Raj Gopal also asked industry to see whether heat generated by solar panels can be trapped and channelized for industrial processes.
Raj Gopal spoke about how then Chief Minister Narendra Modi announced Solar policy and how Charanka solar plant which ultimately became a model for solar power generation for India was set up. How Gujarat came up with first canal top solar power plant and how the State implemented first MW level rooftop solar facility. Raj Gopal described upcoming SKY programme as major game changer and informed that tenders were being finalized and work orders would be issued next week along with identification of feeders for SKY.
Sharing more details of Dholera solar park project, Jai Prakash Shivahare, IAS, Managing Director, Dholera Industrial City Development Limited, Government of Gujarat, said the first phase of 1000 mw may materialize in two years period while the 5,000 mw park will come up over a period of five years. Dholera solar project will need 16 million solar PV, 5,000 central inverter, 25,000 km DC cable. The land identified for solar park is wasteland in size of 11,000 hectare. It belongs to the state government while GPCL will be developer for the project.
He said Gujarat has potential to generate 35 GW solar power. The target for year 2022 is 8 GW installed capacity. As on December 2017, the installed solar power capacity in the State is 1.3 GW.
DeshGujarat