Bhoomi poojan performed for Rs 820 crore Nari – Adhelai four lane highway on Bhavnagar – Dholera route
August 12, 2018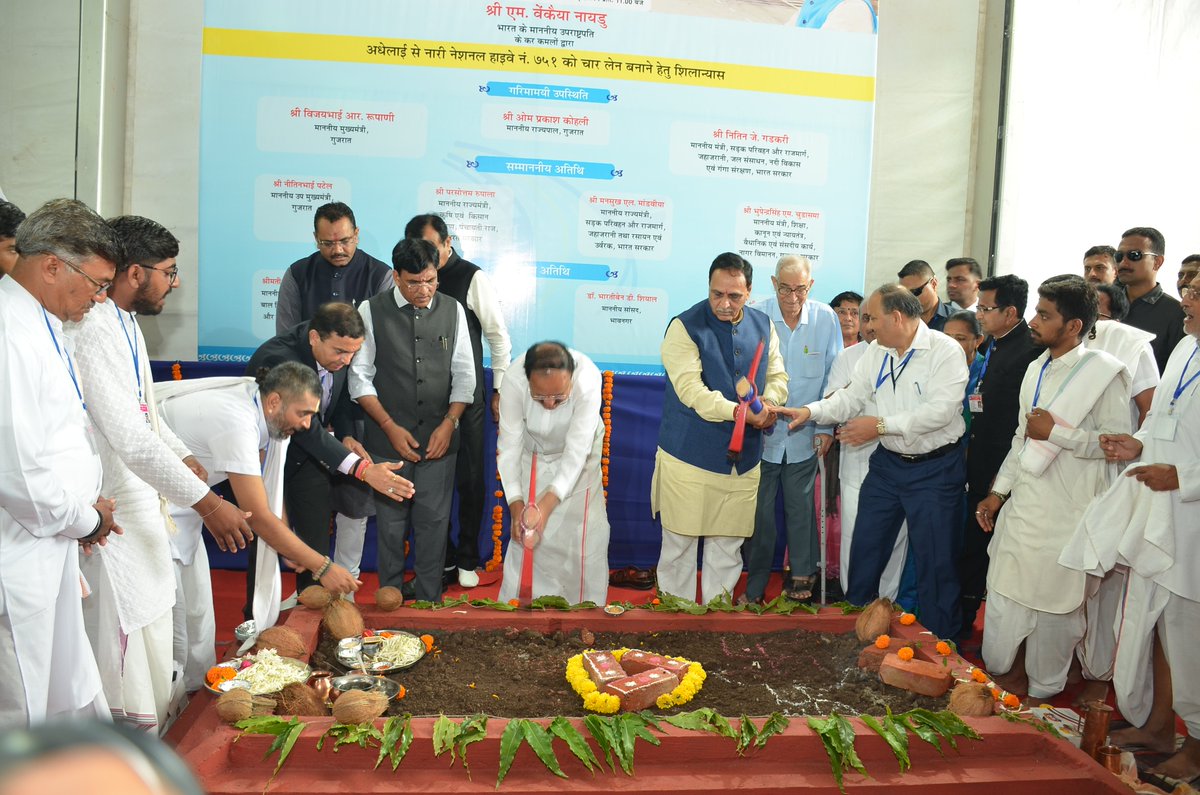 Bhavnagar: Bhoomi poojan for construction of 33.3 km long Rs 820 crore four-lane highway connecting Nari to Adhelai via Sanesh and Madhiya in Bhavnagar district was performed today by Vice President of India Shri Venkaiah Naidu.
33.3 km four lane highway will be constructed using cement – concrete. The target of completion of this project is 30 months. The stretch which is part of National Highway 751 will be located between Bhavnagar and Dholera. It will have 6 major bridges, 1 flyover, 1.3 km long railway over bridge, 5 bus shelters/bay, 10.27 km long service road.
With development of this stretch, travel time between Ahmedabad and Bhavnagar will reduce said Minister of State in Centre Mansukh Mandaviya adding that 28 km distance will be cut short on Bhavnagar – Ahmedabad route with completion of this stretch.
'Several associations, organizations, chamber of commerce representatives in Bhavnagar were demanding four-lane road connecting Ahmdabad to Bhavnagar, in response to which the works are launched. The works launched today will reduce total time to travel to Ahmedabad from Bhavnagar. So far the works are launched for 33 km stretch en route Dholera Special Investment Region where airport is also coming up. Dholera will be a major industrial area. It will be further connected to Ahmedabad through express way. The works for expressway connecting Ahmedabad and Dholka are likely to be launched in upcoming December – January period. With express way constructed, Ahmedabad – Bhavnagar travel time will reduce to two hours in next two years,' Mandaviya said.
'There's black buck sanctuary en-route. We are going to make elevated bridge to bypass the sanctuary area while building this four-lane road,' he added.
Mandaviya said, 'in 68 years post independence, total 92,000 km national highways had been built. Our government is working to complete 1 lakh km national highways in 8 years period upto 2020. Earlier daily construction of national highway was in size of 11 km per day, while now it is 28 km per day. Earlier under Pradhan Mantri Gram Sadak Yojana, rural roads were constructed in size of 60-62 km per day against 134 km per day now under present government.
In his address, Jitu Vaghani, MLA from Bhavnagar and State party chief demanded four lane highway connecting Bagodara to Bhavnagar. In response to this demand, R&B minister Nitin Patel in his speech made announcement that government will approved budget for this project looking at the importance of this region which houses Pramukh Swami's samadhi mandir, pilgrim town Palitana and other places of importance.
DeshGujarat