New Ro – Ro vessel for passenger cum vehicle ferry on Dahej – Ghogha sea route has arrived at Okha: Mandaviya
August 12, 2018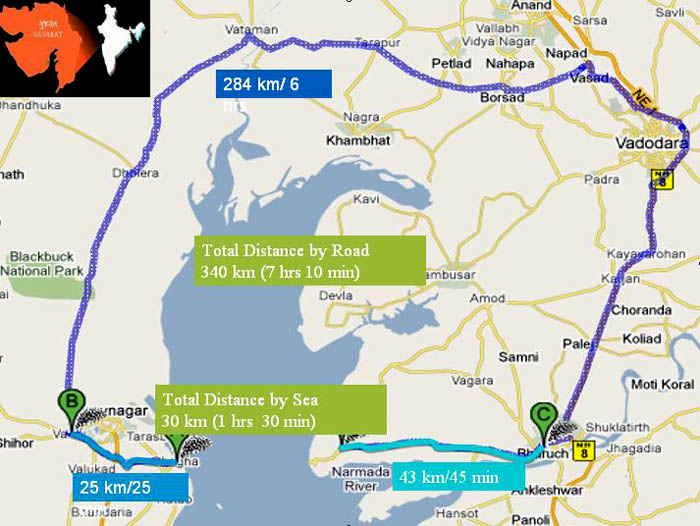 Bhavnagar: Ro – Ro ferry vessel for Dahej – Ghogha sea route has arrived from abroad and anchored at present at Okha port of Saurashtra region of Gujarat. While the service of passenger ferry has been put on halt due to monsoon period, it will resume with Ro – Ro passenger and vehicle ferry facility post monsoon.
These details were shared by Minister of State in Centre and Rajya Sabha MP from Gujarat Mansukh Mandaviya while speaking at a function in Bhavnagar today.
Mandaviya said, 'Bhavnagar is witnessing all-round development . Ro-Ro ferry from coastal town Ghogha to Dahej is not functional at present due to monsoon period. A new vessel which can carry vehicles as large as trucks and buses has arrived at Okha port. As soon as monsoon is over, we will resume ferry service with new passenger cum vehicle vessel.'
In his address Bhavnagar MLA and State BJP president Jitubhai Vaghani said the new Ro-Ro ferry service will be launched in the period of upcoming October-November.
With launch of new vessel, large vehicles such as buses will be loaded to Ro-Ro ferry vessel at Ghogha. With vessel, the buses will cross the sea and reach Dahej on the other side from where they can proceed further to desired location by road. Before monsoon, just passenger ferry was functional on this route.
DeshGujarat