PAAS leader Hardik arrested with 8 aides, later released
August 19, 2018
Ahmedabad:
Congress backed PAAS leader Hardik Patel along with 8 of his supporters has been detained by the crime branch of Ahmedabad police today.
PI of crime branch S L Chaudhary today said that Hardik and his 8 other aided including Manoj Panara, Alpesh Kathiriya and Dharmik Malviya have been detained from near the PAAS leader's house close to Sola Bhagwat and SG highway area in the city.
'He has been detained as he was going to hold a symbolic fast in Nikol area without prior permission,' Chaudhary said.
Chaudhary said that all nine were later arrested under section 182 (obstructing duty of government servant), 142 of the IPC. They were released on bail.
Hardik later told media persons that the action against him was taken on the instruction of BJP government in the state. He said that he would do the fast at any cost. He would do it from his residence if the need arise. He also alleged that PI of crime branch J N Chavda threatened him to kill him. He would take shelter of the court.
Notably, Hardik has not got permission for his proposed indefinite fast event here from August 25 on the issue of loan-waiver of farmers and reservation to his community. Angry at it he had written a letter to the CM and also announced that he would hold a symbolic fast along with 500 of his supporters in Nikol area today. He had also claimed that if he would not get a ground for the event he would sit on fast in his vehicle.
Earlier Hardik Patel in a tweet claimed that police has house arrested 59 people including him at his house (The Crime Branch however said that only 9 have been detained ). Hardik also claimed that police has arrested around 150 of his aides across the state of whom 58 were from Vastra, Nikol area in Ahmedabad and 26 near Chotila.
Alpesh Kathiria arrested in sedition case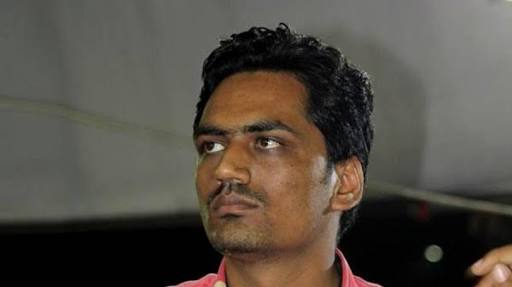 Hardik aide Alpesh Kathiria who is from Surat was arrested by Ahmedabad city police crime ranch immediately after he was released on bail in the case filed today pertaining to obstructing police duty and unlawful assembly.
Kathiria was arrested in the sedition case of 2015 where in he along with five others including Hardik, Chirag Patel, Dinesh Bambhania, Ketan Patel and Amrish Patel — were implicated as accused. They were booked under IPC Sections 121 (waging war against government), 124 (sedition), 153-A (promoting enmity between different communities) and 153-B (assertions prejudicial to national integrity). While other were arrested, Kathiria's arrest was pending.
Congress comes to defence of Hardik
State Congress president and leader of opposition both in their statements condemned state government for not allowing Hardik to exercise his democratic right of sitting on fast. Among those who protested Hardik's arrest in Surat were Congress councillors. A Congress MLA from Patan who is former PAAS convener was part of protest in Ahmedabad.
DeshGujarat