19 associated with PAAS nabbed in Surat as preventive measure after last night's incidents
August 20, 2018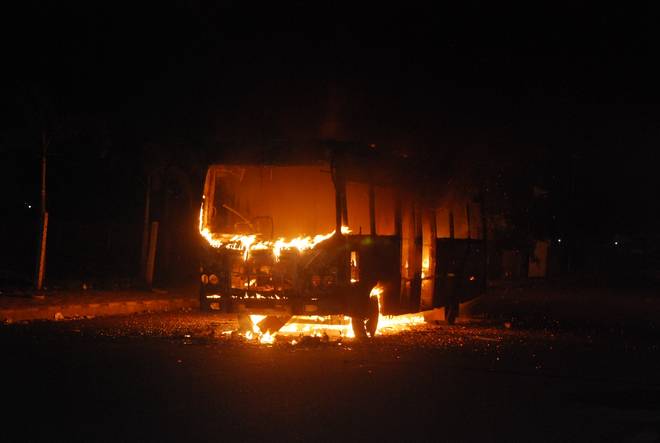 Surat:
Police has arrested 19 people associated with Patidar Anamat Aandolan Samiti (PAAS) in Surat city as part of preventive action in the wake of yesterday's incidents of violent protest in the city and burning of a bus and stone pelting on others and a BRTS junction.
Police commissioner Satish Sharma today said that these arrests from Varachha, Sarthana and other areas of the city were part of preventive action of the police.
He said that it has not yet been established that they were behind the incident of arson of bus and violence in Sarthana area of the city last night. Detailed
Notably, yesterday on the day when Congress backed PAAS leader Hardik Patel and 8 of his aides were arrested by police in Ahmedabad and released on bail later only to re-arrest one of them Alpesh Kathiria in the 2015 sedition case in which he was co-accused with Hardik, suspected supporters of the leaders had burnt down a BRTS city bus in Puna gam area and damaged two other buses and a BRTS junction and torched public property in Patidar dominant Puna, Sarthana and Yogi Chowk areas of Surat. The incidents had taken place in those areas where CCTV cameras were not installed.
Sharma had earlier said that police would take strict action against those responsible for the incidents.
Earlier around 50 people were detained in connection with protests by PAAS workers in the city after the arrest of Hardik and his aides.
Notably, PAAS leader from Surat Alpesh Kathiriya was also among those arrested yesterday in connection with the unlawful attempt to sit on fast. While he was initially granted bail in this matter, later he was nabbed by the crime branch in 2015 sedition case of Ahmedabad in connection with violence after the Patidar quota rally in August that year.
DeshGujarat