Prime Minister Narendra Modi in Valsad
August 23, 2018
Valsad: Prime Minister Narendra Modi today at Jujva village in Valsad district of South Gujarat witnessed E-gruh pravesh of beneficiaries of 1,15,551 affordable housing units built at a cost of Rs 1727 crore under Pradhanmantri Aawas Yojana. The Prime Minister conversed with beneficiary women in various districts of Gujarat via video conferencing in Gujarati.
The Prime Minister also distributed skill certificates and appointment letters to 5,000 women under Mukhyamantri Gramoday Yojana. He also performed Bhoomi Poojan for Rs 576 crore Astol group water supply scheme for interior villages of Dharampur and Kaprada areas of Valsad district. The water scheme will offer potable water to 124 villages and 816 hamlets of Kaprada taluka, 50 villages and 212 hamlets of Dharampur taluka through 77 km rising main pipeline and 919.50 km distribution pipeline and fill 6 tall water tanks, 27 underground water tanks and 1201 village underground tanks. Water supplied through this scheme will reach at Vavar village which is located at 1853 ft height compared to Madhuban dam's level.
Addressing a public meeting, the Prime Minister said he had seen dream to provide tap water supply to each tribal house across entire tribal belt of Eastern Gujarat starting from Umargam in South to Ambaji in North. Speaking about the water scheme for which he launched works today, the Prime Minister said water will be lifted to height equal to a 200-storey building. It's like a river lifted to that height.
Shri Modi in reference to former late Chief Minister Amarsinh Chaudhary, said without naming him that he had not been able to provide water in water tanks of his own tribal village.
Modi said when polling booth is created for one single voter, it becomes news. He said this in reference to last mile water supply involved in Astol group water supply project.
PM admired Gujarat government for working to ensure tap water supply to each house and said it reflects what kind of Gujarat the government is working to achieve. He said in ancient time, Lakha Vanzara worked for water and he is remembered even today in each village of Gujarat and Rajasthan. The works the government is doing to ensure water supply will also be remembered for long.
Speaking about affordable housing scheme, the Prime Minister said, 'Houses built under Pradhanmantri Awas Yojana are so well because 'Katki company' is closed. We send Rs 1 from Delhi and beneficiary gets full 100 paise in village. I dared to ask in public today to beneficiary woman whether she had to pay for getting home. The houses are built with government money and beneficiary's sweat. We are not dependent on government contractors to build these houses. And therefore model houses are built. We have started a movement of poverty alleviation through empowerment of poor. There were banks but poor had to go to banks. We brought banks on the doorstep of poor. Under Saubhagya Yojana, each house will have power connection in next one to one and half year. Own house, power, gas, water, toilet in house – in a way there's an effort going on to bring big change in life of poor.'
He further said, 'You made me big, you the people of Gujarat nurtured me, people of Gujarat have taught me a lot. And it is lessons learnt from Gujarat that I am trying to fulfill the dreams in time-bound manner, and in 2022 when India will mark 75 years of independence, there will be no family without own house in this country. So far there were headlines of big houses and decoration at political leaders' houses. But now it's about construction of houses of poor. This is the Prime Minister who attend vastu pravesh of 1 lakh family and via video conferencing talk to beneficiary families. Atalji passed away last week and it was a painful period, but Pradhanmantri Gram Sadak Yojana named after him – which is about connectivity to each village with pucca road – we are trying to complete it in time-bound manner.'
The Prime Minister greeted people for Raksha Bandhan and said pucca houses built under Awas Yojana is his gift to sisters.
Earlier the Prime Minister arrived at Surat airport from where he left for Valsad by helicopter and later reached Jujva village.
Astol group water supply scheme worth Rs.586 crore for the benefit of interior villages in Kaprada region in Valsad district, foundation stone of which was laid by PM Shri Narendra Modi today morning in Gujarat pic.twitter.com/zkTMNhSet2

— DeshGujarat (@DeshGujarat) August 23, 2018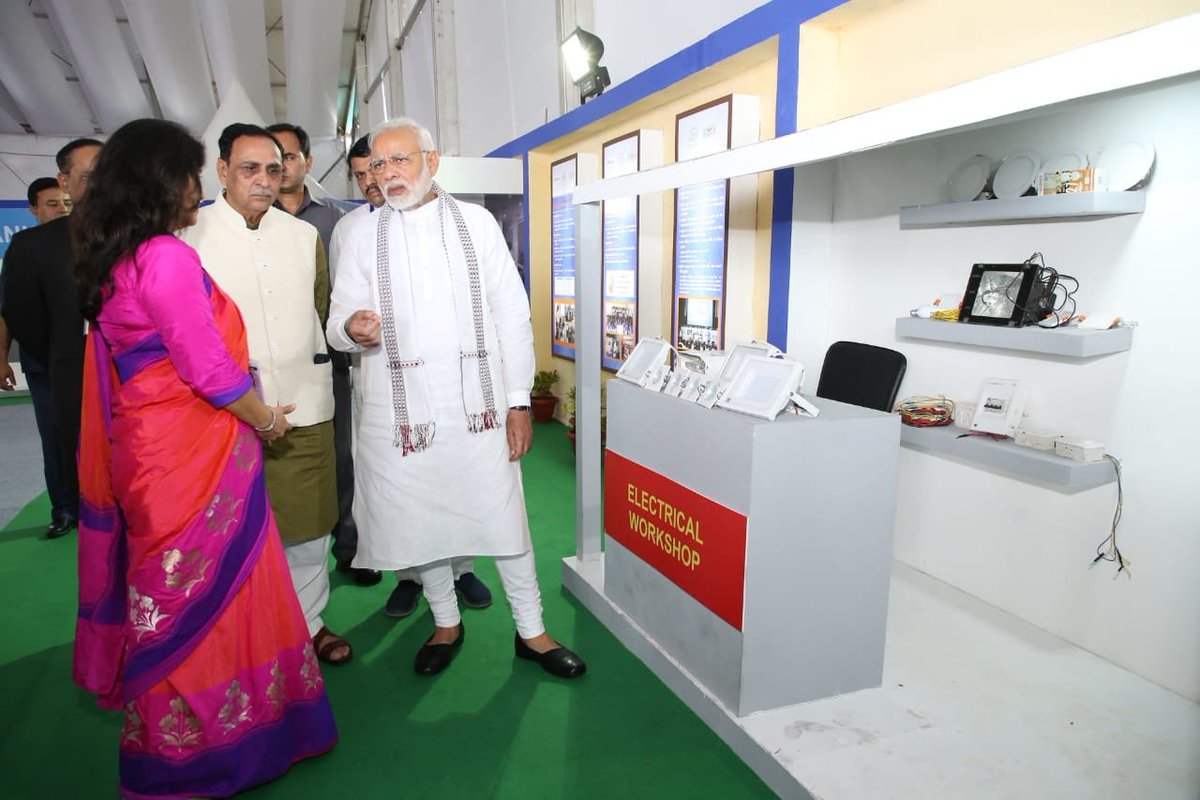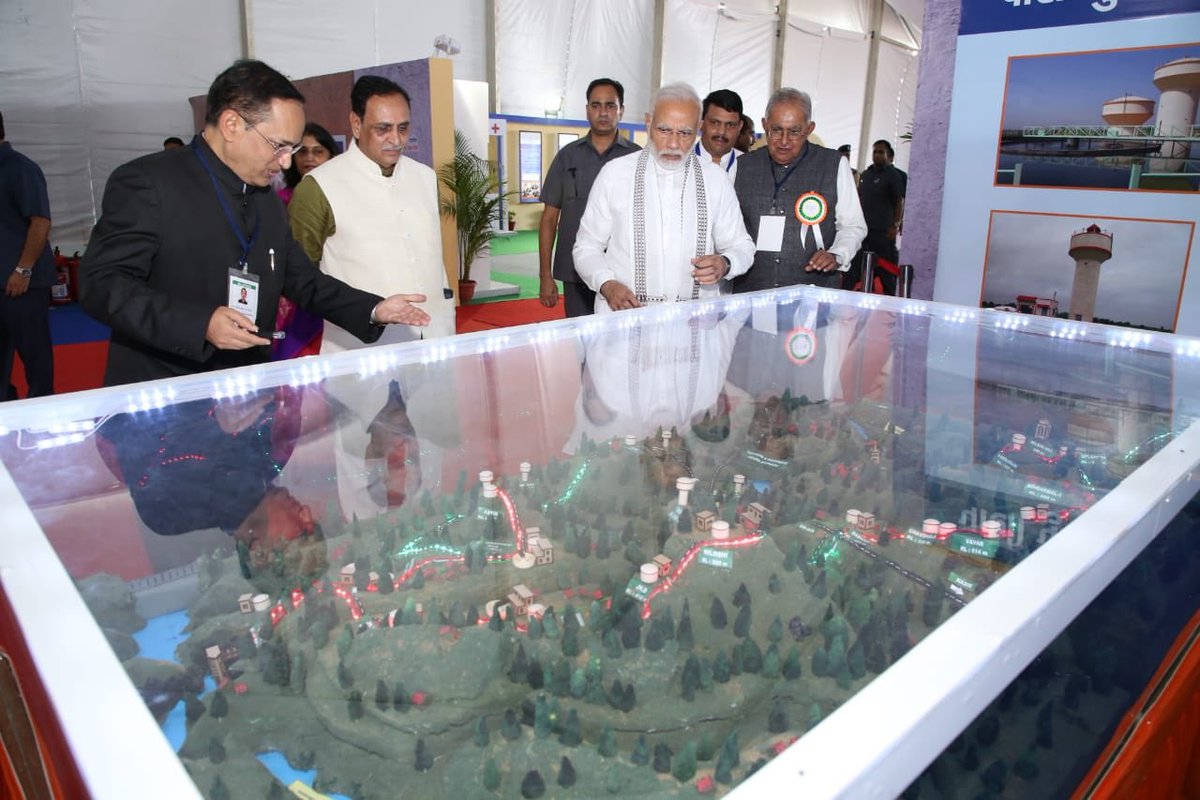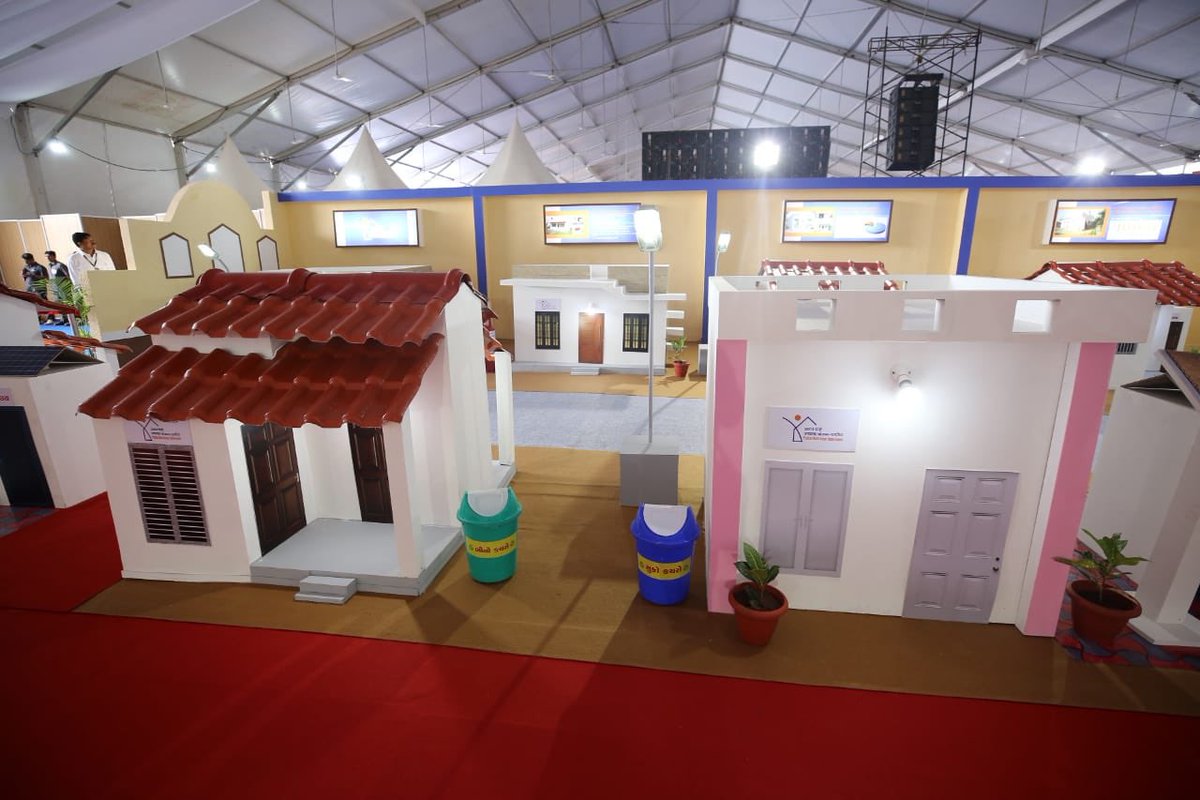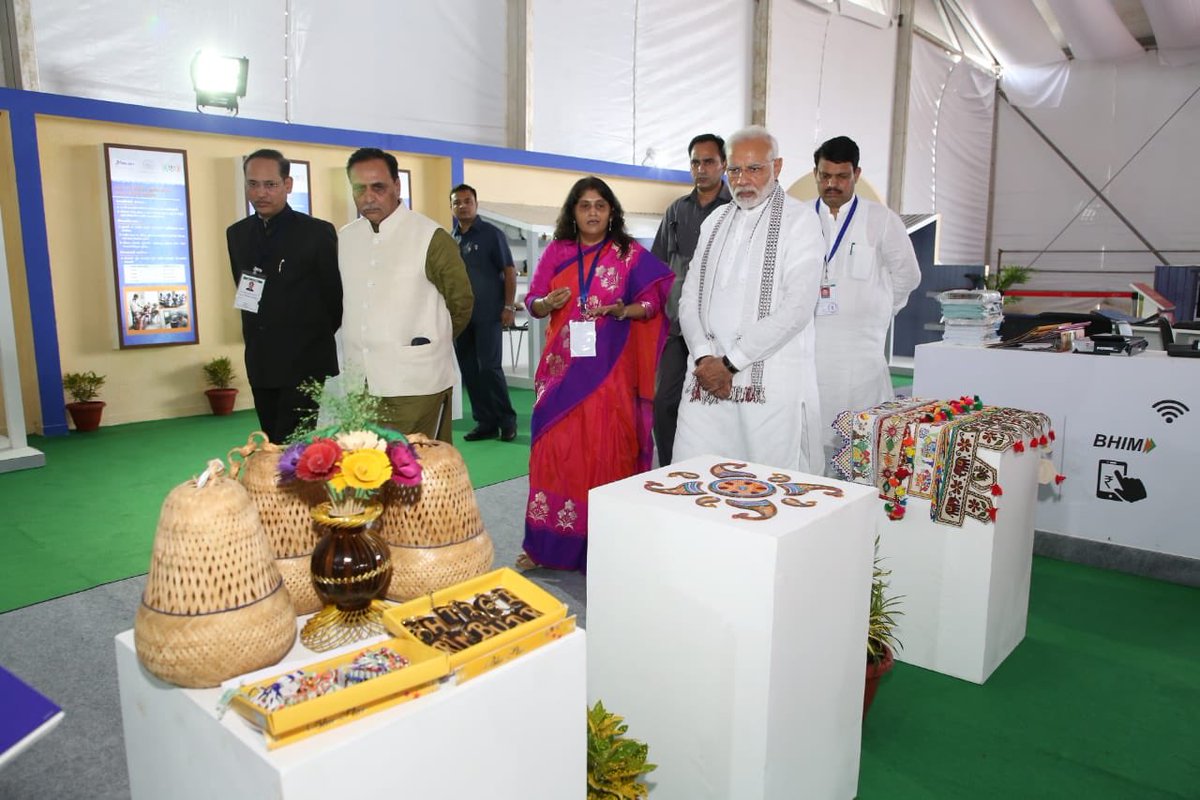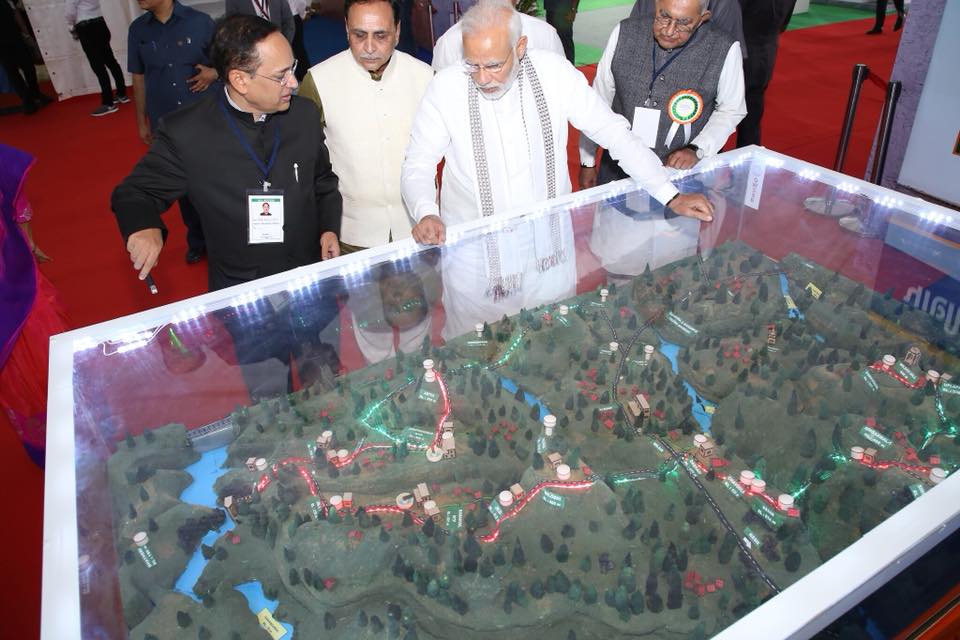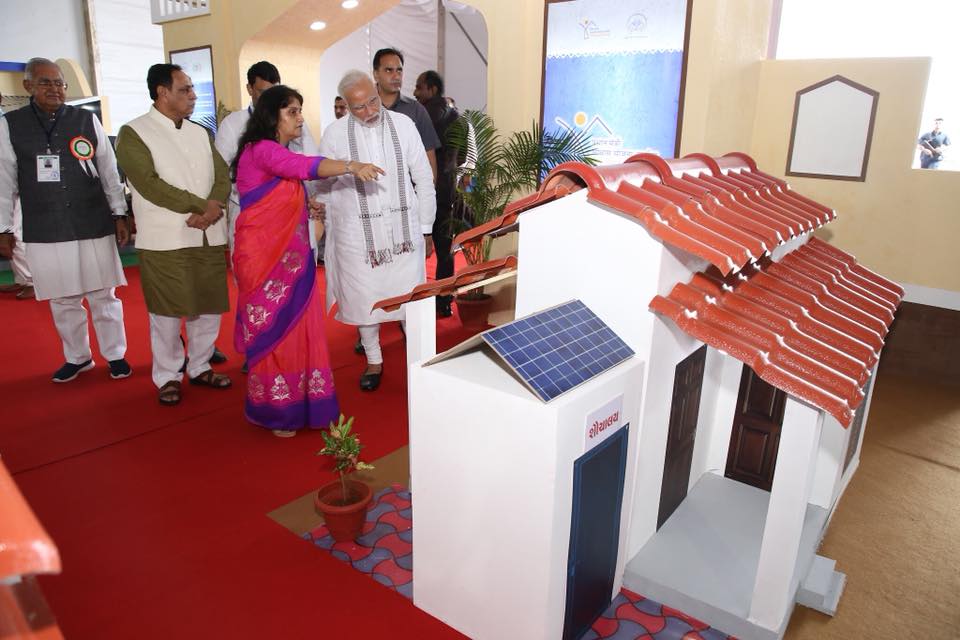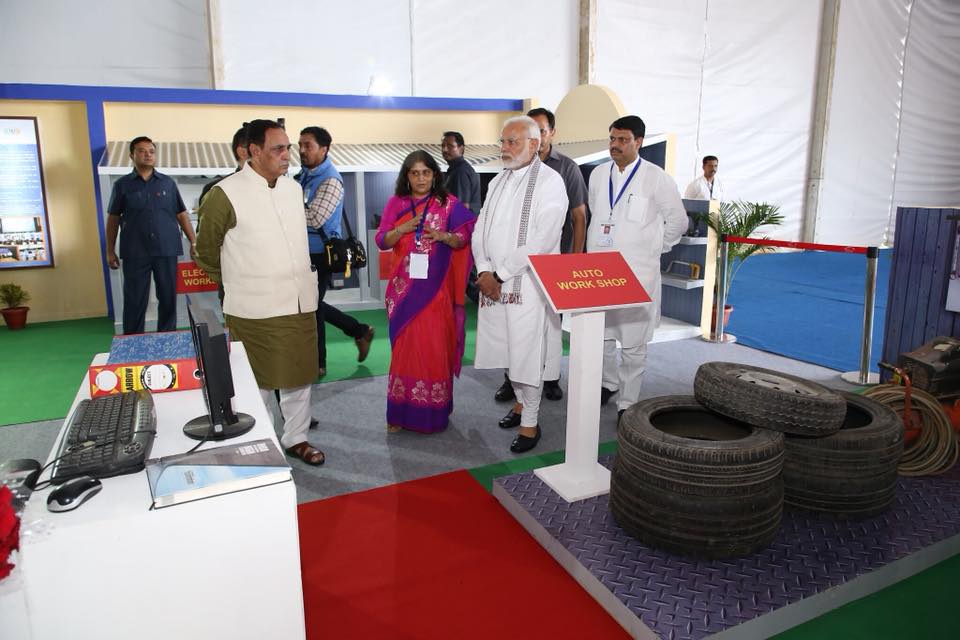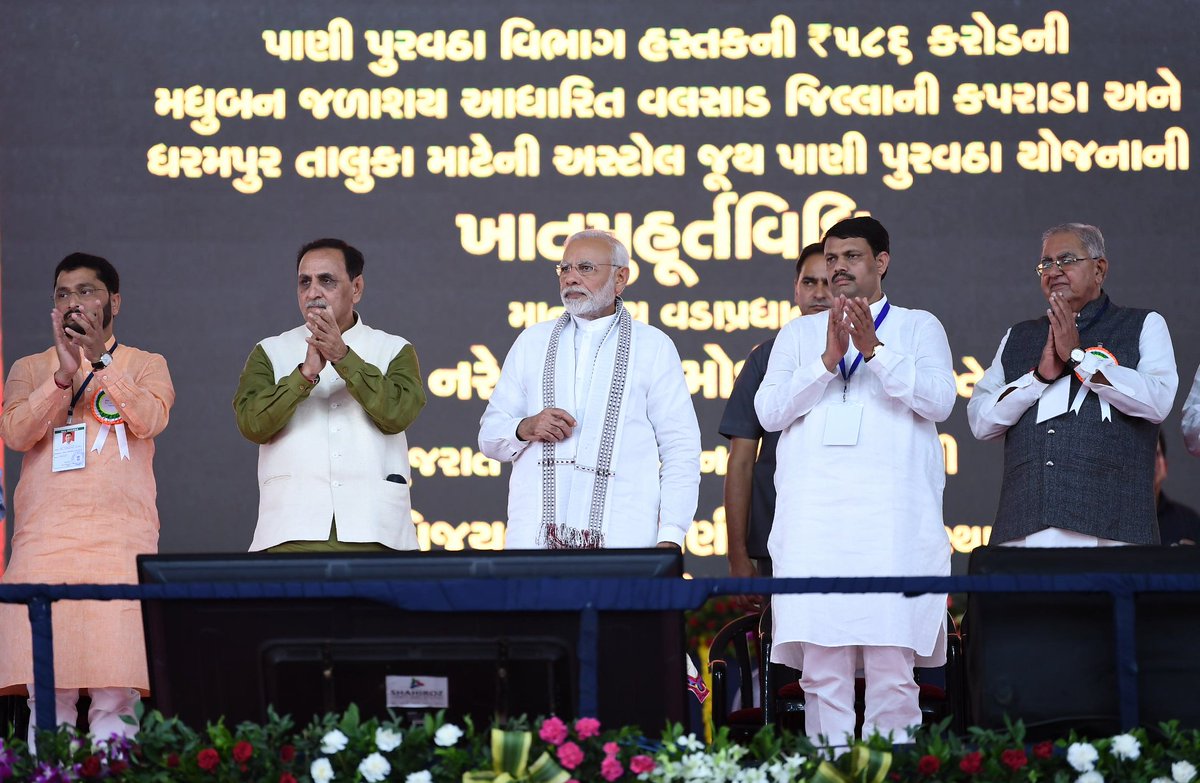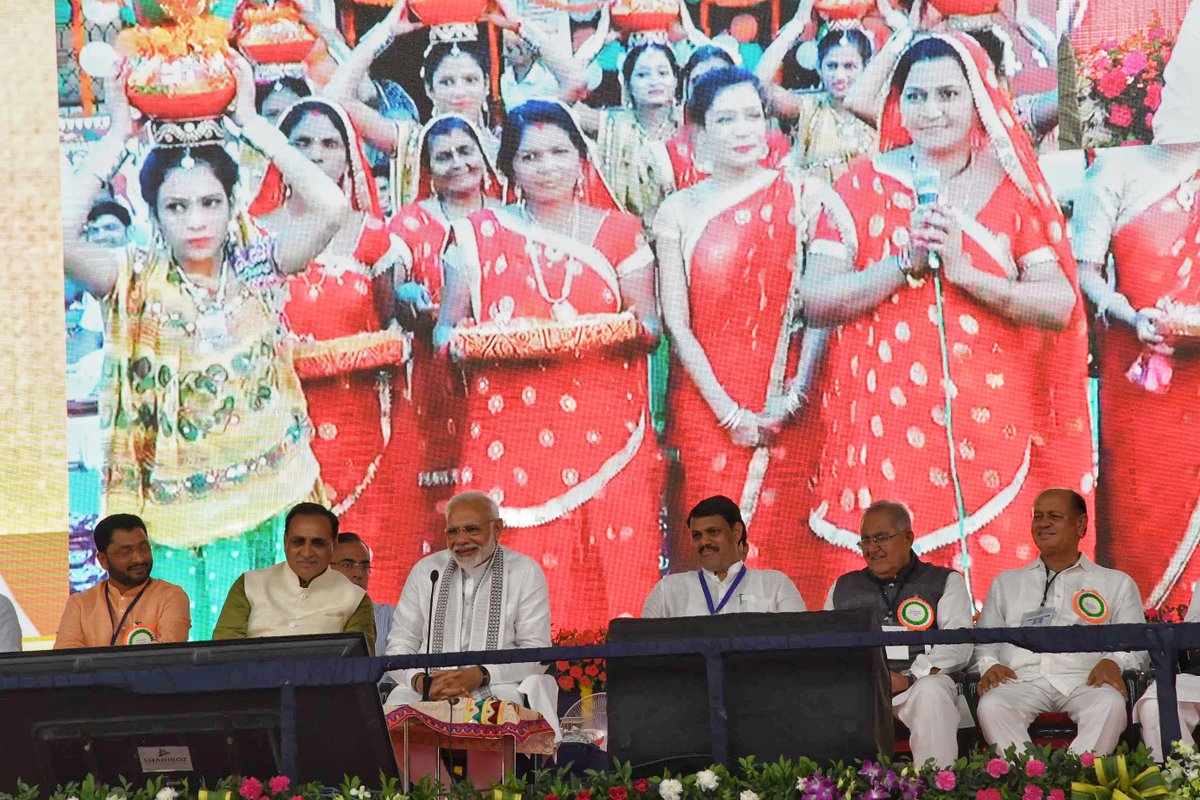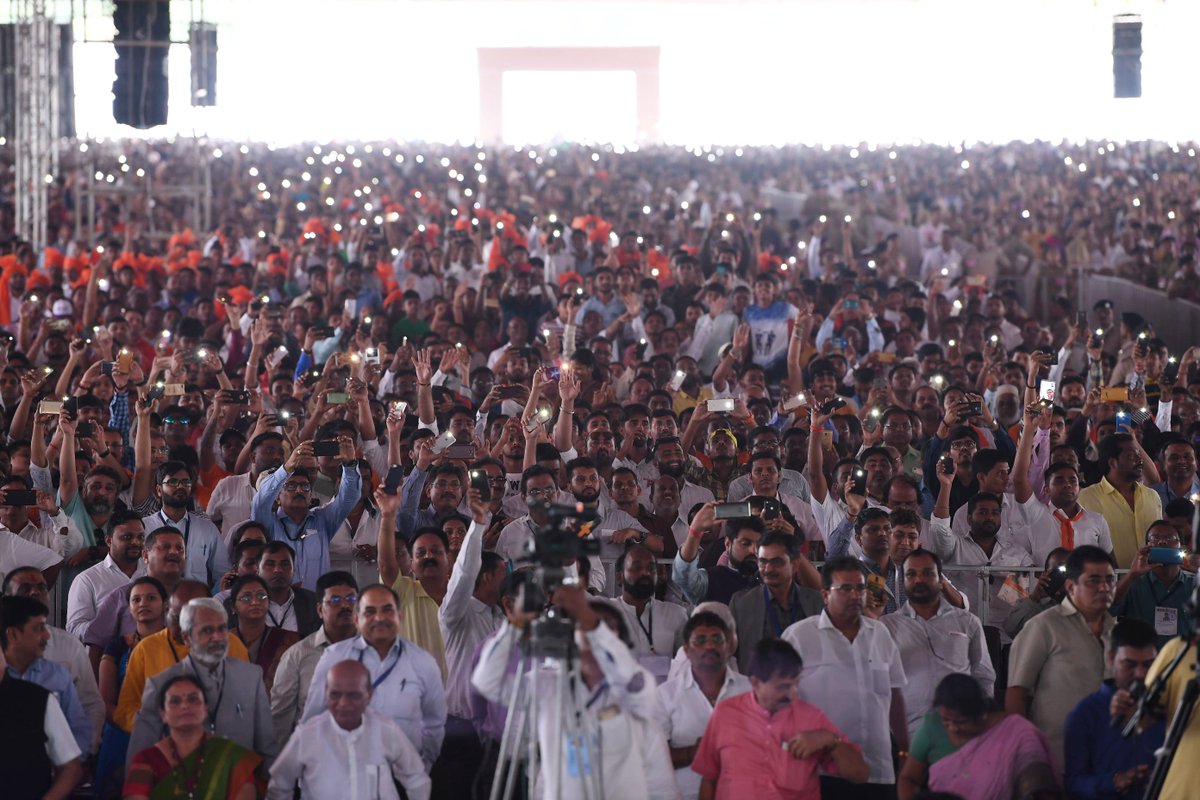 PIB note:
PM witnesses collective e-Gruhpravesh of beneficiaries of Pradhan Mantri Awaas Yojana; lays foundation stone of Astole Water Supply Scheme at Jujwa village, Valsad
The Prime Minister, Shri Narendra Modi, today joined thousands of people in witnessing the collective e-Gruhpravesh of beneficiaries of the Pradhan Mantri Awaas Yojana (Gramin) at a large public meeting in Jujwa village of Valsad district in Gujarat. More than one lakh houses were handed over to beneficiaries, across 26 districts of the State. Beneficiaries in several districts were connected through a video link to the main event, and the Prime Minister interacted with some of them.
At the same event, the Prime Minister distributed certificates and employment letters etc to select beneficiaries under various development schemes, including Deen Dayal Upadhyay Grameen Kaushal Vikas Yojana, Mukhya Mantri Gramodaya Yojana and National Rural Livelihood Mission. He distributed appointment letters and mini-ATMs to women bank correspondents.
The Prime Minister also laid the Foundation Stone for the Astole Water Supply Scheme.
Speaking on the occasion, the Prime Minister noted that the festival of Raksha Bandhan is approaching. He said he is satisfied that over a lakh women have got a house in their name, on this occasion, as a gift on Raksha Bandhan. He said a new house brings with it, new dreams; and a new collective enthusiasm in the family to work hard to achieve those dreams.
Observing that the houses that were visible today during the e-Gruhpravesh seemed to be of excellent quality, he said this became possible only because there are no middlemen involved. He reiterated the Union Government's vision to ensure "Housing for All" by 2022.
The Prime Minister said that the discourse had long been about politicians getting fancy homes built. He said now this discourse has changed to the poor getting their own homes.
Describing the Astole Water Supply Scheme, for which the Foundation Stone was laid today, as an engineering marvel in the making, the Prime Minister said that clean drinking water saves people from diseases.
The Prime Minister explained how the Government is seeking to transform the lives of the poor by providing them access to their own house, to electricity, to clean drinking water, and to clean cooking fuel.
PMAY under PM Modi
In the last 4 years, Government has taken a mission mode approach towards providing housing for all. Government is working towards ensuring that every Indian has a home by 2022, when India will celebrate its 75 years of independence.
Under Pradhan Mantri Awas Yojana, Government plans to build around three crore houses in rural areas and one crore houses in urban areas. The Government has so far given sanctions to build more than 47 lakh houses in urban areas, which is 4 times more than the sanctions given by the previous government in 10 years. Similarly, sanctions have been given to build more than one crore houses in the rural areas compared to 25 lakh sanctions by the previous government in its last 4 years. Government has also been able to reduce the time needed to build a house from 18 months to 12 months, thereby saving about 6 months.
The size of houses built have been increased to 25 square metre from 20 square metres. Also the financial assistance for the scheme has also been enhanced upto Rs. 1,25,000 from the earlier allocation of Rs. 70,000 – 75,000.
Pradhan Mantri Awas Yojana is linked with the dignity of the citizens and the focus of the Yojana is to ensure more women, Divyang sisters and brothers, SC, ST, OBC, and Minority communities get access to housing.
PMAY has created employment opportunities for all. In order to strengthen the scheme, Government is working towards skill development to ensure faster, and quality construction of houses. As part of it, government has started training about one lakh masons. In addition, Government has also started training female masons in many states, thereby resulting in women empowerment.