Hardik has not lost 20 kg weight during fast, has lost 11.6 kg in 12 days, wrong posture during weighing caused false reading
September 05, 2018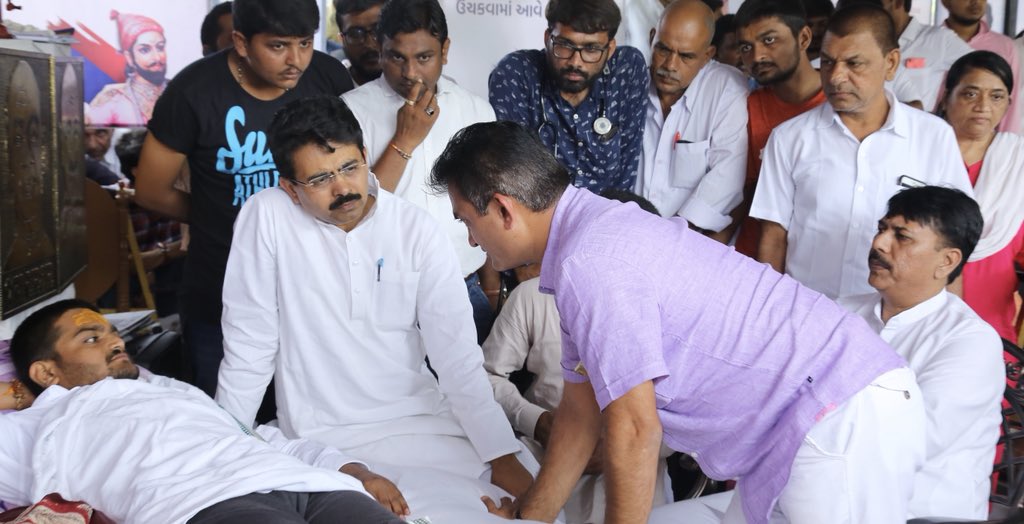 Ahmedabad:
Weight of Congress backed PAAS leader Hardik Patel has not decreased as much as earlier reported by doctors and it has gone down only by 11.6 kg instead of earlier reported 20 kg during his indefinite fast which has entered 12th day today.
Superintendent of Sola Civil Hospital Dr. Aajesh Desai and Dr Manisha Panchal ( who took his weight yesterday as well as today) said that it was 66.4 kg. His weight on day one of the fast ie August 25 was 78 kg. Yesterday it was reported as 58.3 kg showing an around 20 kg decline in 11 days but it was measured 66.4 kg today.
'The difference was because of his standing position and posture and technical reasons, I have mentioned it today's report,' Dr Panchal said.
Dr Desai said, ' in fact the difference was because of his posture during weighing. There was no fault with the weighing machine. His weight measured around 66 last evening. In the morning also we got similar measurement. Yesterday the 58.3 kg ie the lower measurement must have been because of his wrong posture. If someone holds you or you take support of something during weighing your weight goes down drastically. This has happened with his weight."
Meanwhile, Hardik continued to refuse to provide his blood/urine sample on the third consecutive day for test to government doctors. This makes suspicious whether he is actually observing complete fast or not, because results of such test would show whatever is the fact. Hardik aides maintain that Hardik's fast as 'Ann tyag'. It means Hardik has just left 'Ann' and not fruit and other stuff.
Dr Desai said that his vital data including blood pressure, pulse etc are normal and he did not let us take his blood sample. 'We have already advised hospitalization for him. Our team is stationed at his place for any emergency need,' he said.
On the other hand the differences between PAAS team and the six major outfits of Patidar community became public today as Hardik's close aide Manoj Panara, who during a press conference today claimed that he was the only authorized person to speak on behalf of the PAAS leader during his fast, said that the coordinator of the six outfits C K Patel was behaving like BJP's agent. 'Why he is not meeting Hardik before or after talks with state government on our behalf. Why he is using media as a platform. He is behaving as a BJP agent,' he said.
Panara also said that PAAS would make phone calls tomorrow to all the 182 MLAs and 26 MPs and all the Rajyasabha MPs from Gujarat to take their opinion on farmers' loan waiver and Patidar quota issues. 'Those who keep their cell phone switched off or don't respond would be taken as not supporting the issues. On the day after tomorrow, we would also approach them with forms for taking their signature for support of our issues,' he said.
In response to Panara's statement C K Patel who had led the team of Patidar outfits to the state government said that now they would not talk to the government unless the PAAS gives a written consent about that.
Earlier Congress state in-charge Rajiv Satav along with state president Amit Chavda and leader of opposition Paresh Dhanani met Hardik today. He said that the government should talk to Hardik at the earliest. He said that Congress would organize state wide protest rallies in support of farmer's issues raised by Hardik.
DeshGujarat