British High Commission to host "Young Thinkers' Conference" in Ahmedabad
September 06, 2018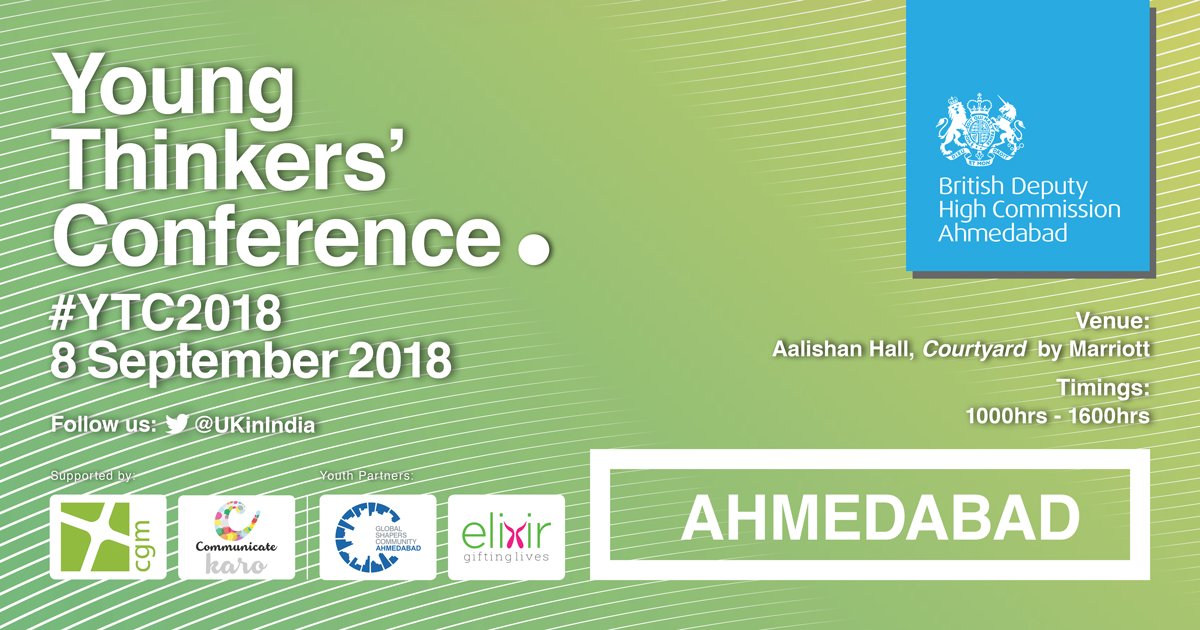 Ahmedabad: The British High Commission will for the first time hold its flagship foreign and security policy conference in Ahmedabad. The conference is titled as Young Thinkers' Conference (YTC).
The conference will structure around three riveting panel discussions, covering thematic topics like 'Making Smart & Sustainable Cities & Future of Clean-Tech in Cities', 'Creating a Gender Equal Society', and 'Youth Voices in Politics'.
Already well-established in Delhi, where it has been held for past six years, the conference to make its debut this year in Ahmedabad.
Panellists who will make the discussion a treat for the ears are Vijay Nehra (IAS, Municipal Commissioner, Ahmedabad Municipal Corporation), Ankit Jain (Founder, Lume Solar), Shelly Bhasin (British High Commission, New Delhi), Dr Laxmi Bhawani (Chief, Unicef Gujarat Filed Office), Sheba George (Founder, Sahrwaru), Kanan Dhru (Founder, Lawtoons), Harsh Sanghavi (MLA, Gujarat Assembly), Shweta Brahmbhatt (Young Politician), Rati Mehta (Student politician MSU University ), Mudita Vidrohi (Social Activist), and Sophia-Nayak Luke (British High Commission, Delhi).
Kumar Manish (Founder, Communicate karo), Aditi Rindani (Vice Curator, Ahmedabad Global Shapers), and Shyam Parekh (Dean, DEW School of communication) will moderate the panel discussions.
Geoff Wain – British deputy high commissioner to Gujarat and Rajasthan says – "We have always made sure to bring together the best speakers and experts in the field to discuss current issues at the Young Thinkers' Conference. While the conference was organized in Ahmedabad for the first time, I'm really glad to see the overwhelming response the city has given. The conference is the British High Commission's endeavour to encourage young minds – experts or those who are simply curious – to discuss a range of issues that are shaping the world today,"
The event will be supported by Centre for Green Mobility and Communicate Karo, and the Youth Partners included Ahmedabad Global Shapers and Elixir Foundation.
DeshGujarat