Travel and Tourism Fair 2018 opens in Ahmedabad
September 07, 2018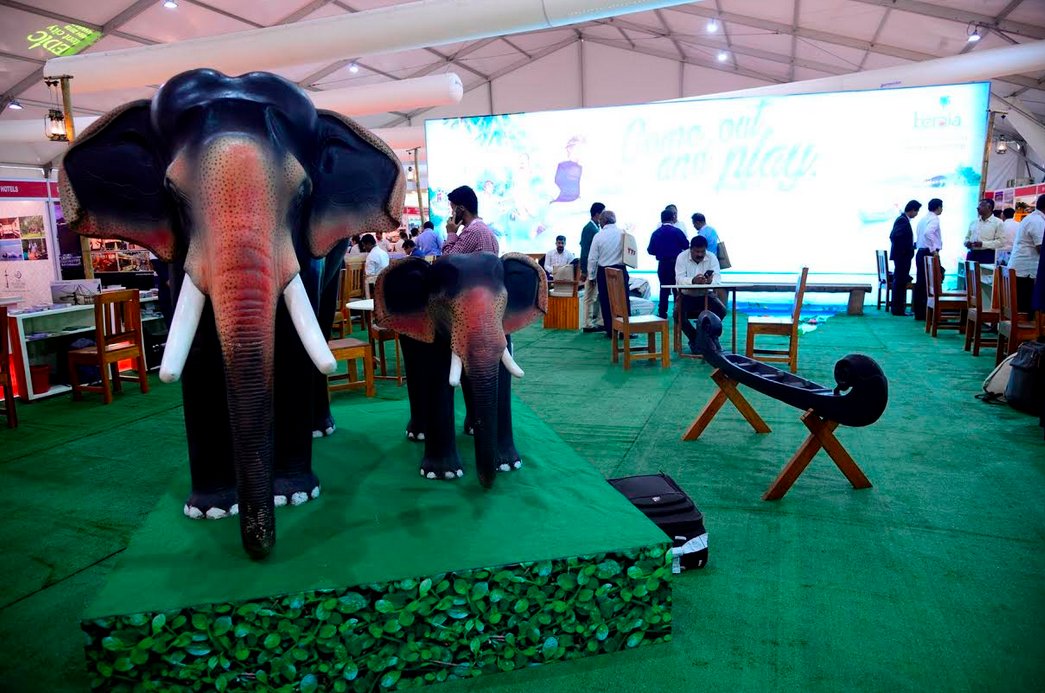 Ahmedabad: Over 665 exhibitors, 19 state tourism boards and representatives from 6 countries opened up new horizons for travel trade and tourists at the Travel and Tourism Fair, Ahmedabad, ahead of the peak travel season around Diwali. Being organized from September 7-9 at the Gujarat University Exhibition Hall, the TTF, which is a big favourite among exhibitors, was graced by the presence of dignitaries such as Sanjiv Agarwal (Chairman Fairfest Media Ltd.), Mahendra Vakharia (President, OTOAI and MD, Pathfinders), Jong Sool (Michael) Kwon (Korea Tourism Organization, New Delhi), and Viranga Bandara (SriLanka Tourism Promotion Bureau) among others.
Ahmedabad TTF Ahmedabad 2018, with exhibit space growing by 25% over 2017, is going through an unprecedented growth phase, making new records each year. Moreover, TTF has emerged as the biggest show in the 9-city TTF series in India, underlining the importance of the city as one of the biggest source markets of domestic and international travellers.
"Initiated with the aim to bring the players in the travel industry together under one roof, TTF is being organized since 30 years now. One of India's biggest expositions of the kind is not only helping to boost tourism but also opening doors to opportunities for B2B deals in travel trade. The last day of the fair is open to public and Ahmedabad's travel buffs can make the most of the best deals that the various countries and Indian states exhibiting this year will be presenting," remarked Sanjiv Agarwal, Chairman Fairfest Media Ltd.
Mahendra Vakharia, President, OTOAI and MD, Pathfinders shared, "Gujaratis love to travel and explore new places, and TTF is one fair that not only travel organizers but also tourists in Gujarat eagerly await every year. We are proud to state that out of the 9-city TTF series in India, TTF Ahmedabad receives the maximum participation. It has developed into a vital platform for travel organizers to connect and network with new and old partners."
Andaman & Nicobar, Bihar, Goa, Himachal Pradesh, Jammu & Kashmir, Jharkhand, Karnataka, Kerala, Madhya Pradesh, Meghalaya, Mizoram, Odisha, Rajasthan, Sikkim, Tamil Nadu, Uttar Pradesh, Uttarakhand, and West Bengal apart from host state Gujarat, are the 19 states and union territories participating in the exposition at the level of state tourism departments.
Sri Lanka and Nepal have joined TTF Ahmedabad as the Partner Countries while the Partner States Uttarakhand, Himachal Pradesh, Kerala, Goa, Odisha, Karnataka, Maharashtra, and Rajasthan have some vibrant pavilions visitors can look out for.
The foreign locations that are grabbing attention are Bahrain, China, Korea, Nepal, and Sri Lanka. Other countries being represented at TTF Ahmedabad include Azerbaijan, Bhutan, Germany, Indonesia, Japan, Kazakhstan, Malaysia, Maldives, Mauritius, Russia, Singapore, Thailand, UAE, Ukraine, Uzbekistan and Vietnam.
Excited about his visit to TTF, Jong Sool (Michael) Kwon, Korea Tourism Organization New Delhi shared, "Ahmedabad is very welcoming and I am really happy to be here at TTF, Ahmedabad. I urge the people of Ahmedabad to visit Korea to explore the country's beautiful nature, festivals, and vibrant underground shopping malls that have a lot to offer."
Speaking about the rise in number of Indians travelling to Sri Lanka, Viranga Bandara from Sri Lanka Tourism Promotion Bureau said, "We have lots of Indian tourists visiting Sri Lanka, the number growing year on year. In fact, we are expecting 4.50 lakh tourists from India in 2018. TTF provides a great travel trade opportunity for us apart from directly connecting us with tourists. This year, we have 18 participants from Sri Lanka showcasing their best deals in Ahmedabad. I urge Ahmedabad's travellers to come down to Sri Lanka to enjoy our hospitality and explore the beaches, forests, wildlife, and Ramayana trail attractions."
TTF Ahmedabad continues to provide one of the biggest platforms to highlight the country's immense tourism potential along with boosting business cooperation and networking that opens doors to partnerships between buyers and exhibitors. The success is a result of support from the tourism department of host state Gujarat along with various other states, Tourism Ministry of Government of India, National Tourist Offices of several countries, travel associations as well as thousands of private exhibitors.
Cox and Kings, the Knowledge Partner of TTF, today organised a workshop to present destinations – Finland, the Baltic States, and Indonesia. They also introduced various tourist attractions and packages to travel agents and visitors. The workshop also comprised of a presentation by Garuda Indonesia in which the airline showcases its connectivity and fares. There was also an interesting presentation by Qatar Airways.
The first two days of the show are reserved for the travel trade and the third day is for the general visitors.
Soon after TTF Ahmedabad, TTF Surat will be held from September 14-16 at the Pandit Dindayal Upadhyay Indoor Stadium, followed by TTF Pune from September 28-30 and TTF Mumbai from October 5-7. In 2019, TTF Chennai is scheduled to commence from February 8-10 and TTF Bengaluru from February 15-17.