Failing Hardik Patel and debacle of his agitation is good news for Gujarat and peace loving Gujaratis; Strong-hand stand of govt. works
September 08, 2018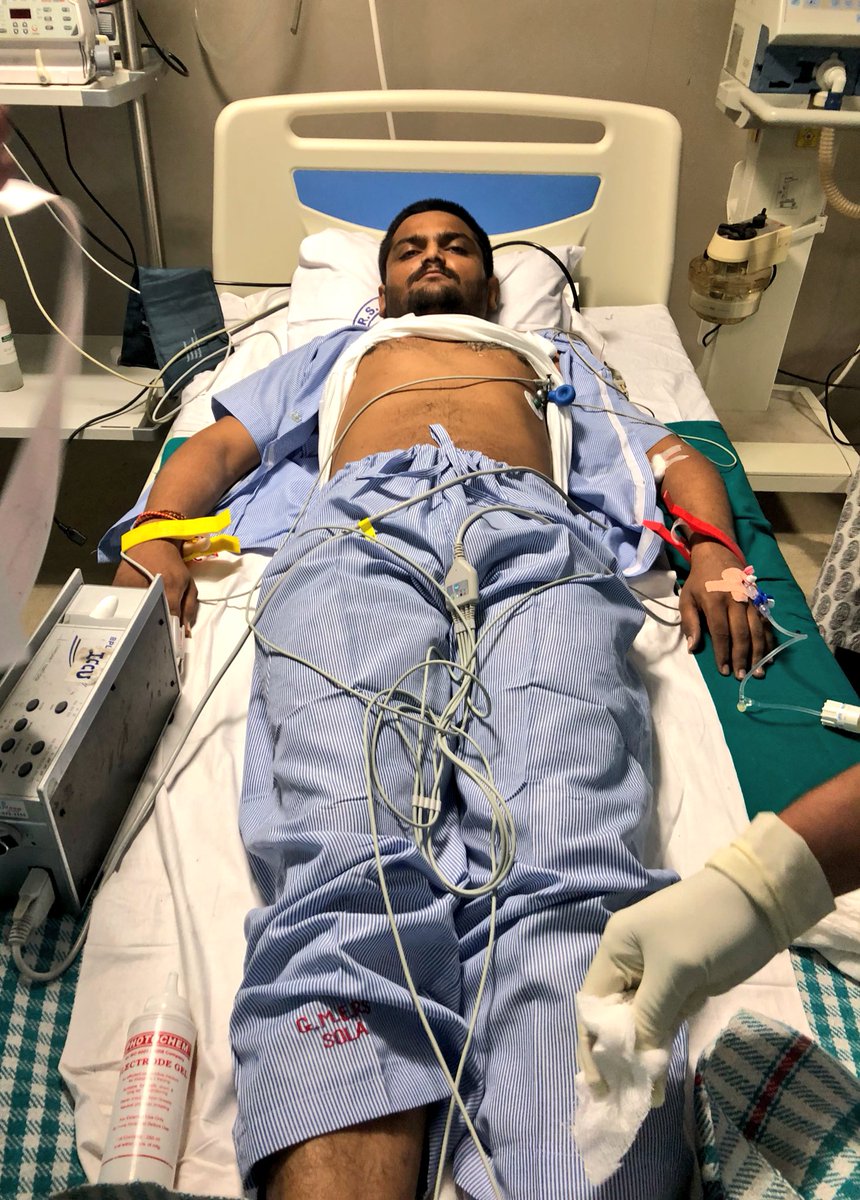 Rupang Bhatt, Ahmedabad: Drama around Hardik Patel's so-called 'indefinite fast' claimed by his organization PASS(Patidar Anamat Andolan Samiti) continued today even after his voluntary hospitalization. Hardik took water offered by rebel Janata Dal (United) leader Sharad Yadav at SGVP hospital and 'broke' his 'around 42-hour long liquid fast' claimed by PAAS. This is for second time that Hardik Patel 'has broken' his claimed 'liquid fast' without any of his three demands met or even heard by government. Hardik supporters claimed he was continuing his ann-tyag and not taking ann(grain). The claim is difficult to believe as Hardik was seen yesterday in a video accessing his i-phone comfortably and looking perfectly alright. The video is viral and people are making fun over it ridiculing Hardik's fast claims.
Yesterday, doctors were shocked to find that Hardik's medical reports were normal. All organs were working perfectly.
Hardik and PAAS had earlier claimed that police would come to Hardik's fast venue and forcibly take Hardik to government hospital and conspire to fail his organs there. However, yesterday in the afternoon, Hardik himself voluntarily decided for hospitalization and boarded a government ambulance and left fast venue to admit in government hospital. This was virtually his defeat as he was sitting on indefinite fast and vowing not to succumb till three demands are met with.
Couple of hours later, another whims struck, and he decided to shift to private hospital. His aides kept clarifying that Hardik was not consuming anything from mouth and he was continuing his fast and was merely given glucose/saline through injected pipe. However his all normal test results, perfectly working organs(after 14 days of claimed fast) his earlier refusal to govt doctors for urine and blood tests (since beginning of September), his growing weight during fast instead of reduction, his earlier step to end liquid fast without any demand met with – all these factors created suspicion whether Hardik's fast was genuine and whether he was being taken to private hospital to enjoy freedom of consuming food(other than ann) and liquid which could not be possible in government hospital under the vigil of government doctors and staff.
Now @HardikPatel_ will take food as per doctor guidance and drink water after interfare with @SharadYadavMP . It's shocking. Is @HardikPatel_ is doing fast for patidar or political benefit?. @PatidarAndolan @JagoPatidar pic.twitter.com/vblQe7YddK

— Hiren upadhyay (@Hirenu1978) September 8, 2018
Before starting fast, Hardik would tell media persons that government would come and pick him up from fast venue in couple of days and take him to hospital but he would not succumb. What happened was, the government didn't care about Hardik's stunt anymore, the government only focused on law and order situation in connection with fast. The government imposed section 144 and prevented any formation of crowd, assembly or mob. As people showed no interest in Hardik's fast, the government was in very comfortable position. Hardik tried to expand his tamasha beyond the limit of fast venue through friends in Congress, but barring few small places, even Congress cadres didn't care much to organize local events in support of Hardik's fast. The Hardik card completely failed to work this time around. While he attracted some second/third rank politicians to his fast venues,the people including the people from his own community largely stayed away from any hungama.
The super stunt during Hardik's fast was declaration of his will. Hardik made his will which was declared by PAAS in a press conference as if Hardik was going to die! None such pressure technique worked beyond coverage on TV screen. The government refused to come under any pressure and didn't care.
In February 2016, Hardik had started 'indefinite fast' stunt in Lajpore jail of Surat. He was hospitalized next day and he had started taking fruit, fruit juice and liquid within 48 hours. Later he had ended fast within a week. In the meantime as per Mukesh Patel's claim, Hardik was trying to manage some prisoner's tiffin so that he can eat during fast. Mukesh Patel, Mahesh Savani and Vitthal Radadia who mediated with Hardik in jail were under attack by Hardik later. Mukesh Patel had told Hardik Patel a 'psycho'. Vitthal Radadia had termed him as 'a man with lost mental balance' while Mahesh Savani had questioned whether Hardik was actually a Patel!
Now during this 'fast', one CK Patel who is heading Kadva Patel organizations and aligned with BJP tried to mediate between Hardik and the government, but he too faced insult. In a typical Hardik style, PAAS took u-turn and claimed it had not permitted CK Patel and six Patidar religious organizations to do mediation.
Even after insult of Vitthal Radadia, Mahesh Savani, CK Patel, Mukesh Patel and six religious organizations of Patidar community, Khodaldham Trust Chairman Naresh Patel decided to mediate and meet Hardik. Hardik, known for his whims, u-turns, breach of trust didn't even spare Naresh Patel. As Naresh Patel was departing from Rajkot to meet Hardik in Ahmedabad, Hardik tweeted: I have personally not asked anybody to mediate. This is a agitation and anybody can make solution of main issues of agitation. I respect all leaders and organizations of community. I am an agitator. I am concerned only with the issues. Community leaders are mediating for last three years.
મેં વ્યકતિગત કોઈને મધ્યસ્થી કરવાનું કહ્યું નથી.આ આંદોલન છે અને કોઈ પણ વ્યકતિ આંદોલનના મુખ્ય મુદ્દાઓનું સમાધાન કરી શકે છે.હું સમાજના તમામ આગેવાન અને સંસ્થાનું સન્માન કરું છું.હું આંદોલનકારી છું,મારે ફક્ત મુદ્દાઓ સાથે મતલબ છે.છેલ્લા ત્રણ વર્ષથી સમાજના આગેવાનો મધ્યસ્થી કરે તો છે.

— Hardik Patel (@HardikPatel_) September 7, 2018
Even after this tweet in very poor taste, Naresh Patel was gentle enough to call on Hardik Patel. Naresh Patel conveyed him something after which Hardik on the pretext of 'breathing trouble' boarded ambulance to reach government hospital. Though PAAS de-link Naresh Patel's visit and hospitalization decision, it is believed that Naresh Patel clearly told Hardik in ears that government was considering his fast as (anti-BJP Lok Sabha election related) political (stunt) merely and not going to hear him in any case and therefore he should end his fast, or continue sit like this for any longer time as per his wish.
A day ago, Hardik aide Manoj Panara was speaking nonsense and telling journos that government would conspire to admit Hardik to government hospital forcibly and doctors there would fail Hardik Patel's organs. However Hardik boarded govt ambulance went to govt hospital. Later whims struck and he choose private hospital.
Ridiculous claims of continuance of fast were again made today by PAAS. Then Sharad Yadav offered Hardik a glass of water.
The government didn't care about Hardik's political fast. Minister Saurabh Patel said he was open to meet any community's organization leaders/representatives but those using name of community for political motives would be dealt politically. The strong hand behave by government worked. Minister of State for Home Pradipsinh Jadeja, Kadva Patel cabinet ministers Saurabh Patel and Kaushik Patel were men on job. Another Kadva Patel minister Nitin Patel who is also deputy chief minister was on 9-day Japan visit, so he was out of picture. The ruling BJP inducted Kadva Patel big wig and former Congress Lok Sabha MP from Mahesana Jivabhai Patel to party during fast agitation. The timing was important to display, wind was flowing on which side.
Slogan, Hardik had chosen for his fast agitation was 'Ladenge, Jeetenge' (we will fight, we shall win). This is the slogan, rabid leftist activists use during their agitations. Even the color of poster was leftist red. So you read Kanhaiya Kumar's tweet supporting Hardik's fast. And you saw Megha Patkar and retired Justice Kolse Patil visiting Hardik's camp. You saw number of Muslim leaders of city/state Congress repeatedly visiting Hardik's camp. Muslim leaders/MLAs of Gujarat Congress also performed prayer at Ahmed Shah durgah in wall city Ahmedabad for Hardik's well being. You saw rabidly anti-BJP saint SP Swami visiting Hardik and offering him a glass of water to end his first part of 'liquid fast'. SP Swami belongs to rival faction of Vadtal Swaminarayan sect. While the government is believed pro-Vadtal gaadi sect, SP Swami faction is against the present gaadi pati. SP Swami belongs to a faction that prevented BAPS Pramukh Swami to visit Gadhada Swaminaraan temple. While SP Swami and his smaller faction is pro-Congress, the main factions of Swaminarayan faith including BAPS, Kalupur, Maninagar gaadi, Haridham Sokhda, Abjibapa, SGVP Gurukul etc are strongly with BJP.
As Patidar community support to him was fading, Hardik wanted to emerge as farmers' leader ahead of upcoming Lok Sabha elections. His this agitation was an attempt in this direction. He had clubbed total debt waiver demand to quota agitation this time. However farmers' didn't show much interest.
In his tweet last evening, Hardik said, the BJP people were not ready for demands of farmers.
अनिश्चितकालीन उपवास आंदोलन के चौदवें दिन आज मेरी तबीयत बिगड़ने की वजह से मुझे अहमदाबाद की सोला सरकारी अस्पताल में भर्ती किया है।श्वास लेने में तकलीफ हो रही है और किडनी पर नुकसान बता रहे हैं।अभी तक भाजपा वाले किसान और समुदाय की माँग को लेकर तैयार नहीं हैं। pic.twitter.com/HyF9sppH0h

— Hardik Patel (@HardikPatel_) September 7, 2018
This is Hardik's self-glorification and illusion. Farmers had not asked him to go on fast for debt waiver.Farmers have better sense compared to Hardik. Instead of leader of farmers, Hardik has merely proven himself as self-style leader of farmers.
It appears that apparently mentally imbalance, whimsical, ill-motive, duplicitous, deceitful and corrupt guy wants to make one after another impossible demands and create anarchy in the state in true villain style. As he is failing in his vicious ideas, that's a good news for Gujarat.
DeshGujarat