None of 11 lions found dead in 2 ranges of Gir East forest were infected by virus:Gujarat Forest department chief
September 21, 2018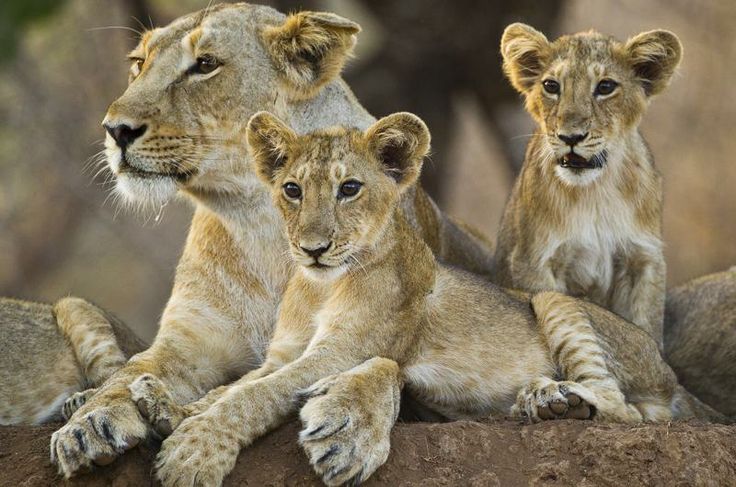 Gandhinagar: Principal Chief Conservator of Forests (PCCF) and Head of Forestry Force (HOFF) of Gujarat G K Sinha today said that none of the 11 lions found dead in two forest ranges of Eastern Gir forest in Amreli district were infected with any virus and most of the deaths were caused by 'in-fight' due to increased activity of outsider lions.
Addressing a press conference here Sinha said that a total of 11 lion deaths (6 cubs of less than one year of age and 2 lions and 3 lionesses) have been reported from two ranges in 8 days from September 12 to 19. Of these 9 deaths were in Dalkhaniya range while the remaining two were reported from Jasadhar range.
He said that for the past some time activities of new lions in the area were reported and this must have given rise to the incidents of in-fight as lion was essentially a territorial animal which maintains its authority over a particular area and his group called pride. Whenever new lions enter a territory the fight between the old and the new one for authority over the pride takes place. It was a very common phenomena for lions. As the old adult lions in the area were fitted with collar id chips for tracking and no such chips have been found in the 3 deceased ones (only two of those dead were found to have such collar id chips ), it strongly indicates in-fight between permanent ones and outsiders.
Sinha said that also during post mortem it has also been found that no food particle was in the intestine of any of the dead adult big cats. 'It is a strong indication of in-fight. Normally after the in-fight the loosing lion runs away to a secluded area and starves to death with no food particle in its intestine. Due to weakness there might be some infection as well,' he added.
Sinha also said that the normal life span of a lion is 14 to 15 years. Gir forest had according to last five yearly lion census done in 2015, a total of 523 lions which was a little over 27% in comparison to 411 of the prior one of 2011. 'Every year on an average 7 to 8% of the lions die naturally which in case of Gir is 40 to 45. Every year around 210 new cubs are born of which 25 to 30% survive which in numbers term was 60 to 70. Around 140 of the cubs die due to natural reasons every year. This was there was an yearly growth of around 5 % which was fairly good for the animal of a cat family,' he said.
Sinha also informed that of the 523 lions 219 were out of the 4 sanctuaries under Gir forest spread across three districts of Junagadh, Gir Somnath and Amreli districts in Saurashtra region of Gujarat. It is the only abode of Asiatic lion in the world.
To a query he informed that the forest department had filed a reply in the High Court in connection with the steps to prevent lions death and the matter was still pending for hearing.
Notably, after the reports of deaths of lions emerged yesterday, PCCF wildlife A Saxena was sent to Amreli.
Earlier in Bharuch CM Vijay Rupani had said that Gujarat was proud of its lions and the government was quite serious about the incident of deaths. If the PM report indicates any negligence then strict action would be taken against whoever was found responsible. The government would also ensure steps to prevent any repeat of such deaths.
Forest Minister Ganpat Vasava had said that the deaths were mostly due to infighting and they were not because of any poisoning or hunting. The matter was being probed by PCCF Saxena.
Notably, the five yearly Lion Census conducted last time in May 2015 had estimated the population of Asiatic lions at 523 (27% up compared to previous census in 2010). The population was 411 in 2010 and 359 in 2005. As per the 2015 census, the population of lions in Junagadh district was 268, Gir Somnath 44, Amreli District 174 (highest increase) and in adjoining Bhavangar District was 37. Of them there were 109 males, 201 females and 213 cubs.
Gujarat High Court had snubbed the state government after reports of the death of around 182 lions in last two years (though most of it due to natural reasons) had come to fore earlier this year.
DeshGujarat