Gir lion deaths: toll at 21, NIV reports virus infection in 4, protozoa infection in 6, vaccines from US ordered, 31 lions kept in isolation
October 01, 2018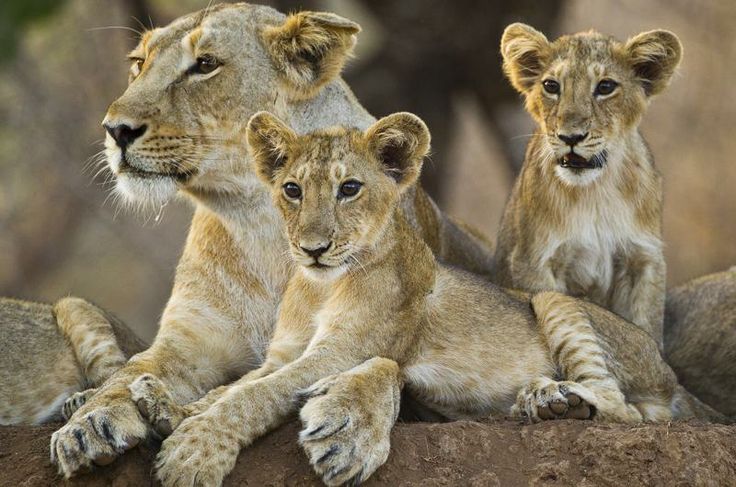 Amreli/Gandhinagar: The forest department after a seemingly futile attempt to cover-up the death of Gir lions due to a suspected outbreak of some infectious disease in a particular range of Gir, the sole abode of Asiatic lions in the world, has finally confirmed the deaths of total 21 lions.
In a statement issued this evening the forest department said that after the death of 11 lions between September 12 to 19 in Dalkhaniya range in the easter Gir forest in Amreli district another 10 rescued from the same range have died between September 20 to 30 during treatment post rescue.
It also said that the report from National Institute of Virology (NIV), Pune has confirmed presence of viruses in the bodies of 4 dead lions and protozoa caused infections in another 10. Around 31 lions rescued from the Dalkhaniya range have been kept in isolation in Jamwala animal care center. Study about the reports of other lions would be done. Help of experts including 3 from Indian Veterinary Research Institute of Bareilly in UP, 5 from Delhi Zoo and 2 from Lion Safari in Etawah in UP is being taken in this regard. For precautionary measures vaccines etc for lions from the US have also been ordered.
The statement also claimed that around 600 lions have been tracked during the September 23 to 29 lions screening campaign in around 3000 sq km area in and around the Gir forests.
Notably the sudden revelation of so many lions by forest department after its initial attempts to show it as a petty issue has also raised questions about the functioning of the forest department. The mysterious part is that for so many days there was no clarity on the part of forest department as to exactly how many lions were under treatment, exactly how many were tracked and the exact reasons of death of some of the big cats.
Another startling thing was that there were no regular updates for past 3 days about the so-called large-scale screening exercise of lions across and beyond Gir forests spread across three districts of Amreli, Gir Somnath and Junagadh and as greater Gir even touching parts of Bhavnagar. It was also not clear as to how many lions were actually tracked during the exercise started since September 23.
The number of lions per the last five yearly census of lions in May 2015 was 523 which was 27% higher than that of the last one of 2010 (411).
During the hurriedly convened press conference on September 21 after the reports about deaths of around a dozen lions in just one range came, Principal Chief Conservator of Forests (PCCF) and Head of Forestry Force (HOFF) of Gujarat G K Sinha had claimed that the deaths of big cats were mostly due to in-fight and despite such things the number of lions in Gir was seeing a rise with an annual growth rate of at least 5%.
By that reckoning the number of lions in Gir should be at least 15% up from that of May 2015 ie in number terms it should be 75 to 80 up. This way it should be over 600 by now.
But during the so called screening exercise as per the statement of Gujarat Forest Minister Ganpat Vasava after his visit of Dalkhaniya range of Gir forests on September 29, had said that only around 500 lions were tracked. And today the forest department release put this number to 600 in its release. The minister had said that around 3000 square km area has been covered by 100 teams of over 500 forest personnel (Gir has only around 1800 sq km area).
Several forest officials including medium to top level ones were seemingly avoiding any queries about the screening campaign and the latest situation about the lions giving rise to the doubts that all was not well with the lions.
Unconfirmed reports had said that many lions were taken out of the jungle and kept in isolation. There were no official words about their condition.
The government and the forest officials had claimed that there was nothing wrong in Dalkhaniya or no virus outbreak or any other foul play including man-animal conflict, in the forest range where so many lions have died in just a matter of few days. They repeatedly said that it was in-fight which was the reason behind most of the deaths. But now that version is seemingly taking a u-turn.
Notably, the five yearly Lion Census conducted last time in May 2015 had estimated the population of Asiatic lions at 523 (27% up compared to previous census in 2010). The population was 411 in 2010 and 359 in 2005. As per the 2015 census, the population of lions in Junagadh district was 268, Gir Somnath 44, Amreli District 174 (highest increase) and in adjoining Bhavangar District was 37. Of them there were 109 males, 201 females and 213 cubs.
Gujarat High Court had snubbed the state government after reports of the death of around 182 lions in last two years, had come to fore earlier this year.
DeshGujarat