Deadly CDV confirmed in at least 4 of 23 lion deaths;Same virus had wiped out many African lions in 1991
October 03, 2018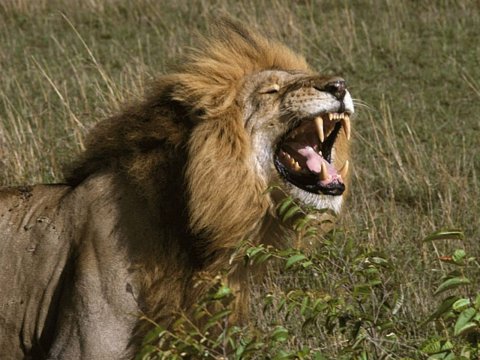 Gandhinagar: Even as the forest department officials are still looking shaky about the highly sensitive issue of lions deaths in Gir forests and seemingly continuing to try to sort of cover-up as much as possible, Gujarat Forest Minister Ganpat Vasava today accepted that presence of deadly Canine Distemper Virus (CDV) has been confirmed in at least four of the 23 lion death cases so far.
And this by any reckoning is a potentially dangerous sign and need to be addressed very effectively and quickly.
The deadliness of the CD virus can be understood from the fact that it was responsible for death of nearly 1000 African lions in Serengeti, Tanzania, East Africa in early 90's and is also suspected to have played a considerable role in extinction of Tasmanian tigers.
Canine distemper (sometimes termed hardpad disease) is a viral disease that affects a wide variety of animal families, including domestic and wild species of dogs, coyotes, foxes, pandas, wolves, ferrets, skunks, raccoons, and big cats. It affects several body systems, including the gastrointestinal and respiratory tracts and the spinal cord and brain, with common symptoms that include high fever, eye inflammation and eye/nose discharge, labored breathing and coughing, vomiting and diarrhea, loss of appetite and lethargy, and hardening of nose and footpads. The viral infection can be accompanied by secondary bacterial infections and can present eventual serious neurological symptoms.
CDV is caused by a single-stranded RNA virus of the family Paramyxoviridae (the same family of the viruses that causes measles, mumps, and bronchiolitis in humans). The disease is highly contagious via inhalation.Morbidity and mortality may vary greatly among animal species, with up to 100% mortality
The domestic dog has largely been responsible for introducing canine distemper to previously unexposed wildlife.
CDV spreads through aerosol droplets and through contact with infected bodily fluids, including nasal and ocular secretions, feces, and urine, 6 to 22 days after exposure. It can also be spread by food and water contaminated with these fluids.The time between infection and disease is 14 to 18 days, although a fever can appear from 3 to 6 days after infection.
The virus first appears in bronchial lymph nodes and tonsils 2 days after exposure. The virus then enters the bloodstream on the second or third day. A first round of acute fever tends to begin around 3-8 days after infection, which is often accompanied by a low white blood cell count, especially of lymphocytes, as well as low platelet count.
A number of vaccines against canine distemper exist for dogs and domestic ferrets. There is no specific treatment for the canine distemper is known. As with measles, the treatment is symptomatic and supportive. Care is geared towards treating fluid/electrolyte imbalances, neurological symptoms, and preventing any secondary bacterial infections. Examples include administering fluids, electrolyte solutions, analgesics, anticonvulsants, broad-spectrum antibiotics, antipyretics, parenteral nutrition, and nursing care.
Vasava today said that of the 36 lions rescued and kept under observation 3 were critical even as 23 have died between September 12 to October 2. 11 of them had infections as per NIV Pune report. Four of these had CVD infection while 7 other had protozoa infection.
Interestingly, protozoa infection could also have some connection with CVD.
The virus which had wiped out 1000 African lions in East Africa in 1991 is really dangerous for only an estimated 600 lions in Gir of Gujarat and the sad part is that it is the only abode of the Asiatic lions on the earth. If the forest department which is sort of playing hide and seek with media don't change its attitude and continue to bother about only further coverup, the outcome might be disastrous.
Additional Chief Secretary, state forest department, Rajiv Kumar Gupta in a bizarre logic in presence of Minister Vasava said that CDV did not cause the deaths, but it affects the immunity of infected lions.
"Lions with CDV can be infected by protozoa, which is spread by ticks. The presence of both of these causes death. We have found CDV in four and protozoa in seven out of eleven dead lions," Gupta said. He also said the government has taken a serious note of the presence of CDV though its spread is restricted to four lions, so far.
He said that 300 vaccines from Atlanta in US have been ordered and would be administered to the lions who showed symptoms of infection. Random samples of blood and swab would also be done and by next week cattle in the surrounding areas of the forest would also be vaccinated. He also said that apart from various vet experts in India help from Royal Veterinary Society of London was also being sought.
Another senior forest official D T Vasavada had also tried to lessen the seriousness of the issue by saying the the death of lions was restricted to only a small area of the forest.
Meanwhile, after the confirmation of CVD, it is also being feared that the lions must have got the infection from dogs which were either being fed to them by illegal lions show organizers or by the forest department itself as an alternative food supply due to alleged lack of natural food for them in some parts of the jungle.
The forest department however denied that there was any lack of food for lions in the forest. It also said that they get their food by praying on other animals in natural way and it also denied that no supply of meat was done to the lions from outside.
It is hoped that with the intervention of High Court and Supreme court the forest department in Gujarat won't be able to play the 'bluff' game in this extremely serious matter (as observed by the apex court today) anymore and things would come under control saving the Asiatic lions, the pride of Gujarat and India, from a big threat.
DeshGujarat