Lion deaths in very small portion of Gir, 'hype' that whole forest under grip of virus wrong, most of rescued lions were fine: CCF Vasavada
October 03, 2018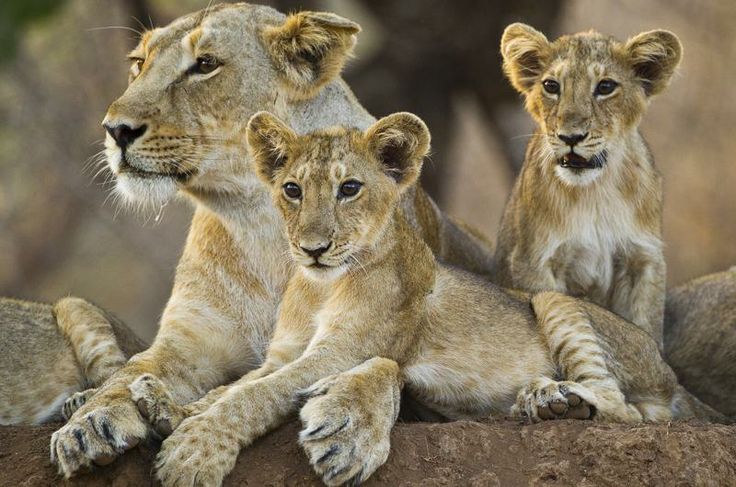 Amreli/Gandhinagar: All the 31 lions rescued from Dalkhaniya range of Gir forest in Gujarat and kept in isolation Jamwala animal care center were fine and free from any infection while the 5 kept in Jasadhar animal care center were ill and under treatment, CCF of Junagadh D T Vasavada today said.
He also said that the deaths of lions have taken place in only a very small portion (25 square kilometer area ) of the Gir forests which as greater Gir was spread in around 22000 sq km in five districts.
'It is not even the whole of Dalkhaniya range but only the Sarasiya vidi where the lions have died and the reason behind the death was also mixed one. Some died during in-fight, some due to protozoa infection and around 4 due to virus infection,' he said.
He said that a vaccine from America which was effective in fighting a wide range of animal viruses has also been ordered as precautionary measure and would be used if the need arose and in the manner suggested by expert vets.
Amid the criticism of the role of forest department in the matter and its hush-hush like attitude, Vasavada said that the hype that the whole of Gir was under the grip of some kind of virus infection was not correct at all.
Meanwhile, Forest Minister of Gujarat Ganpat Vasava today said that it was for the first time that this kind of incident has taken place. He also said that the reason behind the death of lions were different. 'While some died of virus many died due to in-fight as the post mortem report has confirmed,' he said.
He also said that government was doing its best to deal with the issue. As a precautionary measure collection of blood and swab sample of lions from other parts of the jungle for test has also started.
Notably 23 lions have died in Gir as the death of 11 lions had taken place between September 12 to 19 in Dalkhaniya range and another 12 rescued from the same range have died between September 20 to October 2 during treatment post rescue.
Report from National Institute of Virology (NIV), Pune has confirmed presence of viruses in the bodies of 4 dead lions and protozoa caused infections in another 10. Help of experts including 3 from Indian Veterinary Research Institute of Bareilly in UP, 5 from Delhi Zoo and 2 from Lion Safari in Etawah in UP is being taken in this regard.
Around 600 lions have been tracked during the September 23 to 29 lions screening campaign in around 3000 sq km area in and around the Gir forests.
Notably, the five yearly Lion Census conducted last time in May 2015 had estimated the population of Asiatic lions at 523 (27% up compared to previous census in 2010). The population was 411 in 2010 and 359 in 2005. As per the 2015 census, the population of lions in Junagadh district was 268, Gir Somnath 44, Amreli District 174 (highest increase) and in adjoining Bhavangar District was 37. Of them there were 109 males, 201 females and 213 cubs.
Apex court judge Madan B Lokur during hearing of a matter today asked the central government to look in to the deaths of so many lions in Gir terming it an 'extremely serious matter'.
Justice Lokur while hearing a PIL about preservation of forests in India, told the Additional Solicitor General A N Nadkarni appearing for the government that it was extremely serious thing that 23 lions have died in just 20 days.
He observed that lions must be protected, the government must find out the reasons and take steps to stop it.