How MLA Alpesh provoked Thakor community members against Non-Gujaratis
October 05, 2018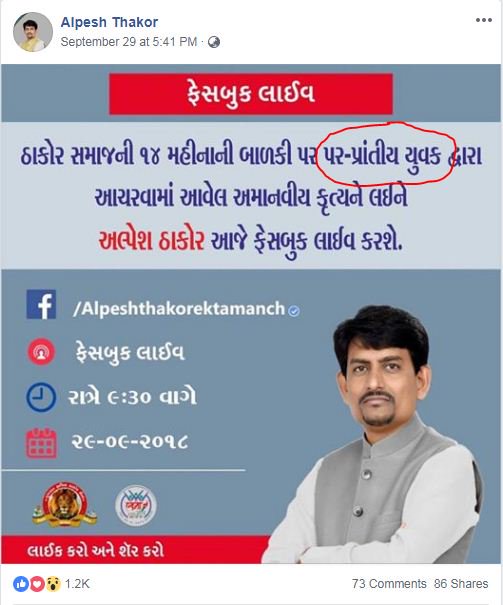 Gandhinagar: So how, Congress leader, Radhanpur MLA and Rahul Gandhi aide Alpesh Thakor instigated Thakor community against North Indian non-Gujaratis mainly from Bihar and Uttar Pradesh recently?
After an incident of rape in Dhundhar village of Himmatnagar taluka of North Gujarat involving a 14-month girl child as victim and a migrant boy from Bihar as accused, MLA Alpesh Thakor gave this incident a racist touch.
Alpesh Thakor on his verified Facebook account posted a picture in which the accused was described as 'par-prantiya' or a person from other state.
It should be mentioned here that Alpesh Thakor is All India Congress Committee(AICC) secretary for the State of Bihar.
In his live Facebook talk relayed on September 29, which had over two lakh views, Alpesh mentioned a word 'par prantiya'(non-Gujarati) for rape incident accused.
At one place in his live video he said,'people from outside are employed in Gujarat and therefore such incidents take place'.
When someone contradicted Thakor in comment during live video, Thakor said, 'I am Senapati(chief) of an army of lions'. He also said, 'I know how to separate legs from body of anyone.'
Thakor in that video spoke about Thakor power.
In same Facebook video, Alpesh Thakor tells that Tata Nano factory's gate needs to be removed.
No wonder, this was followed by violence in several rural centres of North Gujarat where Alpesh Thakor led Thakor Sena cadre has presence.
After several incidents of violence, issuance of threats, attacks on migrants from Bihar and Uttar Pradesh, attacks on units that hire people from other States, incidents of forceful eviction, Alpesh Thakor came under pressure and yesterday in his live Facebook addresses, he requested community members not to attack poor non-Gujaratis but target the units(that employ them).
The question is, with what face Alpesh will go to Bihar and serve his party? The question is, why he gave Thakor caste group vs non-Gujaratis twist to an incident of crime? One who involve in brutal crime such as rape can be from any community. In Surat, a brother raped his sister in an incident of crime last week. Both were Gujaratis. Why should geographical origin of an accused should be mentioned and highlighted by Congress MLA?
Targeting others has never been a nature of Gujarat. Alpesh Thakor should come out of his stupidity. Our monsoon system comes from Bay of Bengal, water in Sabarmati come from Rajasthan, Narmada from Madhya Pradesh, Tapi from Maharashtra, fuel for our power stations come from Eastern Indian states. Without workers from U.P. and Bihar many of our industrial units can't survive. Are Alpesh's supporters also intending to attack non-Gujarati jawans in Army and BSF camps in North Gujarat? Or non-Gujarati scientists working in ISRO campus? This is not in accordance with culture of Gujarat. This is not in accordance with traditions of Gujarat. This doesn't reflect Gujarati psyche. This will be a blot on Alpesh Thakor's political career, blot on the party he represents. At the same time, there's general impression that as Alpesh is flirting with BJP for quite sometime, BJP and the State government ruled by BJP here have not done their bit properly in response to Thakor Sena violence.
DeshGujarat