India and Russia go ahead with major missile deal defying fear of US sanctions
October 05, 2018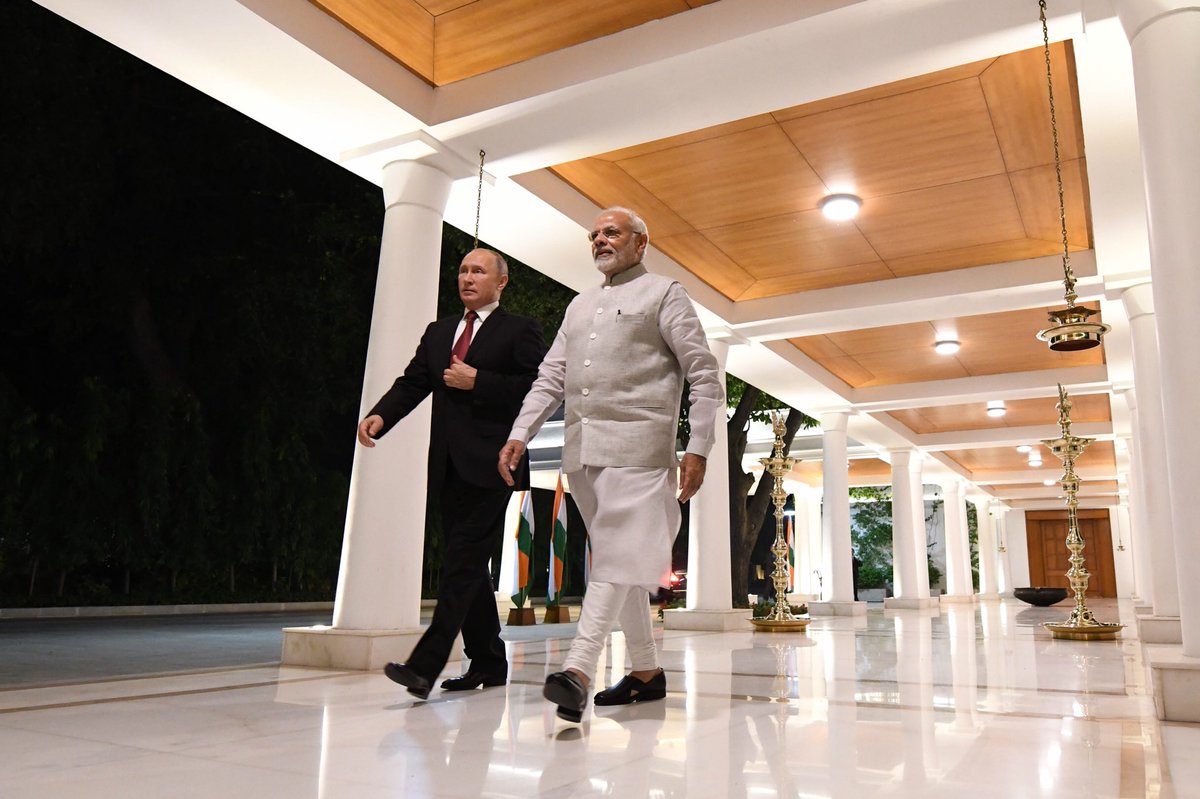 New Delhi:Brushing aside the US objections vis-a-vis Countering America's Adversaries Through Sanctions Act or CAATSA, India on Friday "concluded the conclusion" of the contract for the supply of the S-400 Long Range Surface to Air Missile System to India.
"Both sides welcomed the conclusion of the contract for the supply of the S-400 Long Range Surface to Air Missile System to India," the joint statement said here at the end of delegation level talks led by Prime Minister Narendra Modi and the visiting Russian President Vladimir Putin.
"The sides reaffirmed their commitment to enhance military technical cooperation between India and Russia, which has a long history of mutual trust and mutual benefit. Both sides expressed satisfaction at the significant progress made on the ongoing projects of military technical cooperation and recognized the positive shift towards joint research and joint production of military technical equipment between the two countries," the joint statement said.
The S-400 is a mobile missile system that integrates a multi function radar, autonomous detection and targeting systems and anti-aircraft missile systems.
Sources say it can simultaneously track 100 airborne targets, including super fighters such as the US-built F-35, and engage six of them at the same time.
Notably, there was no mention of the big ticket defence deal which would cost India Rs 39,000 crore in the statements of both the leaders.
Mr Putin, however, said the ties between the two countries go beyond the supply of Russian weapons to India.
It goes to India's diplomatic success story that the US had last month indicated that Washington will not "penalise great strategic partners like India" if it inks major defence deal with Russia.
At the September 6 Indo-US '2 Plus 2 Dialogue' in Delhi, the CAATSA did not figure.
However, the Secretary of State Michael Pompeo later did not miss to tell the journalists accompanying him that the Trump administration will not be keen to "penalise great strategic partners like India".
List of Agreements/MoUs Exchanged between India and Russia during Visit of President of Russia to India
October 05, 2018
Sl. No.
Name of the MOU/Agreement/Treaty
Exchanged on the Russian Federation side by
Exchanged on the Indian side by
1.
Protocol for Consultations between the Ministry of Foreign Affairs and MEA for the period 2019-2023
H.E. Mr. Sergey Lavrov
Minister of Foreign Affairs of Russian Federation
Smt. Sushma Swaraj
External Affairs Minister
2.
Memorandum of Understanding between the Ministry of Economic Development of the Russian Federation and the National Institution for Transforming India (NITI Aayog)
H.E. Mr Maxim Oreshkin,
Minister of Economic Development of the Russian Federation
Dr Rajiv Kumar
VC, NITI Aayog
3.
Memorandum of Understanding between Indian Space Research Organization (ISRO) and the Federal Space Agency of Russia 'ROSCOSMOS' on Joint Activities in the field of Human Spaceflight Programme
Mr. Dmitriy Rogozin
Director of ROSCOMOS
Shri Vijay Gokhale
Foreign Secretary
4.
Memorandum of Cooperation between the Indian and Russian Railways
Mr Oleg Belozerov,
CEO-Chairman of JSC Russian Railways
Shri Vijay Gokhale
Foreign Secretary
5.
Action Plan for Prioritization and Implementation of Cooperation Areas in the Nuclear Field
Mr. Alexi Likhachev,
DG, Rosatom
Shri K N Vyas
Secretary, DAE
6.
Memorandum of Understanding between the Russian Ministry of Transport and Indian Railways in the Development Cooperation in Transport Education
H.E. Mr. Nikolay Kudashev, Ambassador of the Russian
Federation to India
Shri D.B. Venkatesh Varma
Ambassador of India to Russia
7.
Memorandum of Understanding between the National Small Industries Corporation (NSIC), of India and the Russian Small and Medium Business Corporation (RSMB), on Cooperation in the field of Micro, Small and Medium Enterprises
Mr. Alexander Braverman,
Director General , Russian Small and Medium Business Corporation
Shri D.B. Venkatesh Varma
Ambassador of India to Russia
8.
Cooperation Agreement in the Fertilizers Sector between the Russian Direct Investment Fund" ("RDIF"); PJSC Phosagro (PhosAgro) and Indian Potash Limited (IPL)
Mr Kirill Dmitriev,
Director general of the Russian Direct Investment Fund
Andrey Guryev,
CEO for PhosAgro
Shri D.B. Venkatesh Varma
Ambassador of India to Russia
Press Statement by Prime Minister during the Visit of President of Russia to India
Your Excellency,
President of Russian Federation and my close friend,
Vladimir Vladimirovich Putin,
Respected delegates of both the countries,
Hello,
Dobryy Den,
I am very happy to welcome President Putin and his delegation to India for the 19thAnnual Summit.
We are welcoming you as the President of a country with whom we have unique relations. You have made invaluable personal contribution for these relations.
The memories of the informal summit held in Sochi by President Putin are fresh in my mind. That special visit gave us an opportunity to openly discuss things.
Excellency,
India gives top priority to its relations with Russia. In this rapidly changing world our relations have become more relevant.
Our Special and Privileged Strategic Partnership has consistently received new energy and direction from the continuous series of nineteen summits. And our cooperation on global issues has acquired new meaning and goals.
Our cooperation has got a strategic direction from your visit. Today, we have made important decisions which, in the long run, will make our relations more strong.
From human resource development to natural and energy resources, from trade to investment, from the peaceful cooperation of nuclear energy to solar energy, from technology to tiger conservation, from arctic to far East, and from sea to space, there will be an even greater expansion of India-Russia relations. This expansion will take our cooperation ahead of the few selected areasof the past.
Also, the important pillars of our relationships will become much stronger.
Russia has always been with us in the development journey of India. The next goal in our space journey is to send an Indian astronaut in Gaganyaan. I am very happy that you have assured full cooperation of Russia in this mission.
The youth have the ability to rejuvenate the future of our countries. I am happy that the talented children of India and Russia will demonstrate their innovative ideas this afternoon. These ideas have been brainstormed by them together.
We welcome the participation of Russia in Flagship programs of India and in the wider opportunities of business present here. I am also happy that after some time we will participate in the India-Russia Business Summit. Around 200 major economic entrepreneurs from both countries are participating in this summit.
India and Russia have been cooperating closely in all international issues of mutual interest. President Putin and I also had detailed discussions on these issues.
India and Russia are unanimous in strengthening multi-polarity and multilateralism in this rapidly changing world. Both our countries have common interests in cooperating on terrorism, developments in Afghanistan and Indo-pacific, climate change, regional organizations like SCO, BRICS and multilateral organizations like the G20 and ASEAN. We have agreed to continue our beneficial cooperation and coordination in international institutions.
I am very impressed by the steps taken by President Putin for the development of the Far East of Russia. India is ready to cooperate in this field.
The decisions taken today will further enhance our cooperation and contribute to the restoration of peace and stability in this challenging world.
Brothers& sisters,
The source of the power of the relations between India and Russia is the goodwill and friendship of ordinary residents for each other. Today we discussed many such things which will strengthen people to people connect and increase their understanding, especially of young people. This will create a new foundation for the future of India-Russia relations.
Friends,
I can honestly say that India-Russia friendship is unique in itself. I am confident that President Putin's commitmentwill give more energy to these relations. And our trust and friendship will be further strengthened and our special and privileged Strategic Partnership will scale new heights.
Thank you.
Spasiba.
Disclaimer: PM's Speech was delivered in Hindi. This is an approximate translation of Speech.
New Delhi
October 05, 2018