Whom did I provoke? Who is attacked? Show me who is hospitalized, migrants left Gujarat for Chhath Puja early, I will go to Bihar, my leader has full faith in me: Alpesh Thakor
October 09, 2018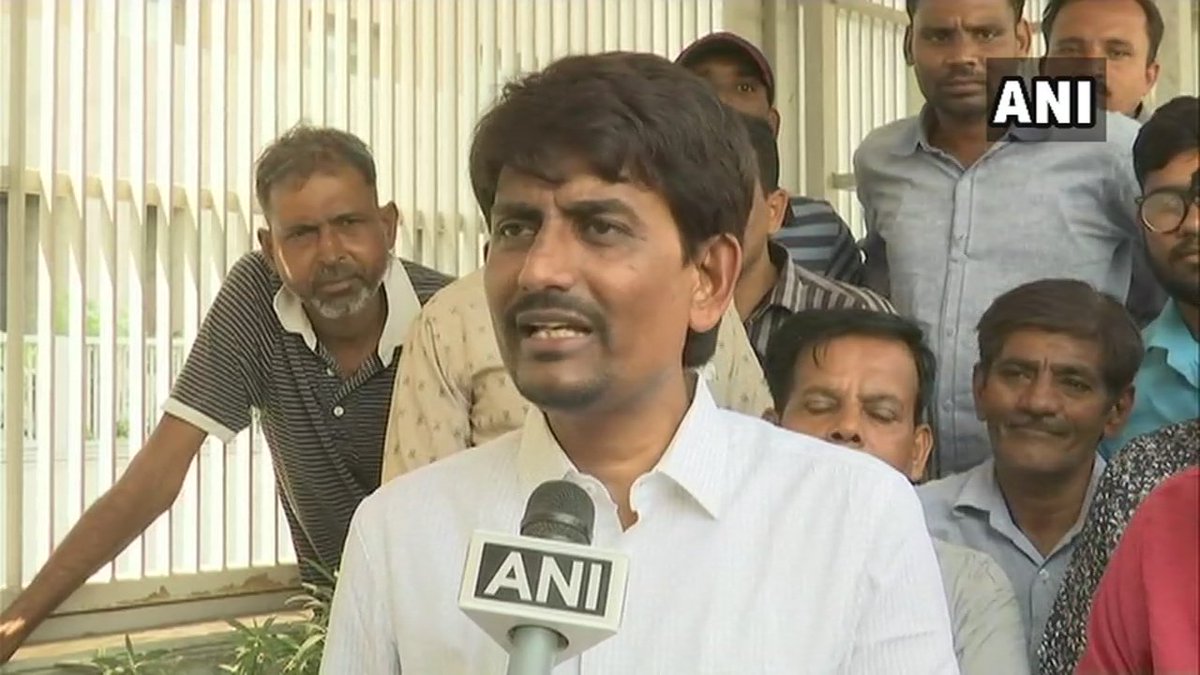 Ahmedabad: As demand for his arrest and ouster is only rising from all corners and across the States, Congress leader, Rahul Gandhi confidant in Gujarat and MLA Alpesh Thakor today spoke to media persons. Following were the replies of Alpesh Thakor to media persons:
– Whom did I provoke? Alpesh Thakor alone is making appeal for peace for last ten days. I have repeatedly said that accused is one person, he doesn't belong to some state, some community, and even then people are doing politics. I spoke about humanity. I said that a 14-month girl was raped and accused should get death penalty, but I had made appeals on social media repeatedly for maintaining peace. Thakor Sena had made appeal. I am speaking today as OBC, SC, ST leader as my community is being targetted. I have come to speak as attempts were made to break their unity. My poor community is being defamed.
– I can't do such politics. If such is the politics, I will leave this all and choose to live with my son. I don't want such politics. Day after tomorrow I will do Sadbhavna fast, perhaps my last fast, and perhaps I will wind up this all and live with my son. These people are doing politics over dead bodies. These are the people doing politics by killing people. Non Gujaratis, Thakors all will attend my Sadbhavna fast. I have decided, I will call my Thakor community members and ask them for last time about my wish to leave this politics. I have created Bal Sena. I will go with them. Sadbhavna fast could be my last fast. I will ask my supporters should we continue to fight with Aasuri shakti(demon power) and if they don't want to fight, then Alpesh Thakor will sit at home.
– Government has no guts to protect migrants, I have. There has been no case against me. We are painted as bad. I have made organization in 16 states.
– My loved son is in critical condition for last three days, and such politics is going on(targeting me). Nature will not forgive those who are doing this. I have been with my son for two-three days. He is unwell for last four-five days. I am breaking down here because of my son. These are demons. These are people who want to play politics over deaths. These people should feel shame. Alpesh Thakor can't speak to kill any poor, any labourer. Such politics? I don't blame anyone. All are same. I am sad because I am speaking for poor, unemployed, common people. If I feel that Thakor community is defamed, or none is in favor of honesty, then I don't want to do such politics.
– There are 2.5 crore Thakors, there could be someone, somewhere involved in it, but don't target only Thakors, there are Sarpanchs involved at some place, there are unemployed youths involved at some other place in incidents of violence.
– Our demands were accepted by the government(fast track procedure against rape case accused 19-year old youth from Bihar). I myself spoke to Chief Minister, Minister of State for Home and DGP over phone call after just one such incident(of violence) and told them that such incident should be dealt with and suppressed. And then they target Alpesh Thakor. Such politics will not sustain for long.
– Am I fool? Would I damage image of Gujarat? Would I kick out Biharis being an incharge of Bihar for Congress party? How rubbish? UP and Bihar are ours. I am Rashtravadi. I am Thakor, I am Gujarati but basically Indian.
– People are going to Bihar because of Chhath Puja and due to first vacation(of Navratri this year declared by the Gujarat govt) There's atmosphere of rumors. People are going to their native places for Chhath Puja festival, 15-day early due to fear linked to rumors. In eastern area of city, buses full of people travel to native places on daily basis routinely, and you show them as people fleeing due to fear.
– I am happy that my leader has full faith on me. My leader knows that I believe in humanity. My leader called me (over phone) at 1.00 am to inquire about health of my son. He asked who was the doctor treating my son and he was admitted in which hospital. Such is the leader, then how his follower can go out to beat up some one. What wrong thing I have done? Kill me if I have done something wrong. If Rahul Gandhi is going to suffer due to me, I will go and offer resignation.
– Where did attack take place? Who is admitted in hospital? Show me. There has been no attack. Our Thakors were sleeping and they were picked up(by cops) in a village. There could be few Thakors involved. We will advise them, speak to them.
– I will go to Bihar, so what if I am killed. I will go and speak that these people are doing wrong politics.
– There could be misunderstanding, but we are not wrong. We can't beat up anyone, we can't harass anyone. My Thakor community is poor and innocent. We are not goons. We ended our agitation three days ago, who is doing this all after that? This is attempt to destruct Thakor community and Alpesh Thakor, but I will choose self destruction.
DeshGujarat