Tata Motors rolls out 500,000th passenger vehicle from its Sanand facility
October 24, 2018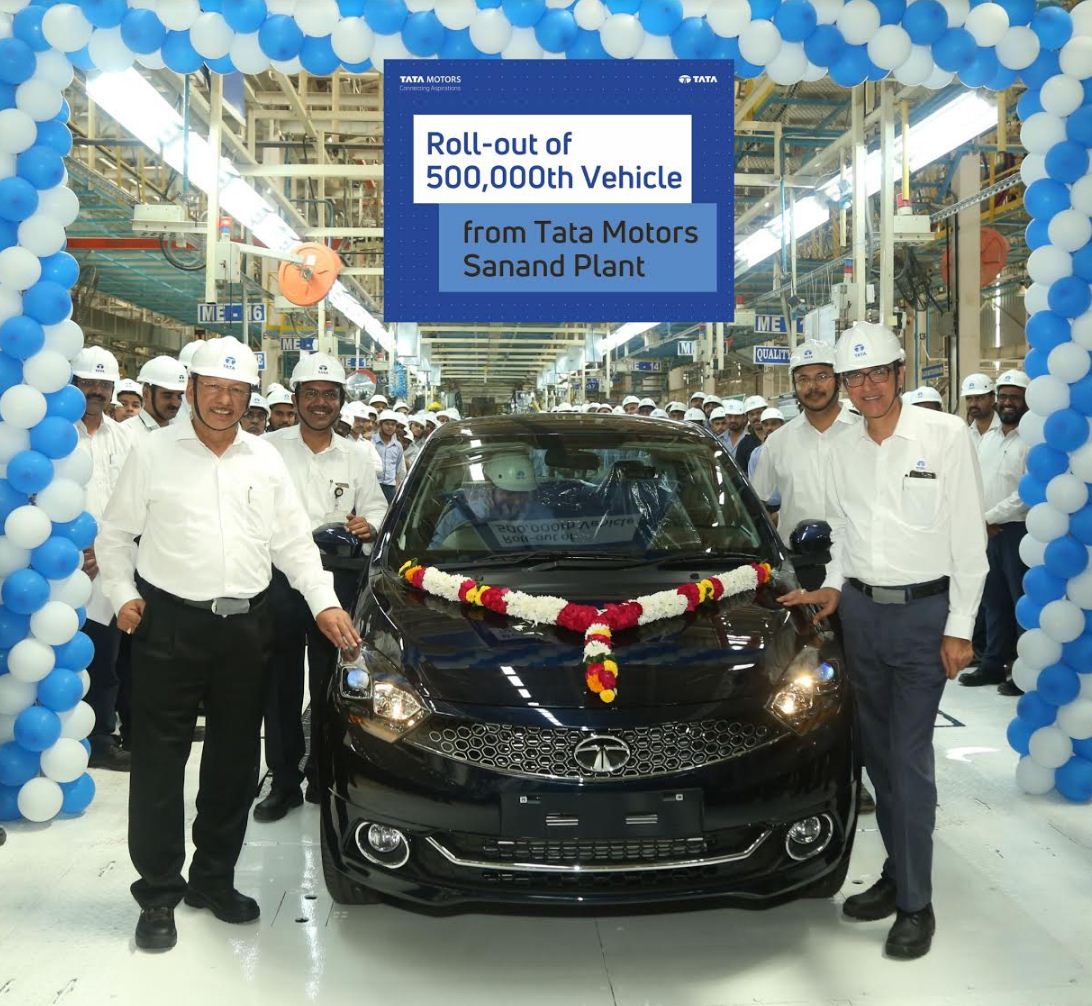 Mumbai: Operating at 100% capacity utilization, Tata Motors successfully rolled out its 500,000th passenger vehicle unit on Tuesday, October 23, 2018 from its Sanand factory located outside Ahmedabad.
According to company statement, the Sanand facility plays a vital role in its passenger vehicles portfolio, manufacturing the widely popular models – Tiago andTigor; the latter was recently launched in an all-new avatar.
The company said, 'keeping up with the Government of India's vision to bring Electric Vehicles in India, the Sanand plant produced the first electric passenger vehicle for commercial use in the form of Tigor EV and continues to support deliveries of the Government-operated Energy Efficiency Services Ltd. (EESL) order.'
Mayank Pareek, President, Passenger Vehicle Business Unit, Tata Motors said, "We, at Tata Motors, have been working aggressively towards our core strategy of Turnaround 2.0, aiming to 'Win sustainably in PVs'. A lean manufacturing process plays a key role in our growth strategy enabling the Sanand plant to contribute around 60% of the overall PV production. We are extremely proud of achieving this milestone within our planned timeline. This is the result of the hard-work put in by our dedicated workforce. The plant has evolved to become a modern, state-of-the-art facility and is playing a pivotal role meeting aspirations of Tiago and Tigor customers."
Satish Borwankar, Executive Director & COO, Tata Motors said,"The Sanand plant has evolved over the years. From being a single model plant, Sanand has grown into a multi-model plant and is on a roll since the introduction of Tiago. We have achieved WCQ Level 3 and the operational efficiencies are at a high. We are delighted to celebrate this milestone and my best wishes to the team for many more such feats."
Spread over 1100 acres of land, the Tata Motors' Sanand plant has played an important role in the development of the automobile industry in the state of Gujarat. From a single model plant in 2010, the plant today has emerged as a multi-model facility. With a flexible assembly line, the plant today manufactures Nano, Tiago & Tigor models spread across 21 variants with 150 vehicle combinations. It is also producing engines – Revotron 1.2L – Petrol (Manual & Auto Transmission), Revotorq 1.05L – Diesel, 624 CC, MPFI – Petrol (Manual & Auto Transmission) and 1.2 NGTC – Petrol (Manual & Auto Transmission).
DeshGujarat