PM Narendra Modi's Statement prior to his departure to Japan
October 26, 2018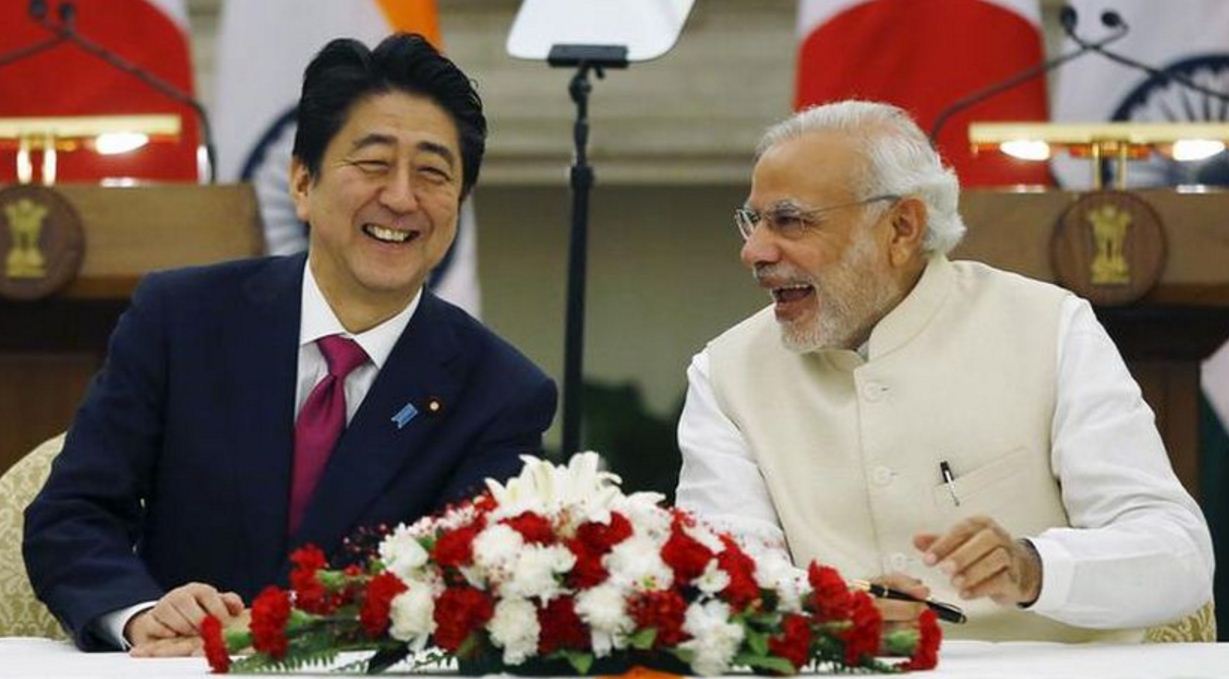 New Delhi: Following is the text of the Prime Minister Shri Narendra Modi's departure statement prior to his visit to Japan.
"I will visit Japan on 28-29 October 2018 for the Annual Summit. This will be my twelfth meeting with Prime Minister Shinzo Abe since my first visit to Japan as Prime Minister in September 2014. Thereafter, I had visited Japan in 2016 for the Annual Summit.
Last year, I had the pleasure of hosting Prime Minister Abe and Mrs. Akie Abe in my home state Gujarat also. Japan is India's valued partner. We have a Special Strategic and Global Partnership. Our ties with Japan, both economic and strategic, stand completely transformed in recent years. It is today a partnership of great substance and purpose. It rests on the strong pillars of India's Act East Policy, and our shared vision and commitment to a free, open and inclusive Indo-Pacific.
As democracies, we have shared values. We seek peace and prosperity for all.
Our complementarities make India and Japan a winning combination. Japan today is one of the most trusted partners in India's economic and technological modernisations and one of the top investors in India. Projects like Mumbai-Ahmedabad High Speed Rail and Dedicated Freight Corridors reflect the high level and strength of our economic engagement. Japan is also at the forefront of engaging in our national initiatives, such as 'Make in India', 'Skill India', 'Digital India', 'Start Up India', etc.
Japanese investors have faith in India's economic future, which is marked with myriad opportunities.
We value Japan's global leadership in innovation, technologies and best practices. During this visit, I will have a chance to see some of Japan's high-tech capabilities in robotics.
I will have wide-ranging talks with Prime Minister Shinzo Abe and interact with business leaders and captains of industry from both countries. I will also address the Indian community.
These interactions will help to further strengthen our trade and investment ties, and cooperation in new areas, such as healthcare, digital technologies, agriculture and food processing, disaster risk reduction and disaster resilient infrastructure.
I greatly welcome the growing ties between our parliamentarians, and between our states and Japan's prefectures. It is a matter of happiness that direct relations between the peoples of our two countries continue to grow through active interaction in areas such as education, skill development, culture and tourism.
My visit will promote our traditional friendship that is deeply rooted in history, and consolidate our partnership for a better and more prosperous future."
Foreign Secretary Vijay Gokhle's briefing on PM's Japan visit
Prime Minister is planning a two day visit to Japan i.e. 28 and 29 October and as you all know there is an annual summit that we have with Japan. This will be the 13th such annual summit and fifth for our Prime Minister.
The visit of course is characterized both by the special strategic and global partnership that we have established with Japan and by the personal relationship that the Prime Minister has evolved with his counterpart Prime Minister Abe of Japan. For your information besides the five annual summits during which they have met or will be meeting there are six other occasions on which they have also met in the sidelines of international and multilateral meeting, so they have already met a total of 11 times in the past four and a half years and this will be the 12th such meeting.
The visit of course takes place against the backdrop of shared values with Japan, a common vision that we share with them and shared objectives. Let me just speak to you briefly about the program Prime Minister will follow when he visits Japan. And before I do so I do want to highlight that this is a program that Prime Minister Abe has also taken personal interest in working out. If you recall our Prime Minister also made a special program for Prime Minister Abe during his visit last year to Gandhi Nagar and Ahmedabad.
On Sunday, October 28, our Prime Minister will visit Yamanashi prefecture. This is a prefecture at the Mt. Fuji and it also has a sizeable industrial base. The program as currently envisaged will be informal lunch hosted by Prime Minister Abe at a hotel in view of Mt. Fuji. Thereafter they will take a stroll in the grounds of the hotel and this will be followed by a visit by both leaders to a company which is a leading manufacturer of factory automation systems. It is a very advanced technology company in Yamanashi prefecture. The two leaders will visit together and then Prime Minister Abe will take our Prime Minister to his personal home, his second home in Yamanashi for a private dinner. This is a very special gesture Prime Minister Abe is making. We believe this is the first time that a foreign leader is visiting Prime Minister Abe's second home or his holiday home. Then both leaders will return the same eveing to Tokyo on the train. Prime Minister Abe will of course be in Yamanashi in advance to greet him on arrival but on return both will travel by train back to Tokyo.
Monday, 29 October is the formal day. It begins with a community function. He will meet members of the Indian community and this will be followed by a few important calls on PM by the Foreign Minister Mr. Taro Kono, by the METI Minister Mr. Seko and by two important Political leaders Mr. Kishida and Mr. NIkali.
Then there will be a series of business events. A call on Prime Minister by a group of Japanese venture capital companies, then a lunch by their top level industry body. This will be followed by a meeting between the India-Japan Business Leaders Forum. This is like the CEO forum that we have with other countries. During that or just after that will be the launch of grand challenge of start-ups which is a new program which encourages Indian and Japanese entrepreneurs to pose start-ups to these venture capital companies and this is the beginning of that process. SO this is something which is a new element. And finally Prime Minister's address to the business forum jointly hosted by Nikkei, by JETRO and by Keidanren.
The evening will be the official part of the visit that is ceremonial welcome by the Prime Minister of Japan at his office. The delegation level talks, the press statements that will be issued, the exchange of documents and then the official banquet for the delegation by Prime Minister Abe before our Prime Minister departs for Delhi the same evening.
Although the normal official visit also involves call on His Majesty, the Emperor but the Emperor is not in Tokyo on those days. SO as you see the program is short, it is very focused and it is action packed. Several programs are packed together in the time that the Prime Minister will be in Japan.
Very briefly let also give you a sense of the discussions that he will hold during his visit to Tokyo and these discussions will be against the backdrop of Japan both as a major strategic partner for us and as a major development partner for us. So they are both as far as we are concerned so obviously bilateral issues will figure prominently. Japan has been a major contributor to India's economic development and modernization and is a strategic partner. Exchange of views on regional and multilateral issues will also take place.
On the international and multilateral side these discussions are anchored in a shared approach on values, n having an inclusive global order on having a reformed multilateral order and on initiative that foster trust and connectivity.
It goes without saying that Indo-Pacific will be a major topic of discussion between both leaders. Prime Minister's vision is already been elaborated at the Shangri-La Dialogue. Prime Minister Abe has separately elaborated his own vision of the Indo-Pacific. If you make a comparison of it you will see a number of areas of convergence, of commonality, of common vision and the two leaders will obviously therefore discuss how we can take this vision forward, present it to the rest of the world and try to see how we can concretize it.
One of the areas which will form part of this discussion will therefore be how we can collaborate in the context of the Indo-Pacific in Asia and in Africa and on capacity building and on infrastructure projects in a trilateral format, in other words India, Japan plus one. Obviously I am not in a position to share any more details in this matter but this is certainly a subject which will be discussed.
The regional security situation will obviously be another topic. We presume that given the interest that Japan has on issues relating to the Korean Peninsula and the DPRK, this matter will be discussed. We will certainly raise the issue of our concerns with the terrorism and other international transport of crimes. This is an issue which has importance to us and I presume we will also exchange views on our relations i.e. the relations that India and Japan have with the various major powers.
Obviously the two leaders are free to discuss any other issue which may come up and it is very difficult for me at this stage to indicate what or whether any issues will come up.
On the bilateral sides there are very substantive issues to be discussed and this will take up a considerable amount of the time that the leaders devote to each other both at the one to one and informal meetings on Sunday and at the more formal meeting on Monday. And foremost will be of course how we further leverage Japan as a development partner for our economic modernization and for the flagship initiatives of Government of India which you already know about, like Skill India, Make in India, Digital India and so on. As well as of course the flagship projects which are already ongoing, the Dedicated Freight Corridor, Delhi-Mumbai Industrial Corridor, a number of Metros and of course the Mumbai-Ahmedabad High Speed Rail. These are ongoing projects but obviously stock-taking would be done and we will see what to do beyond this.
One of the agreements we expect to sign will be the second tranche of the ODA loan for the Mumbai-Ahmedabad High Speed Rail project. The effort at least of Government of India and of the Prime Minister is to ensure that this completed in time for the 75th anniversary of India's independence which comes in 2022 and every effort is being made by both governments to see that we reach completion of this and the issues that are in the way are resolved.
Discussion will take place on the Dedicated Freight Corridor which is of course now nearing the end of its project time frame. This is a project of close to 50,000 crores of which Japanese assistance has been of 38,000 crores. That is a very sizeable Japanese assistance that we have received over a period of time and we have highly appreciated Japan's assistance in this landmark project. Perhaps you know that the trial run of the freight train was done on 15th August this year. The first section of 190 km which I am informed is from New Ateli station to New Phulera station has already been opened on the Western Dedicated Freight Corridor. The next segment of 492 km between Rewari and Marwar is likely to open by the end of this year or very early next year and we are looking at the final completion by March 2020. So the last minute issues or the last mile issues will obviously be discussed although the Prime Minister's will not go into any specific details, these are left to people at the functional level.
Discussions will also take place on some of the Metro projects, the Chennai Metro for instance, the Delhi Mass Rapid Transit System, some hydro-electric projects, some road projects in cities, these are part of our new proposals ODA program.
The digital partnership is something which will be focused on by the two leaders this time and this of course has a bearing on our own Digital India initiative of the Prime Minister. On our side the nodal point is NITI Aayog, on the Japanese side it is the METI and the areas we are looking at is how we can collaborate in artificial intelligence, in the internet of things and in big data. There are other topics of course but these are the main topics. This will be a focus this time around in the visit.
We are also hoping to have some kind of synergy or integration between our Prime Minister's program of Ayushman Bharat which is the largest Medicare program of its kind globally and the Japanese program which is called Asia Health and Wellbeing Initiative. How we dovetail this and how we leverage Japan's strengths in certain areas including medical equipment, hospitals and so on, is something which the two leaders can explore.
In Skills India we had an initiative which is Japan's Institute of Manufacturing in India and they are now eight of them in operation. In addition we had agreed at the last summit that the technical interns training program will begin. In other words we will send technical interns for training to Japan and the first batch of these interns have left in September this year, so it's a small beginning but the beginning has been made and we expect to retch it up, these people going over the next year or so.
In the last summit an MoU was also signed on Japanese language teaching, it is an aspect that is particularly important to Japan from the cultural perspective and the first batch of 25 trainee teachers have already passed out of this course in this interim period of one year between the signing of the MoU and this summit, we have actually implemented this program. The first batch of 25 teachers passed out two weeks ago. The target is 1000 teachers, so we have to retch it up this program as well.
Finally, the last summit established an Act East forum. This is part of Prime Minister's vision of linking the North East of India with ASEAN as part of our Act East and of how we can leverage Japan or Japanese assistance or Japanese development capabilities in achieving this objective. We have had a number of meetings of the Act East Forum again in this one year and we have been able to identify some projects in the North East, some district roads, a couple of bridges, hydro-power stations and forestry projects in two states.
On the economic side and the developmental side I'd say that these are the areas where discussion is likely to take place. Defense and Security is another area which is important from our perspective with Japan particularly because there is a growing focus on our strategic partnership over the years. We have signed a number of vision statements and documents in this regard.
One of the areas we have already agreed to work and where further discussion will take place is research and development in certain areas of importance to us. Unmanned ground vehicle is one, robotics is another. Work has already started, I presume the leaders may wish to review what is happening here. We also have bilateral consultations with them, Tri-service consultations i.e. the army, the navy and the air force have the army to army talks, the air force to air force talks and so on. Civilian side in the Ministry of Defense has these talks.
We have regular exercises with all three services and the coast guards. The first army exercise will actually be taking place while this summit is on i.e. from 29th October onwards, this is the first time that armies will exercise. You of course know that Japan is a partner in the Malabar Exercise.
On the people to people side, the general push that we are giving is to link the prefectures of Japan to states. We would also want to encourage more parliamentary groups to visit on both sides. Perhaps some of you were aware that just last month a parliamentary group of young parliamentarians from Japan led by by Shinzo Koizumi, who is the son of the former Prime Minister Junichiro Koizumi, visited India.
Lastly I want to flag that Prime Minister in his speech of the G20 in the last G20 summit in Hamburg and also when we held the Asian Disaster Infrastructure Conference in 2016, spoke about the disaster management and disaster assistance space internationally, globally, regionally being vacant and the importance of filling this space by trying to build an informal coalition. That idea is very much something that government is working on and in that regard Japan is of course a critical partner not only because of its vast technology and experience in handling natural disasters but also because of the Sendai Framework which emerged after the Tsunami as a global framework to build resilient infrastructure which can withstand disaster to build back better in colloquial terms. So this is also going to form a part of the discussion.