Why Modi choose tribal area as location for Statue of Unity, why opponents are rattled
October 30, 2018
By Japan K Pathak, Gandhinagar: It was a limited meet chaired by then Chief Minister of Gujarat Shri Narendra Modi at one of the halls of Mahatma Mandir complex in capital Gandhinagar, possibly in year 2013. The agenda was 'Statue of Unity'. Media was not allowed inside the hall and I had attended the meeting not as a journo. Modi had in his address said that when he conceived the project of Statue of Unity, he first asked experts to study, whether a tall statue could be carved out of some mountain. Experts explored the idea and returned to suggest that there was no suitable place in Gujarat available for that, so Modi in his address said he looked elsewhere.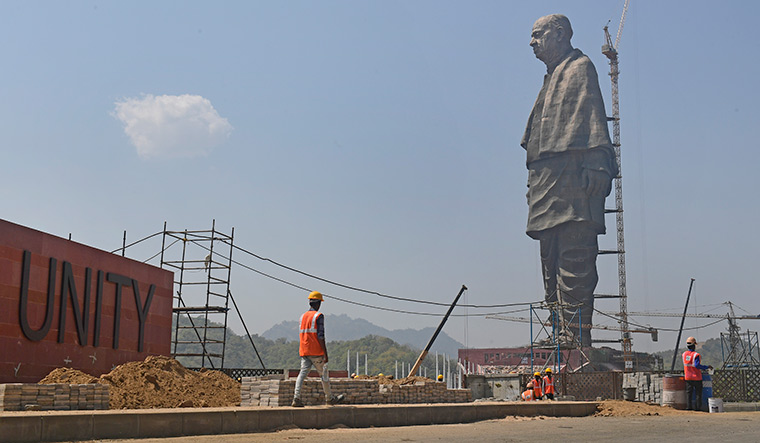 To visit the Statue of Unity, one would need to travel to Kevadiya Colony, a tribal populated location in Central-East Gujarat where Sardar Sarovar Narmada dam is located. The government is expanding highway and laying out a railway line to connect this place to Delhi – Mumbai route (which is also Mumbai – Ahmedabad or Surat – Ahmedabad route). The government is also mulling to set up an airport in nearby Karjan town. The question is, why Modi decided to build this statue at remote location of Sardar Sarovar dam and not in Gandhinagar or elsewhere? Land availability would not be an issue in Gandhinagar. The statue is roughly equal to a 40-60-storey building and therefore air traffic would not be a problem if location was selected on the northern end of Gandhinagar (to be precise, India's tallest building is The 42 in Kolkata which is 63 storey high).
Modi perhaps decided Sardar Sarovar location for Statue of Unity in tribal populated Narmada district in order to connect the tribal area to mainstream, inject activities there, send people there and end isolation. Modi had done same for border areas of Kutch. The approach of governments earlier was that, the border areas of Kutch should be in isolation for security purpose and Rann of Kutch must be a no-go place. Modi however took approach that border area should not be kept in isolation. It would be harmful for security. Modi insisted that investors should go and set up their units in Kutch. He also ideated and initiated Kutch Rann Utsav. Thousands of people would go to remote Rann of Kutch and even visit international border in controlled tours. Kalo Dungar at border town Khavda, located next to Rann of Kutch would earlier be in news for arrival of consignments(including one with RDX) from across the border. Modi started visiting a temple atop Kalo Dungar every year and clubbed it to Rann Utsav tourism festival. The temple was expanded and developed to a new scale during Modi years. Simple idea was, people should be visiting this remote area, there has to be life, there need to be development, there need to be watch.
Coming back to Statue of Unity and its location in tribal area. Modi had earlier separated tribal populated portions of districts in South, Central and North Gujarat and created new districts to place and inject government machinery to tribal areas more effectively. Say for example, the collector of Vadodara would hardly visit tribal populated Chhota Udepur town in his district due to distance, logistics and other reasons. Same for district education officer, district health officer and range of other district level officers. They would all sit in Vadodara and would only occasionally visit Chhota Udepur portion of district. So Modi split Vadodara district and created a new Chhota Udepur district, largely populated with tribals. This would make Chhota Udepur a district capital. A new district would eventually have new civil hospital, new educational facilities, new district superintendent of police office and more. The idea was to inject the government in far-flung distanced remote tribal areas. Districts such as Arvalli, Tapi, Mahisagar were created with this vision.
The Statue of Unity at Sardar Sarovar will attract thousands of visitors from main land. The area will open up to the world. There's a reason why tribal centric bahubali politician Chhotu Vasava, who is also Congress ally, is rattled and making displeasing remarks against Statue project. Once, alienation and isolation of tribal pockets is ended effectively, thousands of mainland people start visiting and having nigh-stays in tribal areas, discourse of Chhotubhai Vasava type of politicians will not remain as relevant and effective as it is today. The other very powerful group that would not like Statue of Unity and related development to take place in tribal area is those who are into religious conversion activities. Then there will be these far-leftists who may find it difficult to build naxal movement anytime in future, as even jungles are going to be explored by tourists, thanks to proposed tiger safari project. It's worth noting that Maoist bulletin had mentioned the name of Adivasi Mahasabha (Gujarat) as naxal ally( page 32, first two lines, http://www.bannedthought.net/India/CPIMIB/MIB-13.pdf ). The organization was active in this area.
In one of his TV interviews, MLA Chhotubhai Vasava(his influence is over one or two assembly seats in and around Jhagadia area, he runs Bhilistan Tiger Force(BTS) organization) opposing the Vadodara – Kevadiya(Statue of Unity) railway link project said, "Vadodara – Kevadiya rail line is being laid to steal and trade water and supply it to western countries, pacts for which are signed. People live here for many years, why laying railway line, 4-lane, 6-lane highway now?' Such are the lies fed to innocent tribal. Vasava knows it very well that once tribal areas are connected, fooling the tribals and maintaining hold is going to be a difficult job.
Such is the discourse being fed to provoke: Vadodara-Kevadiya (Statue of Unity) rail line is being laid to steal and trade water and supply it to western countries, pacts for which are signed. People live here for many years, why laying railway line, 4-lane, 6-lane highway today? pic.twitter.com/djSrNi4UIy

— Japan K Pathak (@JapanPathak) October 30, 2018
DeshGujarat