Three more arrested in LRD paper leak case; police shares fresh details that have emerged during progressing investigation
December 06, 2018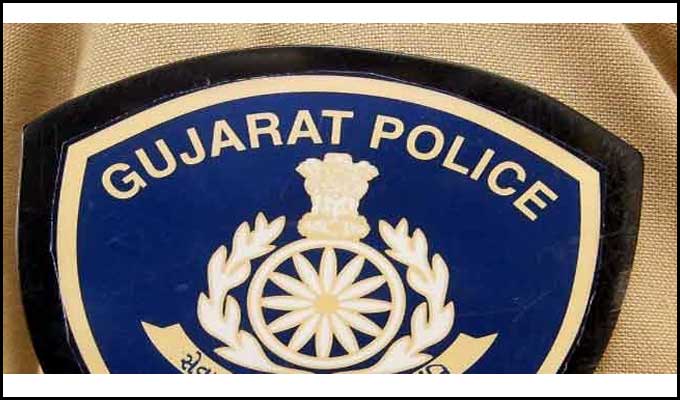 Gandhinagar: Three more persons are arrested in Lok Rakshak Dal recruitment exam paper leak case, said SP Mayur Chavda in a press conference held today here.
One of those arrested is Yashpalsinh Solanki, who is from Lunawada.
'Yashpal had entered the exam hall and left the place after paper was postponed. As his name was exposed, he switched off the phone and stayed away from contacting his relatives. Last night he was held from Virpur in Mahisagar district. Today morning he was arrested by police,' said SP Mayur Chavda.
'Yashpal, Nilesh (yet to be nabbed) and Indravadan Parmar (arrested today) had conspired from Vadodara for paper leak and contacted Delhi based gang for that. There are some more names too involved in concpiracy that can't be revealed at this point.'
'Indravadan gave money to Yashpal and asked him to go to Delhi with a group of 25-30 students in four vehicles for paper. The vehicles used to travel to Delhi are identified and statements of drivers have also been received.'
'Rajendra, another person who is arrested today was also in vehicles to Delhi'.
'Delhi based gang members shifted the group from Gujarat to their own vehicles and deliberately roamed in Delhi for two hours in evening hours so that Gujarat students can't identify the place. One of locations was a garrage, another was a tenament in unpopulated area, third location was a shanty created in open space. One hour was given to students to memorize the paper. They were not allowed to copy it. Bouncers were deployed to stop them from copying.'
'As per Indravadan and Nilesh's instruction, Yashpal somehow copied the answers and put paper in a packet of wafer. When frisked and checked, a wafer packet was found in his pocket but Delhi based gang didn't doubt him and therefore Yashpal could return with answer. Yashpal distributed answersheet on his return to Gujarat. Indravadan had booked his flight ticket from Delhi to Vadodara. Indravadan's two or three relatives were given answersheets. Paper was leaked to Manhar Patel(another accused who has been held) too.
Yashpal reached Surat to give exam which was postponed. He switched off phone and went to Vadodara by road but didn't contact anyone. He watched on TV that his name was in FIR and arrests of others had started. He attempted suicide in canal and under the truck on road, but dropped the idea as he had full trust in Indravadan. When contacted, Indravadan gave him Rs 20,000 and asked Yashpal to leave and return to get more money in future but not to confess the crime. Later Yashpal thought Indravadan would not be able to save him as students who traveled with him were also arrested. He tried to contact Indravadan and reached to meet Indravadan's family , but was arrested on the way.'
'Indravadan lives in Gotri area of Vadodara. He is former Medical Representative(MR) in pharma company. He would travel across various districts as MR. He had built good contacts. One of contacts was Yashpal. Nilesh also came into contact with him. Indravadan made Yashpal ready for paper leak operation. Yashpal gave paper to Indravadan first and it further reached many examinees later on.'
SP Mayur Chavda said, 'Contacts of one or two person of Gujarat with Delhi based gang are established. Indravadan and Nilesh were in their contacts. Messages, whatsapp calls were mode of communication. Accused tried their best to stay untraceable in future, but they failed.'
'Some names of Delhi based accused are identified. Anti Terrorist Squad(ATS) Gujarat team, Crime Branch team are in the field in Delhi, Gurgaon, Rajasthan, Madhya Pradesh and Maharshtra. How Delhi based gang got paper will also be located. Some of vehicles used in Delhi are identified. Airport drop and pick up are also identified. Two persons who are identified took group of students in two cars – Scorpio and Innova.The places are also identified.'
'Third accused held today is Rajendra Vaghela, who was one and only examinees who traveled from Ahmeabad to Delhi by air. He was in contact with Nilesh. He was asked to wait at Delhi airport and a vehicle was sent to pick him up. He was later mixed with a group of students who traveled to Delhi by road. Vaghela's exam centre was in Siddhpur. He came back from Delhi by road. He was present at Sidhpur to give exam.'
'Rajendra has confessed that he memorized all the answer shown by Delhi based gang in Delhi and spread them when returned back to Gujarat. There were 30 persons who went to Delhi, many of them could have memorized the answers and distributed here.'
'Printing agency will be zeroed in now. It's sure that paper has reached Delhi via printing agency. We will establish the channel and catch the source.'
Chavda said, those involved in paper leak will be blacklisted so that they can't appear in police recruitment exam in future.
DeshGujarat