Technologies of ancient India to come alive with IITGN course on Indian Knowledge Systems
January 06, 2019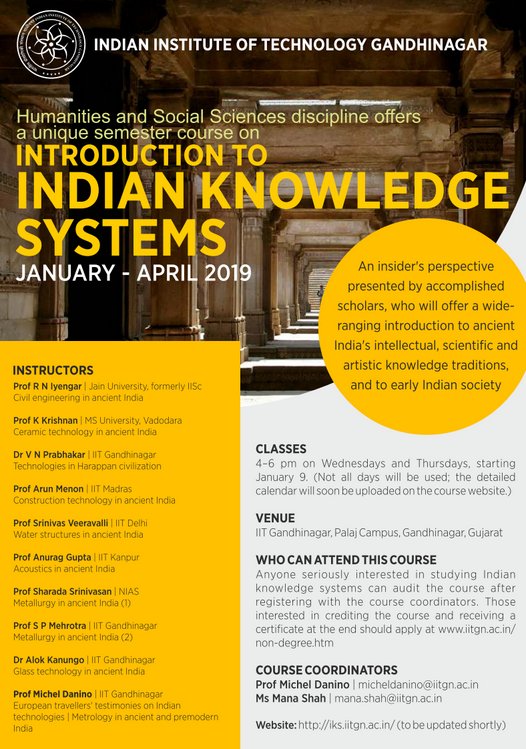 Palaj, Gandhinagar: Indian Institute of Technology Gandhinagar (IITGN) is going to conduct a unique full-semester elective course on Introduction to Indian Knowledge Systems (IKS) from January to April 2019. The theme of the third edition of the course, offered by the Humanities and Social Sciences discipline of the Institute, is 'Technologies in Ancient India'.
Commencing on January 09, 2019, the course will be taught collectively by seven eminent scholars from various parts of India, along with a few faculty members from IIT Gandhinagar. The course will cover topics of ancient Indian civilization including Harappan technologies, town planning, civil engineering, construction techniques, water structures, ceramic, metallurgy, glass, acoustics, textiles, metrology, as well as historical testimonies on such technologies in India.
Like the first two editions, the course is open to students from other institutions in Ahmedabad-Gandhinagar and anyone who is truly interested in studying and understanding Indian knowledge systems. They can join the course for free after registering with the course coordinators by emailing their name and institutional affiliation to Prof. Michel Danino (micheldanino@iitgn.ac.in) and Mana Shah (mana.shah@iitgn.ac.in). Classes will be held on Wednesdays and Thursdays from 4 to 6 pm. More information can be obtained from the website: http://iks.iitgn.ac.in/.
DeshGujarat