Bopal to get water from Rs.160-crore Narmada Canal based project: Gujarat CM
January 08, 2019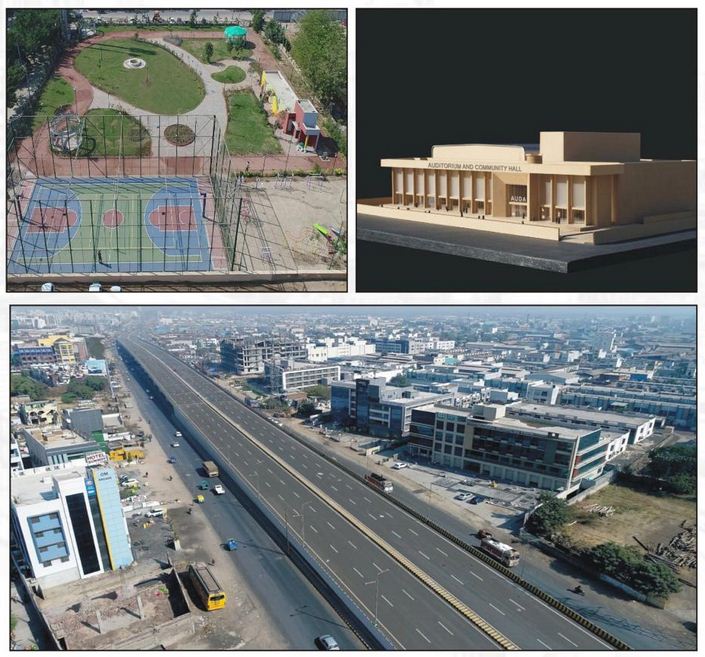 Ahmedabad,: Gujarat Chief Minister Vijay Rupani today dedicated and laid the foundation stones of various development projects of Ahmedabad Urban Development Authority (AUDA) worth Rs.285-crore.
Speaking on the occasion, he said that the Bharatiya Janata Party Government has developed a well-planned system to ensure people's every paisa is spent in development works through transparent and corruption-free time-bound manner. In the past, the Congress governments used to lay stones but left the works incomplete.
The works he dedicated today included Rs.57.50-crore Odhav bridges, Rs.2-crore Bopal garden and Basketball-cum- Volleyball court.
The works for which foundation stones were laid included Rs.94.18-crore Shantipura and Rs.60.47 Dehgam bridges, Rs.29.27-crore Shela and Rs.18.37-crore Kathwada town halls, and Rs.18-37-crore Manipur-Godhavi-Ghuma drainage line.
He announced Rs.160-crore Narmada Canal-based drinking water project of 60 MLD capacity for Bopal Nagarpalika. He recalled that there was nothing in Bopal-Ghuma area ten years back, now humming with activity.
He said that Gujarat's budget on development works totaled Rs.1,82,000-crore while some world-class development works is taking place in 10-km area somewhere in the state at any time. The people of Gujarat has reposed confidence on the BJP governments for the last 23 years and the latter stood up to the people's expectation. He said that his government has evolved a system by which NA is approved online within 5-7 days.
– Information
Commenting on the opposition Congress demand for his resignation on the issue of corruption, Mr. Rupani said that BJP had waged a war on corruption. The Congressmen have no face to demand his resignation as they were themselves deep in the corruption as their MLA is still behind bar in a bribery case.
MLA Bhupendra Patel said that Bopal-Ghuma is now developing at the same pace as other areas under 1,866 sq km of AUDA, over bridges to solve traffic problem.
Ahmedabad Municipal Commissioner and AUDA Chairman Vijay Nehra said that seven bridges are being built at a cost of Rs.350-crore, 2,800 houses at a cost of Rs.350-crore, as
Ahmedabad is now considered to be one of the fastest growing cities in the list of 100 countries.
Those present on the occasion, MLAS Jagdishbhai Panchal, Arvindbhai Patel, Babubhai Patel and Kanubhai Patel, Khadi Gramodyog Chairman Kushalsinh Padehria, BJP Ahmedabad President R.C. Patel, Bopal Nagarpalika President Jigisaben, Gauseva Ayog Chaitanya Shambhu Maharaj, AUDA CEO A.B. Gor and Collector Vikrant Pandey.