Kutch BJP leader Jayanti Bhanushali shot dead in train
January 08, 2019
Gandhinagar: BJP leader Jayanti Bhanushali has been shot dead. Bhanushali was travelling in first air conditioned class of Bhuj-Mumbai Sayajinagari Express train to Ahmedabad. He was found shot dead when train was passing on Surajbari to Katariya stretch in Maliya Miyana area late in the night. A passenger namely Pavan Maurya had informed the ticket checker about Bhanushali's murder. The train was stopped at Maliya station for two hours following this incident after around 2.00 am. Bullet marks on his body are found on eye and chest. Bhanushali fwas former MLA of Abdasa assembly seat constituency in Kutch.
Bhanushali had been president of Kutch district unit of BJP. He had resigned as vice president of Gujarat BJP after FIR against him in alleged rap case. Later this case was settled as complainant girl decided to withdraw the case. Bhanushali was facing another case of sexual abuse case in the past. Bhanushali was political rival of Chhabil Patel who entered into BJP from Congress and unsuccessfully contested from Abdasa constituency, formerly represented by Bhanushali. Chhabil had alleged that Bhanushali was responsible for his defeat. Chhabil Patel too faced rape complaint recently in Delhi for which he alleged conspiracy by his political rival. Bhanushali was almost retired from active politics for last few months. He was however participating in social functions in Kutch.
Bhanushalai's brother has alleged Chhabil Patel's role in this incident of crime. Bhanushali's wife has also in her talk with media alleged Chhabil Patel's role in this crime. She said, 'Chhabil Patel has fled to America and managed to kill my husband.'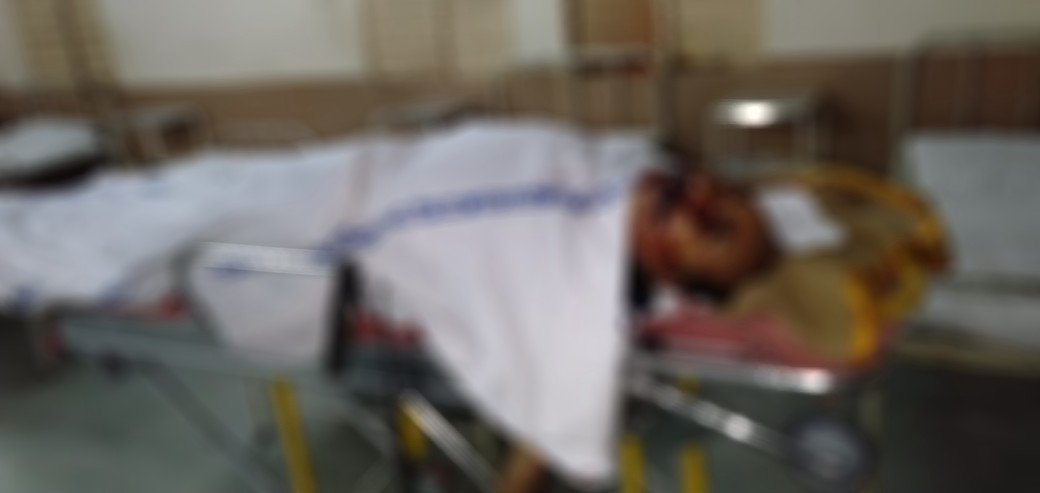 Updates:
-Primary investigation rules out any possibility of suicide.
-Railway coach has been sealed after FSL an dog squad visit.
-Passenger Pavan Maurya's statement taken. He had boarder from Gandhidham. He said he had visited washroom of coach. When he returned he remove Bhanushali's blanket on suspicion and found him bleeding. Maurya had informed Ticket Checker.
– Police recovered five bullets of which two had hit Bhanushali.
– 7.6 mm Bullets indicate that firing was done using country made pistol from close distance.
– The train had witnessed chain pulling at 12.57 am.
– Police found Bhanushali's own bag from compartment which had Bhanushali's own revolver. Bhanushali's revolver was in a pouch with some cartridges in revolver and some others in pouch.
– ATS, Railway Police, CID Crime and Ahmedabad City Crime Branch are involved in probe.
– Police is searching for relevant CCTV footage to figure out who had boarded the train.
– Police is probing into Bhanushali's call records and mobile towers data.
-CID Crime head Ashish Bhatia addressed the press.
– There were four passengers in AC first class. Their statements are being taken.
– SIT has bee formed. Gautam Parmar (DIG Railway), DySP Raol(HDPO, Railway), DySP Firozia (investigating officer), and Inspect Rawal (LCB), PI Chudasama (Kalupur railway station) JJ Patel(Surat), RS Patel (CID Crime Rajkot) are members of SIT.
– State BJP chief Jitu Vaghani in a video statement said he had spoken to MoS Home last night over this sad incident. Those responsible will be nabbed and punished.
– Chief Minister Rupani said the Government has asked Railway Police, RPF and district police to go to the root of this crime and take strictest action against culprits.
– Video of a hoarding of public function last week in Kutch has gone viral in which Jayanti Bhanushali's face is seen blackened by someone.
– Chhabil Patel remains untraced. While Jayanti Bhanushali's wife claimed Chhabil had fled to America, Chhabil Patel's flat in Ahmedabad is closed from inside. According to security guard, Chhabil's daughter is inside the flat.
– Chhabil Patel's old video in which he says, 'opponents are to be shot dead' has gone viral now. Chhabil had released this video in Whatsapp group after his defeat in assembly polls.
DeshGujarat