PM addresses Koli community mahasammelan at Chotila via video; stresses focus on education for speedy progress of community
February 02, 2019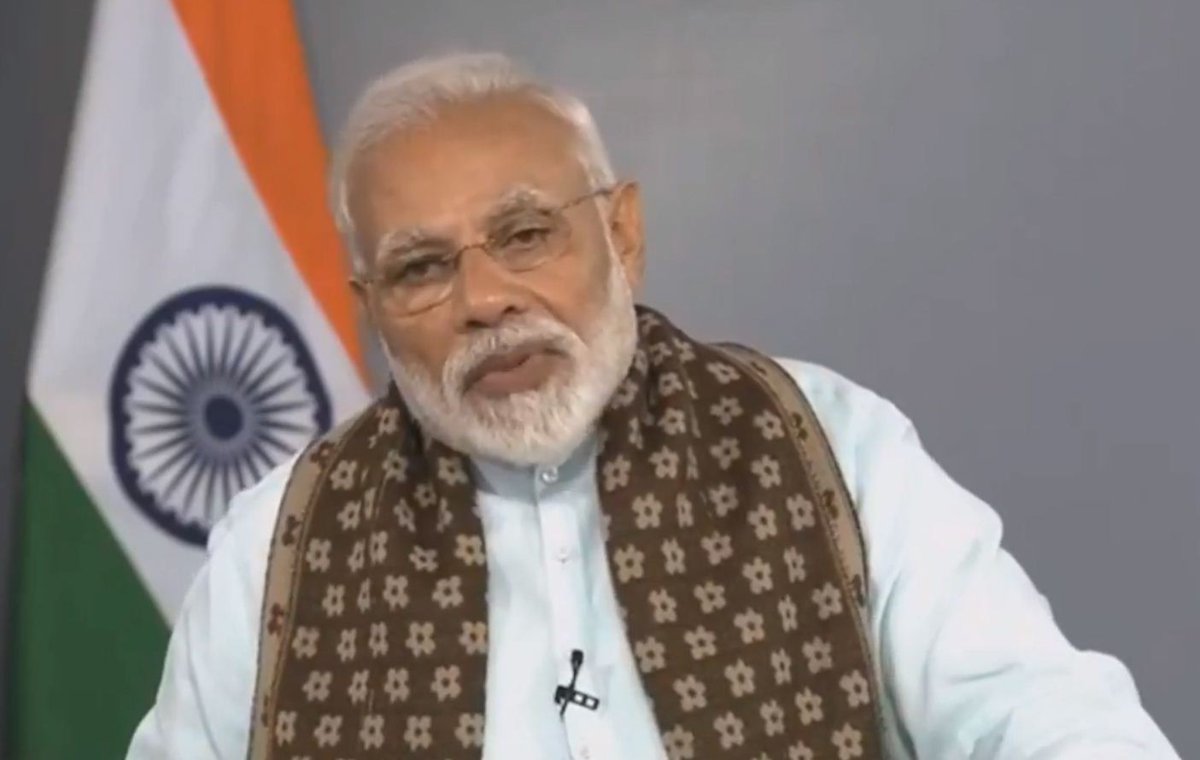 Surendranagar: Addressing a Mahasammelan of Koli community at Chotila in Surendranagar district today afternoon via video, Prime Minister Narendra Modi asked Koli community members to focus on education for progress.
PM pointed out that a section of Koli community is still in backward condition in terms of education and that affects capability of getting good jobs and earn employment. It is collective responsibility of community members to march ahead and work in this direction.
He said, communities that created awareness and made arrangements (infrastructure) for education could change their situation and status in short span of 10-15 years. Such drive increased their prestige. Education was very much in root of change in such cases. Yes political power is important but 5-15 people elected and placed in power (from community) is not that important. If we look at it socially, the focus on education is very important. And with government support it will be possible, but community leaders need to focus on that and chase that goal.
The PM said, we need to work for jobs and employment of youths. With education, the community will surely progress and prestigious jobs will be gained.
'If you walk two steps, I will talk three steps. Let's do it for our next generation,' the PM said in his video address to over one lakh Koli community members in a function organized by State minister and Koli community leader Kunvarji Bavalia.
PM said Koli community has big population in the country. Koli community is mainly located in the states of Maharashtra, Gujarat, Andhra Pradesh, Karnatataka, Rajastahan, Uttar Pradesh in big number. In Maharashtra, Kolis are located in coastal area. They are considered original settlers of Mumbai across all seven islands. In Gujarat they are located mainly in Saurashtra, coastal Gujarat and South Gujarat. Those from Koli community settled in Britain are called Mandhata community members.
PM said Kolis have three specialties – they are very hard worker, they have social unity and their youths have hunger for development, progress.
PM said, 'till now the community was only utilized for votebank politics and this worked for only few people.'
PM said, 'I haven't noticed such a wide scale of hunger for social betterment among youths of community before. The government is concerned about Kolis and all backward communities. The government is acive and committed for this cause.'
PM also mentioned how during Diwali when he went to meet Army jawans, he spotted an army jawan from Bhavnagar (Gujarat) who was from Koli community and was serving border area of country.
DeshGujarat