Rahul Baba and Mrs Vadra should say whether Congress was in favour of Ram temple in Ayodhya or not: Amit Shah
February 12, 2019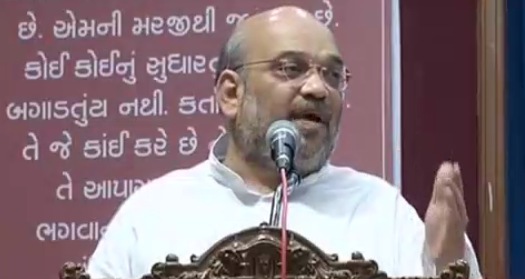 Godhara: BJP president Amit Shah today said that his party has no confusion on Ayodhya issue as it categorically believes that a grand temple should be built at the earliest at the birth place of Lord Ram there.
He however asked Congress President Rahul Gandhi and his sister and party general secretary Priyanka Gandhi Vadra to make it clear whether they and their party was in favour of the temple in Ayodhya or not.
Addressing the cluster meeting of the party workers from three LS seats Panchmahal, Dahod and Chhota Udepur here Shah said that crores of people in the country want the temple to be built in Ayodhya and the stand of the BJP was also clear on it. We had also expressed our commitment in our Palnpur convention.
He alleged that Congress was putting hurdles in its way with the help of its leaders like Kapil Sibal and Abhishek Manu Singhavi who had requested the supreme court to hear the matter after 2019 elections. The party also tried to create pressure of the judiciary by attempting impeachment of then chief justice.
He said that BJP government has returned the 42 acre land of Ram Janmbhoomi Nyas in Ayodhya which was acquired by Congress government in 1993. The BJP government has also approached the supreme court in this matter with its stand.
Hitting out at Congress in its own typical style, Shah said, 'We have made our stand clear but now Rahul Baba and Mrs Vadra should also say whether they and their party were ready for construction of Ram temple in Ayodhya or not. We have clearly stated that a grand Ram temple should be built now you tell the people what is your stand.'
DeshGujarat