How to get online appointment for renewal or duplicate driving license in RTO Gujarat
March 15, 2019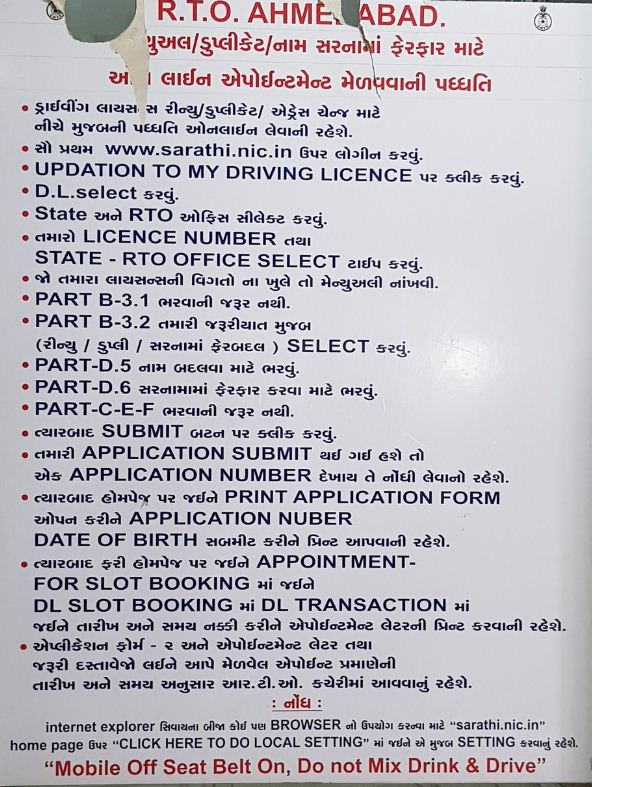 Ahmedabad: There's no clear guidance available online for online appointment process for renewal of driving license, duplicate driving license and change in address in driving license. Presented here is guidance for the same as prescribed by RTO office in Ahmedabad:
For driving license renew, duplicate and address change
– Login to www.sarathi.nic.in
– Click on UPDATION TO MY DRIVING LICENCE
– Select D.L.
– Select State and RTO office
– Type your LICENCE NUMBER and STATE – RTO OFFICE SELECT
– If your license details don't appear then fill the manually
– No need to fill PART B-3.1
– Select PART B-3.2 as per your requirement (renew/duplicate/change in address)
– Fill PART-D.5 to change the name
– Fill PART-D.6 for change in address
– No need to fill PART-C-E-F
– Now click on SUBMIT button
– If your application is submitted, you will see one application number which you need to note down
– Submit the DATE OF BIRTH and get print
– Then go again to home page and access the APPOINTMENT – FOR SLOT BOOKING section. Then go to DL SLOT BOOKING and in DL TRANSACTION section decide the date and time and take print out of appointment letter.
– Visit the RTO office as per the time and date you received along with application form – 2, appointment letter and necessary documents.
Please note:
In order to use browser any other than internet explorer, you need to go to sarathi.nic.in and do settings in the section 'click here to do local setting'.
Flow chart for renewal/duplicate/name-address change etc in Driving License:
-Go to Parivahan.gov.in website
-Select Online Services
-Select Driving Licenses Related Service
-Select Apply Online
-Enter DL No., DOB, State, RTO
(fill driving license number, birth date, state and RTO office details)
-Fill the form
-Select the service (such as renew, duplicate, IDP, DL extract)
-Following are the list of Driving License services that may be provided
– Renewal of Driving License – Issue of Duplicate Driving License – Additional Endorsement to Driving License – Issue of PSV badge to a driver – Change of address in Driving License – Change of address in Driving License – Change of name in Driving License – Replacement of Driving License – Change of Biometrics in Driving License – Endorsement to Drive Hazardous material – Driving License Extract – issue of NOC – Issue of IDP to Driving License holder
– Fill the details
– Application number created (note down the application number and click on Next)
– Upload Documents, photo and sign (upload your documents, photo and signature)
– Print the Application form
– Visit RTO office with required documents
– Pay the fee
– Scrutiny (document verification)
– Submit the form at counter
(note: this flow chart is just for information purpose. It attracts changes time-to-time. Maximum size for photo and signature upload is 20 kb. Document file's format shall be JPEG, JPG, PDF with maximum size of 500 kb).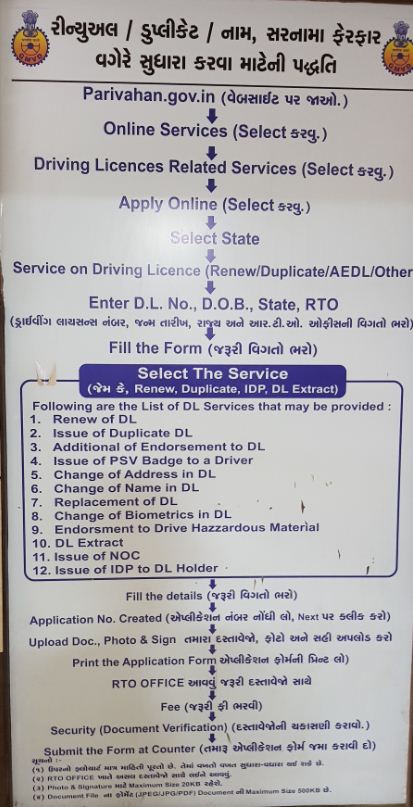 DeshGujarat