President Ram Nath Kovind on one day visit to Gujarat attends Biennial National Grassroots Innovation awards ceremony
March 15, 2019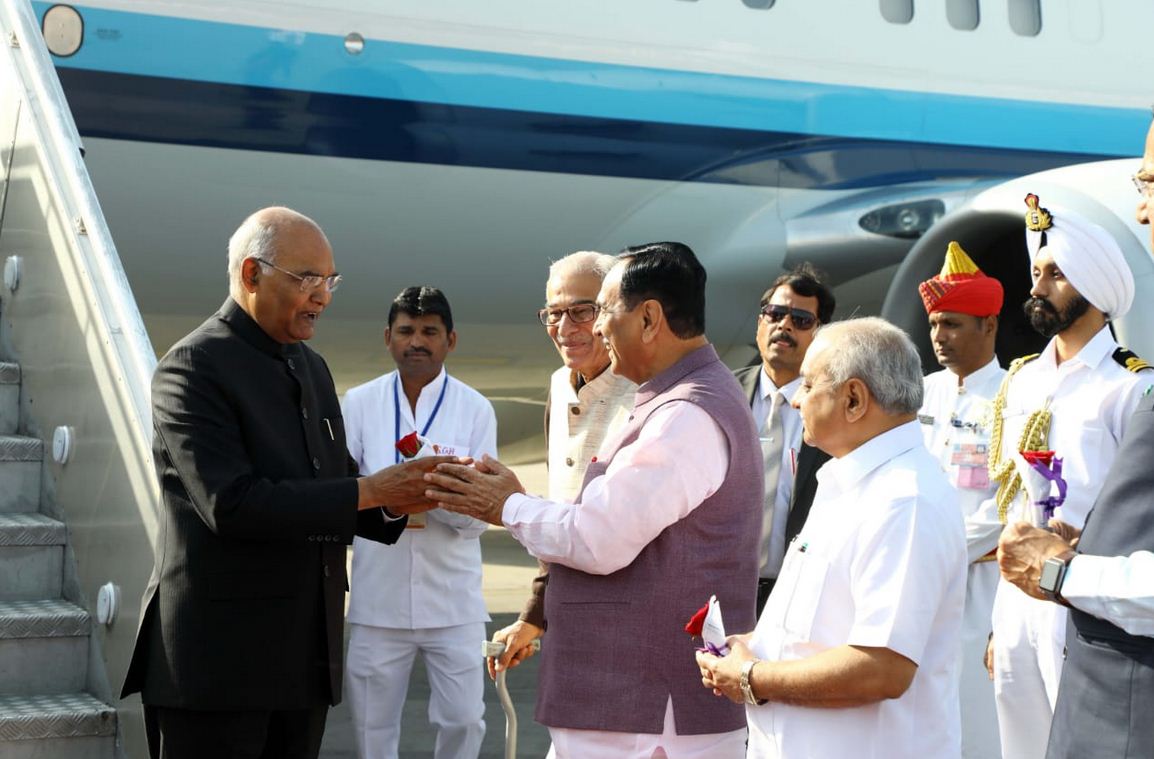 Gandhinagar: President Ram Nath Kovind today participated in the 10 th Biennial National Grassroots Innovation Awards at the Grambharti Foundation near Gandhinagar.
Speaking on the occasion, the President said, "This Festival is a celebration of creativity, innovation and entrepreneurship. Till 2018, it had been hosted at Rashtrapati Bhavan. This year it was decided to organise it outside Rashtrapati Bhavan. Earlier people used to come to the Festival, this year the Festival has come to the people. And indeed I am glad that this Festival is being organised here in Gujarat for two reasons. Firstly, Gujarat is known as a land of innovation and entrepreneurship. And secondly, this Festival is being held here during the year in which we are celebrating the 150 th birth anniversary of perhaps the greatest Gujarati of all time, the Father of our Nation, Mahatma Gandhi."
He said that Gandhiji strongly advocated finding local solutions to local problems. This thought was inherent in his idea of Gram Swaraj. It is a matter of immense satisfaction that this Festival sees participation from several grassroots innovators who have been inspired to find effective solutions to problems that they experienced in their
communities. Elaborating on the aspect of innovation, Mr. Kovind added, "To usher in such a culture calls for revitalising every link in the innovation value chain. We need schools where children tinker rather than only memorise. We need work cultures where young talent looks up and questions – rather than looks down and nods. And of course the government will continue to provide a facilitative environment."
On the occasion, Mrs. Prakashsingh Raghuvanshi from Uttar Pradesh was presented with a lifetime achievement award for Improved Plant Varities. Mr. Shyamveer Sinh from Haryana and Mr. Ved Prakash from U.P got an award in the field of agriculture technology, Mr. Sandeep Vishram from Maharashtra bagged the award for improved varieties of onions, Mr. Anang Tadar from Arunachal Pradesh got an award for intelligent goggles for blindness, Mr. Gurtej Singh from Punjab and Mr. Gurmeetsingh from Rajasthan bagged the award in the field of agriculture, Mr. S. Sarvanamuththu for remote powered bed with an attached toilet, Mr. Sanjeev Kumar from Bihar for improved varieties in cauliflower and cabbage and Mr. Vili Yadav from Bihar for Herbal Medication for anestrus. Various awards such as state awards, partnership awards etc were also distributed during the ceremony in addition to the launch of a book related to the biennial awards.
DeshGujarat