Rs 500 crore heroin seizure case:Gujarat ATS nabs two including Afghan national who were to receive the drug consignment
April 13, 2019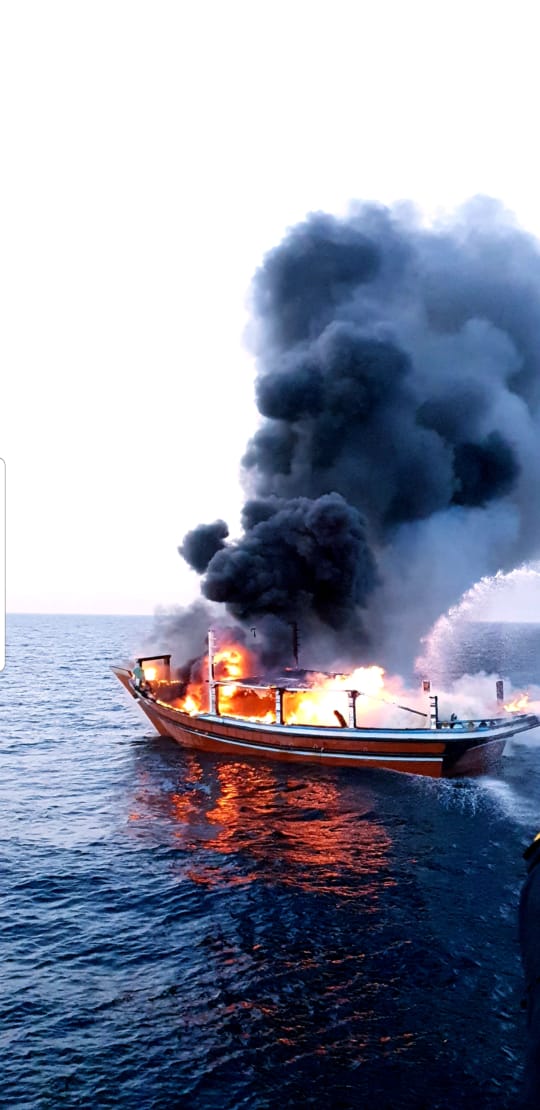 Gandhinagar: In the case of recent seizure of 100 Kgs of Heroin from a sinking boat off Porbandar Coast, the Anti-Terrorist Squad (ATS) of Gujarat police has today arrested two persons including an Afghanistan national who were to receive the consignment of the drug brought from Pakistan by Iranian smugglers worth over Rs 500 crore.
They have been identified as one Mohammed Abdul Salaam Kunni, Resident of Kasargod, Kerala, aged 47 years, and Niyamat Khan Ahmedzai, Resident of Logar Province, Afghanistan.
On 26th March, 2019, in a joint operation, Anti-Terrorist Squad Gujarat, Indian Coast Guard and Marine Task Force had seized 100 Kgs of Heorin in a high risk operation off Porbandar Coast. Nine Iranian nationals were also arrested from the boat which illegally entered Indian waters to deliver the consignment. Interrogation of nine Iranian nationals and technical analysis revealed that the consignment was to be received by an Indian fishing boat, and further to be brought to Indian coast. This consignment would have been taken to Delhi, where an Afghani national, namely Niyamat Khan Ahmedzai would have received it. Heroin would have been further handed over to Abdul Salaam Kunni to be taken to Chennai and Mallpuram, to be further smuggled outside India from various ports and airports in Tamilnadu and Kerala.
A senior ATS officer today said that Niyamat Khan Ahmedzai revealed during initial questioning that he came to India in month of December, 2018 on a medical visa, and was staying in Lajpatnagar, Delhi. He has been sent to India by the Narcotics syndicate from Afghanistan. This is his third visit to India, and in previous occasions also he came to India on medical visa, and was involved in smuggling of Heroin.
Interrogation revealed that this smuggling syndicate of Heroin works from Pakistan, and opium obtained from Afghanistan is converted to Heroin in Pakistan. This Heroin is smuggled outside Pakistan by various means, including sea-route. The Heroin Smuggling Syndicate of Pakistan is forced to find new routes to smuggle Heroin outside Pakistan, as Combined Task Force-150 (a multinational coalition naval task force) is keeping close vigil in North Arabia Sea and Horn of Africa area. Further, due to surplus production of opium in Taliban controlled areas of Afghanistan, supply has increased from Pakistan. The syndicate is exploring coast of Gujarat to smuggle Heroin in India, and recent seizures of 100 kgs and 5 kgs Heroin in Gujarat reflects these efforts by the Syndicate.
Interrogation of Niyamat Khan Ahmedzai and Mohammed Abdul Salaam Kunni revealed that after landing of Heroin in Gujarat coast, the same would have been taken to Delhi to Niayamat Khan. Niyamat Khan was instructed by Haji Nadar, r/o Afghanistan, to contact Salaam and hand over the consignment to him. Salaam would have taken the consignment in parts to Chennai and Kasargod. Haji Nadar, who looks after Afghanistan end of the syndicate, had given $ 15,570 (approximately Rs 11 Lac) to Niyamat Khan to receive the Heroin consignment and thereafter hand over to Salaam.
Interrogation of Iranian nationals reveals that one Hamid Malik had given them this consignment to be brought to India. Badruddinn Shaikh, who is a merchant from Aurangabad and whose name was disclosed in the information received by ATS, has been brought to ATS for questioning.
Interrogation of Mohammed Abdul Salaam Kunni revealed that he would have taken Heroin in small consignments to Chennai and Kasargod, from where this consignment would have been smuggled outside India.
Gujarat Police is committed to nip in the bud the conspiracy of smuggling Heroin in India through Gujarat Coast. ATS Gujarat, Indian Coast Guard and Marine Task Force are keeping extensive surveillance and patrolling of the coast to curb any such activity, he said.
DeshGujarat