Will win double digit seats in Gujarat; BJP will stay below 150 nationally: Ahmed Patel
April 20, 2019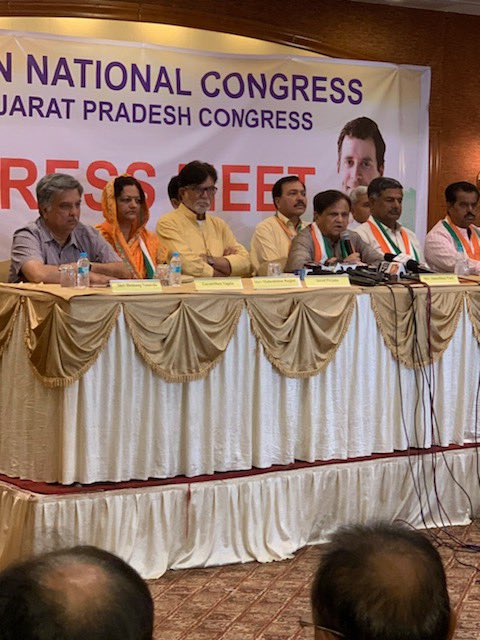 Rajkot: Congress party's national treasurer and Rajya Sabha MP Ahmed Patel today while addressing a press conference in Rajkot said BJP will remain below 150-160 and NDA below 200 in Lok Sabha election results this year. He said PM Narendra Modi will be called ex-PM after results.
'Insted of giving account of works done by them, they demand account from opposition Congress party. I want to ask what you did in last five years?'
'Demonetization, GST and some whimsical schemes have been failure,' he said.
'The way Bhaishri Narendrabhai has run this government, he will be called ex-PM after results of 7-phase elections are out,' he said.
Ahmed Patel said Congress will win at least 4-5 seats in Saurashtra.
He said number one issue is unemployment that has come to forth due to demonetization. He said traders were upset with GST. Farmers were upset due to government policy. Women are upset as Ujjawala connection is free but purchase of second cyllinder is very costly. Farm-labourers are also upset. There's no class that is not upset with government. Those doing jobs, those in middle class face difficulty to manage the house.
'I accept that Congress will need to take care next time while distributing tickets. Those who have left Congress have left it due to their own selfish interests. Those who speak about ethics and principals poach opposition MLAs. It's a matter of shame for them. But I also admit that in future, we will need to take extra care while giving tickets to candidates.'
Ahmed Patel condemned attack on Hardik Patel, he said in democracy everyone has right to speak his/her mind. Such attack is not acceptable.
He said Congress will win double digit seats in Gujarat in range of 10-15.
DeshGujarat