Live: PM Narendra Modi's last campaign rally in Gujarat for Lok Sabha elections 2019 at Patan
April 21, 2019
Patan: Prime Minister Narendra Modi is in Patan, North Gujarat to address the last campaign rally of Lok Sabha general elections 2019 in Gujarat. The rally as its immediate targeted impact area covers three seats of North Gujarat, namely Banakantha, Patan and Mahesana.
Banaskantha
Parbatbhai Patel(MLA, minister in Gujarat) vs Parthibhai Bhatol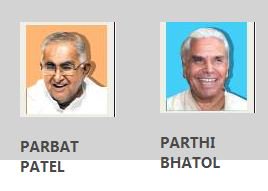 The seat was earlier occupied by Haribhai Chaudhary, MoS in centre. The party has now fielded Parbatbhai, a minister of state in Gujarat. Like Haribhai, Parbatbhai also belongs to Chaudhary community. A man with soft personality, Parbatbhai enjoys full support of Haribhai, Shankar Chaudhary and other players. This is not sure seat for BJP. It's a swing seat that has history of electing BJP and Congress both. Congress has fielded Parthi Bhatol, a former dairy sector bigwig whose former MLA son Vasant Bhatol was in BJP till nomination morning. Parthi Bhatol is also from Chaudhary community. It is believed that Parbatbhai was not in favor of contesting Lok Sabha. However he is now in contest wholeheartedly. Banakantha saw severe flood in mid 2017 following which in December 2017 BJP could win only 2 of 7 assembly seats in the district. Congress lead in assembly polls 2017 here was 25,699 votes. Last year Banakantha witnessed only 33.40% rainfall. Due to lack of enough water in Narmada dam, summer irrigation supply has been stopped. Milk procurement payment has seen slide in recent times, that too is a factor. Banakantha is one of districts in Gujarat with highest poor population. Various caste groups are players here.
Patan
Bharatsinh Dabhi Thakor(MLA) vs Jagdish Thakor(former LS MP)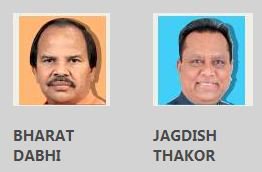 Bharatsinh is  whip in Gujarat assembly. He rose from Sarpanch to panchayat member and later MLA. Bharatji's father Shankarji Okhaji Thakor was cabinet minister in Gujarat. Bharatsinh  is three-term MLA from Kheralu assembly seat. 64-year Bharatji is BA LLB and involved in farming He was Sarpanch of Ishakpura gram panchayat in Satlasna taluka in 1982, became taluka panchayat member of Kheralu in 1985, district panchayat member of Mahesana in 2002, head of 20 point implementation committee of Mahesana district panchayat in 2002, chairman of karobari of district panchayat in 2003, president of Kheralu taluka panchayat in 2005, 3-term MLA since 2007 and parliamentary secretary in Gujarat govt in 2014. He is involved in education, seeds distribution, rural industry, mass wedding etc activities. Jagdish Thakor is former MP of Patan seat. He had refused to contest from Patan in 2014. Both candidates are from Thakor community. Sitting MP on this seat presently is Liladhar Vaghela of BJP. He is not given ticket due to age factor. Jagdish Thakor has wide networking in Thakor community dominated villages. In fact Thakor community's voting pattern has been quite pro-Congress. But then in this caste-neutral election there are others too whose voting pattern will decide who wins. In 2017 assembly polls, Congress lead was 38,855 votes. As Patidar agitation is over after 10% quota granted by Modi govt, BJP is at least on equal footing if not better. BJP had won this seat in 2014 with a margin of 1.39 lakh.
Mahesana
Shardaben Anilbhai Patel vs AJ Patel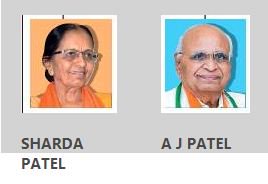 BJP has changed its candidate on this seat. Sitting MP is Jayshriben Patel. The new candidate Shardaben is widow of former minister Anil Patel who is famous or his Apolo industries and also for Ganpat University that he established with the help of NRI donor. Shardaben has been active in various religious, educational institutions. She is bahu of late Tribhuvanbhai Patel who died in 1950s while fighting against menace of cattle theft. Congress has fielded former Patan district panchayat chief and retired government officer AJ Patel. Both are from Kadva Patel community. Though Kadva Patels don't form majority in this seat, they vote unitedly and they enjoy economic and institutional dominance. Mahesana Lok Sabha seat has history of  voting over national issues. Mahesana seat has considerably good chunk of Thakor community voters. In fact BJP has fielded Thakor candidate too on this seat in the past. Thakor and other votes too are decisive. Congress lead on this seat during 2017 assembly polls was 16,948. In 2014, BJP won this Patidar-dominated seat by 2.09 lakh votes.
DeshGujarat