Lok Sabha election in Gujarat today; fate of BJP chief Amit Shah, state minister, LoP, 7 Congress MLAs to be decided
April 23, 2019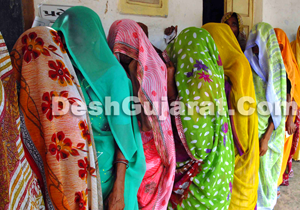 Gandhinagar: Polling on all the 26 Loksabha seats of Gujarat and 4 assembly segments, where by-poll is to held due to resignation of as many Congress MLAs, will be held from 7am to 6pm tomorrow amid tight security to decide the fate of over 400 candidates including BJP president Amit Shah, incumbent minister Parbat Patel, four former union ministers, Leader of opposition in state assembly Paresh Dhanani and 7 other sitting Congress MLAs.
PM Narendra Modi, Finance Minister Arun Jaitley, Veteran leader L K Advani, BJP president Amit Shah, Governor of Karnataka Vajubhai Vala and his counterpart in Madhya Pradesh Anandiben Patel will cast their votes at different booths in this western states. Modi, Shah, Jaitely, Advani, Anandiben would cast votes in Ahmedabad city while Vala would exercise his franchise in Rajkot where CM Vijay Rupani would also cast his vote. DyCM Nitin Patel would cast vote at a booth in Kadi under Mahesana constituency.
Addressing a press conference on the poll-eve today Chief Electoral Officer S Murali Krishna said that a total of 51,851 booths have set up of which 17430 were in urban areas and remaining 34421 were for rural voters. The exact number of total voters including 26693 service voters was 4,51,25,180 of which 2,16,96,571 were women and 990 transgenders.
The number of first time voters aged between 18 to 19 years was 10,06,855 A total of 2,23,775 polling personnel including 57,111 presiding officers and over 5000 micro observers have been deployed for polling. Sufficient police, para military and state reserve force have been deployed for free and fair conduct of polls, he said.
There are a total 371 candidates for LS polls in Gujarat and for assembly by-polls a total 45 candidates have remained in the final fray, Krishna said.
Among LS seats maximum 31 candidate were on Surendranagar seat while minimum 6 were on Panchmahal seat. For assembly by polls necessitated due to resignation of 4 Congress MLAs, Manavadar seat has minimum 8 candidates and maximum 15 on Jamnagar-rural seat. On the remaining two seats of Dhranadhra and Unjha and equal number of 11 candidates have remained in the fray finally.
The number of polling booths have increased by 6458 in comparison to the last general election in 2014.
All the 26 seats were won by BJP in the last election.
The elections are being held after a rigorous two week long intense campaign in which PM Modi had addressed seven rallies while Congress president Rahul Gandhi had participated in four rallies.
PM Narendra Modi and several stalwarts of the 'saffron brigade' including BJP president Amit Shah and Finance Minister Arun Jaitley will exercise their franchise in Gujarat.
PM Modi will caste his vote at Nishan High School booth in Ranip area of Ahmedabad in his home-state Gujarat which falls under Gandhinagar Lok sabha constituency from where BJP president Amit Shah is the party candidate. His Nonagenarian mother Hiraba is also likely to cast vote at a booth in Raisan area in Gandhinagar.
Among other VVIP saffron wing voters in Gujarat, Finance Minister Arun Jaitley would cast his vote at the Chimanbhai Institute booth near S G Highway in Ahmedabad which was also in Gandhinagar constituency. Shah will himself cast his vote in Naranpura in Ahmedabad under his own constituency. Veteran BJP leader and former Deputy Prime Minister L K Advani who has represented Gandhinagar LS seat six times in the past is likely to exercise his franchise at Hindi School poll booth in Khanpur in Ahmedabad which is in Ahmedabad-West LS seat. CM Vijay Rupani will vote in his home city Rajkot where Karnataka Governor Vajubhai Vala is also likely to cast vote. Madhya Pradesh Governor and former Gujarat CM Anandiben Patel would cast her vote at a booth in Shilaj in Ghatlodia area in Ahmedabad. Deputy CM Nitin Patel would caste vote in Kadi of Mahesana.
Apart from Amit Shah, the other prominent faces in the LS election were 4 former union ministers Bharatsinh Solanki (Congress, Anand seat), Tushar Chaudhary (Congress, Bardoli), Mansukh Vasava (BJP, Bharuch) and Mohan Kundariya (BJP, Rajkot) and current minister of Gujarat Parbat Patel (BJP, Banaskantha).
Congress has fielded 8 of its MLAs including Leader of Opposition Paresh Dhanani in the fray.
Amreli MLA Dhanani is contesting on Amreli Lok Sabha seat, Kaprada MLA Jitu Chaudhary on Valsad, Una MLA Punjabhai Vansh on Junagadh, Dhoraji MLA Lalit Vasoya on Porbandar, Tankara MLA Lalit Kagathara on Rajkot, Modasa MLA Rajendrasinh Thakor on Sabarkantha and 79-year old Limbi MLA Somabhai Gandabhai Patel on Surendranagar seat. Congress MLA from Gandhinagar North seat C J Chavda has been made party candidate against BJP president Amit Shah on Gandhingar seat.
Somabhai has won four Lok Sabha polls – thrice on a BJP ticket and once in 2009 on a Congress ticket – and two Assembly elections from Limbdi in 2012 and 2017.
The contest in Gujarat like earlier times is likely to be mainly between BJP and Congress. BJP has given tickets to six women candidates Shardaben Patel (Mahesana), Sitting MP Poonam Madam (Jamnagar), Sitting MP Bhartiben Shiyal (Bhavnagar), Sitting MP Ranjanben Bhatt (Vadodara), Gitaben Rahtwa (Chhota Udepur) and Sitting MP Darshana Jardosh (Surat) while Congress has given ticket to just one woman candidate Geetaben Patel on Ahmedabad-East seat.
So far as Muslim candidates were concerned Congress has fielded just one Sher Khan Pathan from Bharuch seat while BJP has given ticket to none.
The 26 LS constituencies in Gujarat are – Kutch (SC)-10, Banaskantha- 14, Gandhinagar- 17, Patan-12, Mahesana – 12, Sabarkantha- 20, Ahmedabad-East – 26,Ahmedabad-West (SC)- 13 , Rajkot-10, Porbandar-17, Jamnagar-28,Junagadh-12, Amreli-12, Bhavnagar-10,Anand- 10, Kheda -7, Dahod (ST) -7, Vadodara-13, Chhota Udepur(ST)-8, Bharuch-17, Bardoli(ST)-12, Surat 13, Navasari-25, Valsad(ST)-9.
For both LS polls as well as assembly by polls, nominations were held from March 28 to April 4. The counting of votes will be done at 28 centers on May 23.
The Chief Electoral Officer also said that no channel or other news medium could show any exit poll till the end of the last and seventh phase of election on May 19.
Election on all the 26 LS seats of Gujarat and by-election on 4 assembly seats, is being held in the third of the seven phased LS polls with a total of 115 seats across 14 sates.
DeshGujarat