Sixth phase of Lok Sabha elections witnesses nearly 62% turnout on 59 seats in 7 states
May 12, 2019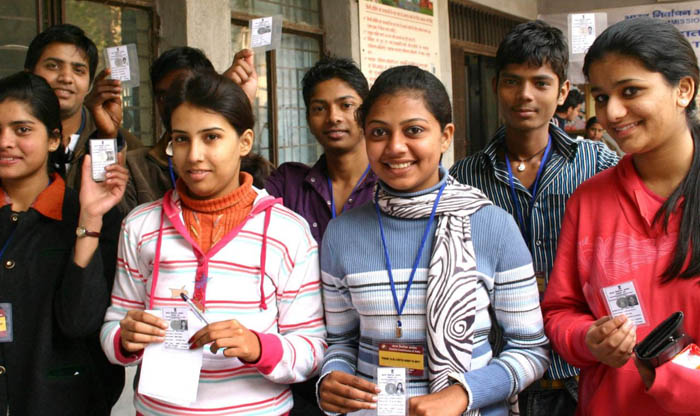 New Delhi: Nearly 62 per cent voter turnout was recorded till 6 pm in the sixth phase of polling, on Sunday for 59 Lok Sabha seats in seven states, the Election Commission said.
According to the Election Commission, as per latest figures received till 1900 hrs, 61.82 per cent voter turnout was recorded till 6 pm.
The Poll panel said till sixth phase, 88.9 per cent seats have been covered.
Out of 543 seats, voting on 483 seats are done, the Commission said.
West Bengal recorded highest polling of 80.16 per cent till 1800 hrs, followed by Jharkhand at 65.17 per cent, Haryana at 64.19 per cent, Madhya Pradesh 61.44 per cent, Bihar 59.29 per cent and Uttar Pradesh 54.10 per cent.
The poll panel said Delhi recorded 56.92 per cent voting till 1800 hrs in 2019. In 2014, it was 65.1 per cent.
Madhya Pradesh recorded 56.81 per cent voting in 2014.
Jharkhand recorded 64.50 per cent till 1800 hrs in 2019 and it was 64.53 per cent in 2014. Polling for 4 seats was held today. In 2014, West Bengal had polling per centage of 84.98 per cent, the poll panel said Polling, which started on a dull note in the morning hours, picked up pace as the day progressed. Delhi, Bihar and Uttar Pradesh recorded improvement in the day time, as people started gathering in front of the polling stations.
The sixth phase saw bigwigs like President Ram Nath Kovind, Delhi Chief Minister Arvind Kejriwal, former Delhi Chief Minister Sheila Dikshit and former Union Minister Ajay Maken exercising their franchise in the national capital.
India's cricket captain Virat Kohli and Haryana chief Minister Manohar lal Khattar also exercised their franchise .