Lok Sabha elections 2019: Last opinion polls suggested NDA little below or above half mark
May 16, 2019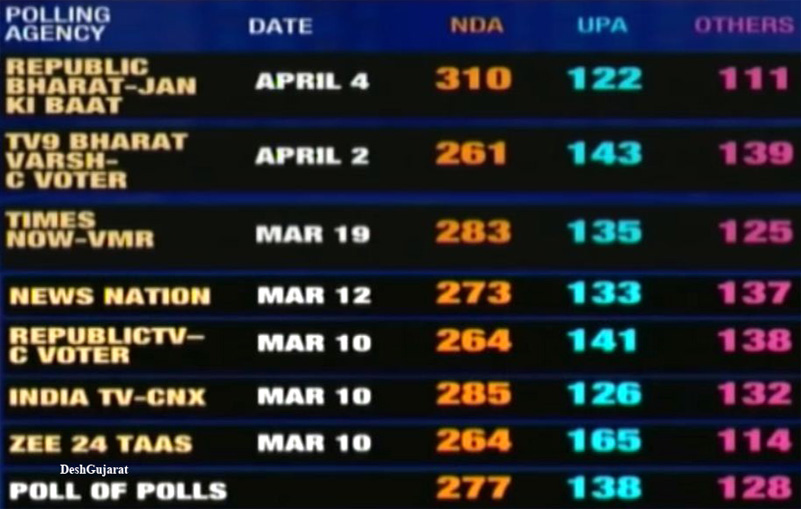 By Japan K Pathak
As per the last projections of likely outcome if Lok Sabha general elections were held in March 2019, the BJP led NDA was poised to continue to stay in power. However unlike previous general elections (2014) BJP could fail to get majority on its own as per most surveys conducted in March 2019.
A prominent pollster with whom I have worked briefly during Gujarat 2017 suggested that NDA tally would be near the half mark – plus or minus 10.
Campaign 2019 of BJP was focused to raise party tally so that it could cross half mark on its own. This was possible as per another prominent pollster who had suggested that 1% increase in BJP vote share could add additional 40 seats to its tally while 1% decrease in BJP vote could add additional 20 seats to opposition tally.
Due to the model code of conduct, exit polls results can not be published or broadcast before the final phase of polling concludes (May 19). It has to be seen what scenario exit polls showcase. Exit polls are more accurate than pre-poll surveys.
Pre-poll surveys and exit polls give some direction, some indication, but they are not always correct. Pollsters have been wrong in 2004 and even in 2009. So one needs to also club own wisdom, observation, common sense, other indicators and all available data to conclude the things.
Based on this, a few things can be projected at present are:
– BJP will be the single largest party and NDA will be the single largest pre-poll coalition post May 23.
– The President of India Shri Ram Nath Kovind will as per convention invite the leader of single large party, single largest pre-poll aliance Shri Narendra Modi to take oath.
– In all scenarios (whether BJP/NDA is short of few seats or whether they cross half mark), BJP would like every possible party/independent MP to join and support the NDA to broad its base and to increase its count.
Over to exit polls on May 19 and final results on May 23/24.
DeshGujarat