Rahul Gandhi tweets fake photoshopped screenshot targeting PM Modi: Oxford Dictionaries fact-checks him
May 16, 2019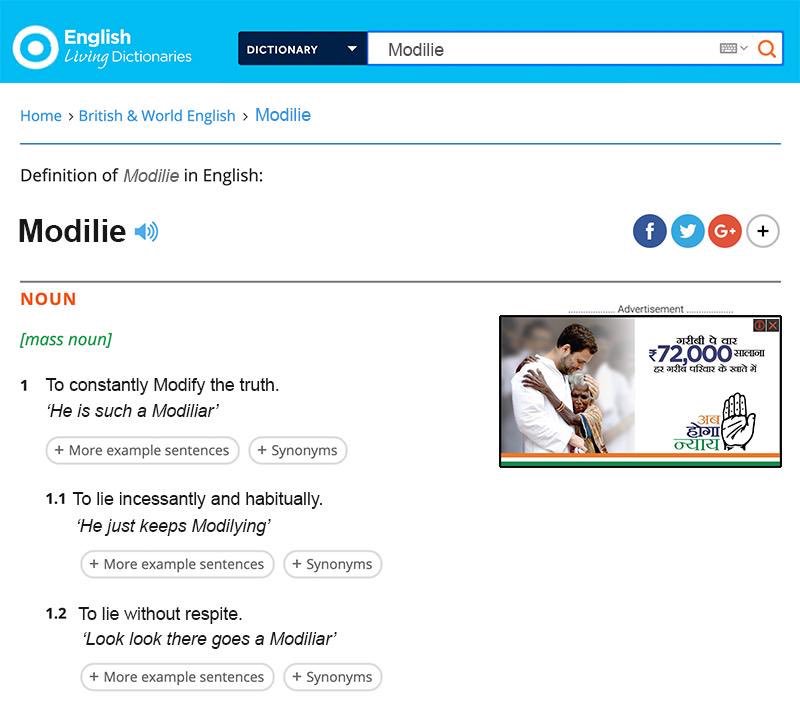 New Delhi: Congress President Rahul Gandhi Thursday accused Prime Minister Narendra Modi of speaking lies, and mentioned about a website that he claimed "catalogues the best 'Modilies'".
Gandhi said "Modilies" is a new word that has become popular worldwide.
"There's a new word in the English Dictionary. Attached is a snapshot of the entry :)" the Congress president tweeted, along with a Oxford dictionary website look-a-like photoshopped screenshot in attempt to make a point that top online dictionary has now mentioned a word 'Modilies'.
We can confirm that the image showing the entry 'Modilie' is fake and does not exist in any of our Oxford Dictionaries.

— Oxford Dictionaries (@OxfordWords) May 16, 2019
In the fabricated page, "Modilie" was described as a "mass noun".
The photoshopped page listed three meanings and examples of the usage of the word.
Reacting to this, Oxford Dictionaries replied Rahul Gandhi on Twitter: "We can confirm that the image showing the entry 'Modilie' is fake and does not exist in any of our Oxford Dictionaries."
There's a new word in the English Dictionary. Attached is a snapshot of the entry 🙂 pic.twitter.com/xdBdEUL48r

— Rahul Gandhi (@RahulGandhi) May 15, 2019
'Modilie' is a new word that's become popular worldwide. Now there's even a website that catalogues the best Modilies! https://t.co/Ct04DlRsj3

— Rahul Gandhi (@RahulGandhi) May 16, 2019