Will never forgive Sadhvi Pargya for insulting Mahatma: PM on her 'Godse' remarks
May 17, 2019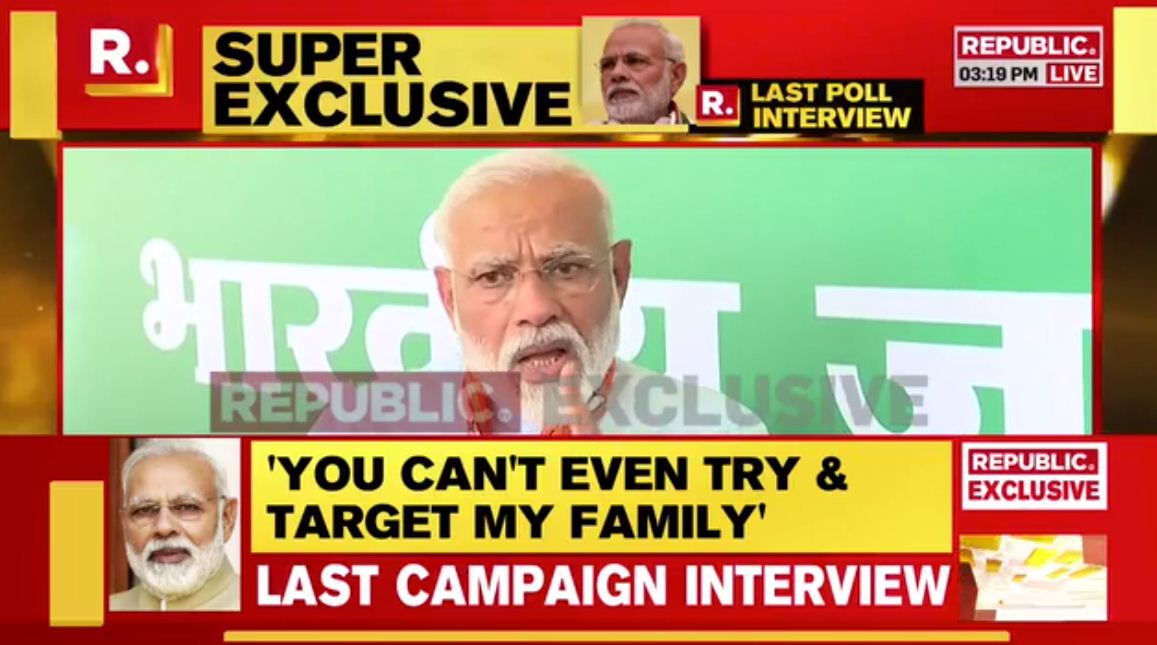 New Delhi:Strongly condemning remarks made by BJP candidate Pragya Singh Thakur glorifying Mahatma Gandhi's assassin Nathuram Godse as a 'deshbhakt' (patriot), Prime Minister Narendra Modi said on Friday that he will never be able to forgive her for insulting Mahatma Gandhi.
"I will never be able to forgive her for insulting Bapu,' said Mr Modi in an interview to a private channel which was released by the party on Twitter.
Mr Modi said comments made regarding Gandhiji or Godse were 'Bhayankar kharab'(terrible).
'The comments deserve condemnation and criticism in every possible way,' he said adding that 'In a civilised society, such comments and such thinking… should not have happened.'
'So, people saying such things should think 100 times in future,' he said.
She (Sadhvi) apologised , that is a different matter 'but I won't be able to forgive her from my heart.'
Sadhvi Thakur's statement regarding Father of the Nation Mohandas Karamchand Gandhi's assassin Nathuram Vinayak Godse stirred up a political hornets' nest.
A video went viral in social media showing the Sadhvi saying that Godse was a nationalist and shall continue to be considered one – those speaking about him should introspect.
Pragya Thakur, contesting the national election from Bhopal, had been earlier received strong endorsement from Mr Modi when the opposition had attacked the BJP for fielding the Malegaon blast accused. Her candidature was "a symbolic answer to all those who falsely labelled the rich Hindu civilization as terrorist", he had said last month.
Earlier in the day, party president Amit Shah also said comments made by the three leaders — Sadhvi Pragya, Anant Kumar Hegde and Nalin Kumar Kateel– are their personal opinion and the party has nothing to do with it.
BJP takes tough action against party leader in Madhya Pradesh for his social media post over Mahatma Gandhi pic.twitter.com/msH2949Gbs

— DeshGujarat (@DeshGujarat) May 17, 2019
Amit Shah: Statements of Anant Kumar Hegde, Pragya Thakur and Nalin Kateel are their personal opinion. BJP has nothing to do with it. They have withdrawn their statements and apologized. BJP has taken their statements seriously and sent these statements to disciplinary committee pic.twitter.com/q4k4Uscpko

— DeshGujarat (@DeshGujarat) May 17, 2019
Madhya Pradesh: BJP leader Anil Saumitra suspended from primary membership of the party over his social media post calling Mahatma Gandhi father of Pakistan. The party asks him to reply in 7 days. https://t.co/r4HyFlf0kV

— DeshGujarat (@DeshGujarat) May 17, 2019