PM takes spiritual break, takes 2 km trek to a solitary cave near Kedarnath
May 18, 2019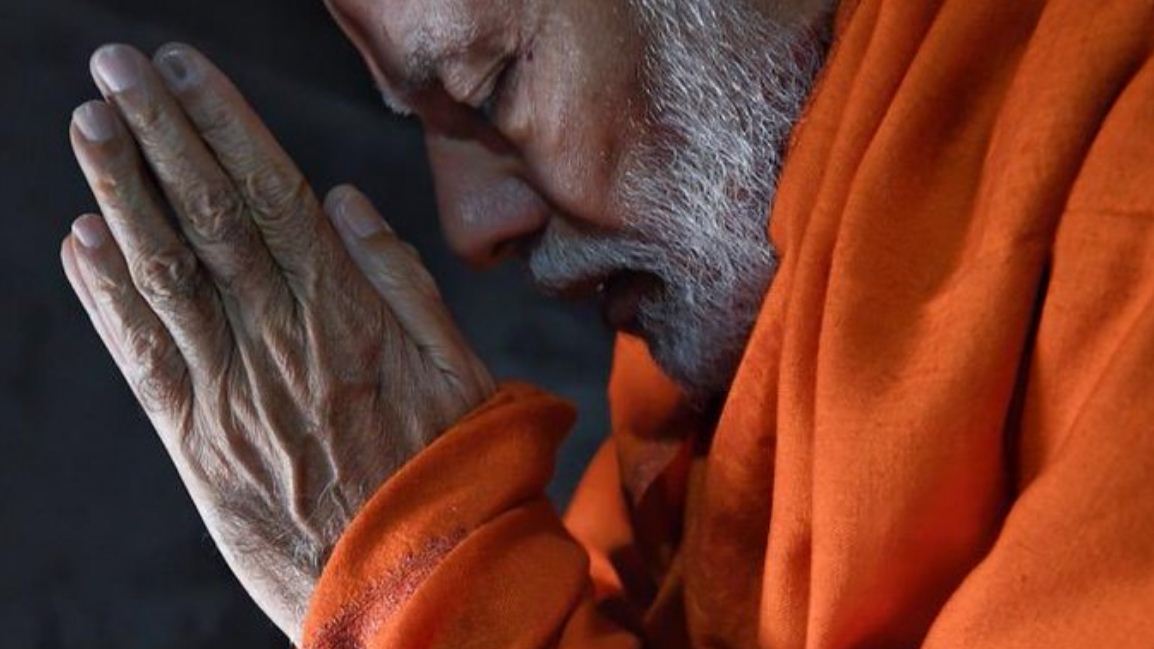 Rudraprayag: Prime Minister Narendra Modi took a spiritual break, starting Saturday, a day after his hectic campaigning for the 2019 general elections came to an end.
Modi offered obeisance at the Kedarnath temple and also reviewed ongoing development projects.
Dressed in a traditional pahari outfit, Mr Modi offered obesiance at the temple for around half-an-hour and mingled with the devotees. He also reviewed ongoing Kedarnath development projects, which he said on Friday, that he likes to keep track of.
After offering prayers, he started meditation in the one of the five caves, prepared specially for the purpose.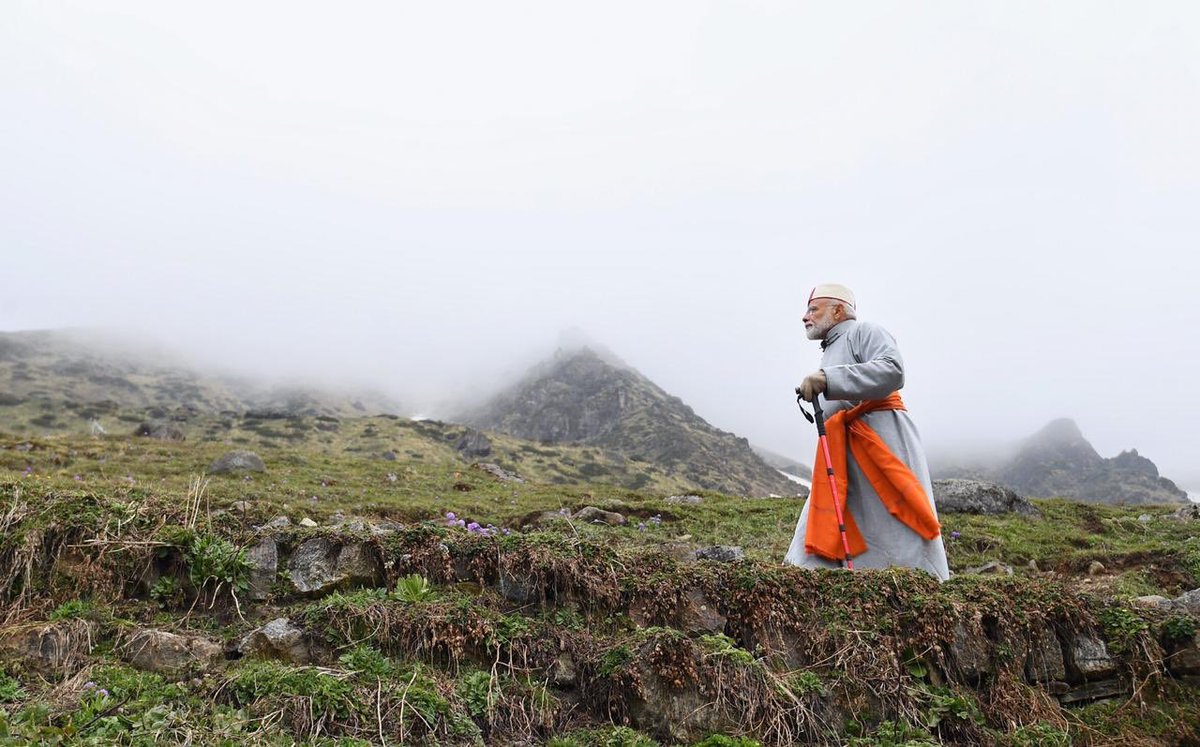 Prime Minister Narendra Modi took a 2-km trek to the cave near Kedarnath Shrine and on request of media allowed cameras to make initial visuals, a few hours before beginning his meditation which will last till tomorrow morning. No media or personnel is allowed in the vicinity of the cave.
'Majestic mountains! ' wrote Mr Modi and tagged pictures clicked by him. The Prime Minister is also expected to offer obesiance at Badrinath on Sunday before returning to Delhi in the afternoon.
Reviewing aspects of the ongoing Kedarnath Development Project. pic.twitter.com/bVOFnCozug

— Chowkidar Narendra Modi (@narendramodi) May 18, 2019
Counting of votes for general elections will take place on May 23, Thursday.
The Election Commission is understood to have given its permission while "reminding" the Prime Minister's Office that the model code of conduct is still in force. Security was stepped up near the shrine, located at 3,553 metres above sea level.
This was Mr Modi 's fourth visit to Kedarnath in the past five years. His last visit was in November during Deepavali festivities.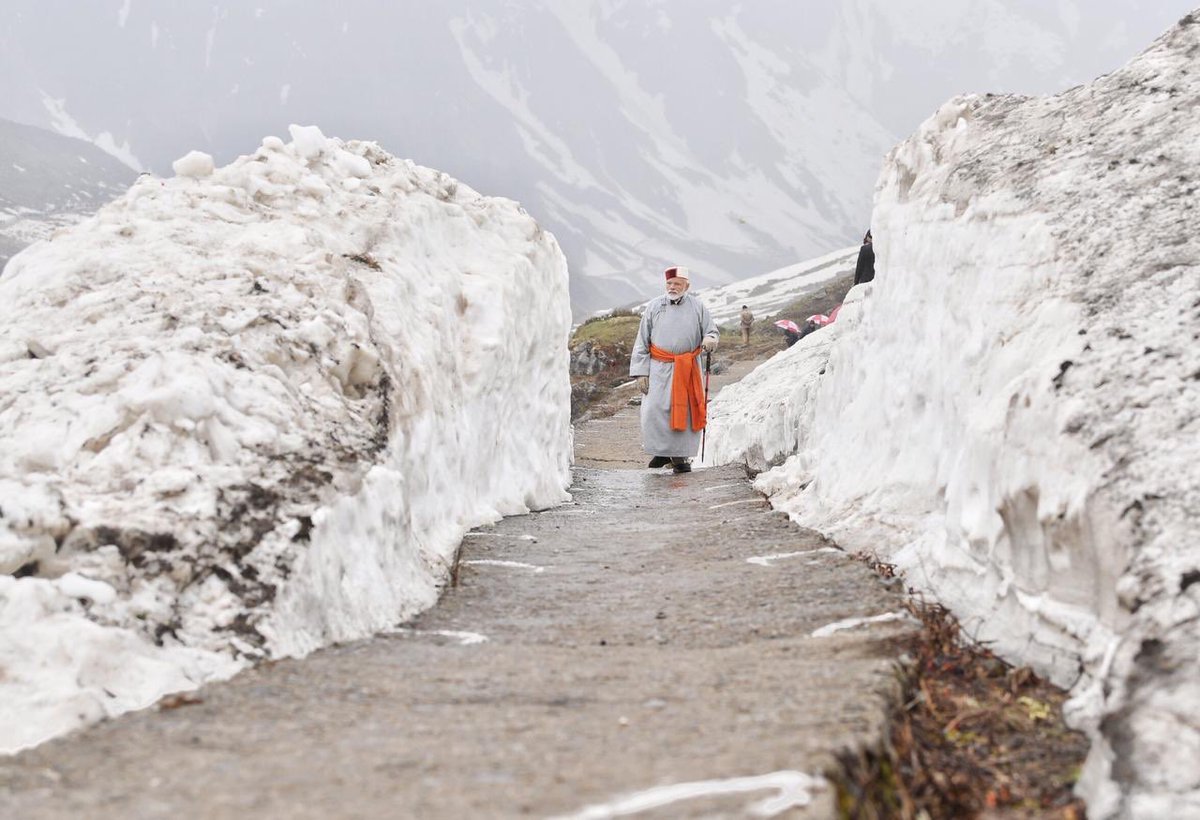 The portals of the Kedarnath temple in the Garhwal Himalayan range of Uttarakhand's Rudraprayag district were opened to pilgrims on May 9 this year after a six-month-long winter break.
Kedarnath is located in the Himalayas, about 11,755 ft above sea level near Chorabari Glacier, the head of river Mandakini, and is flanked by snow-capped peaks, most prominently Kedarnath mountain. The nearest road head is at Gaurikund.
Majestic mountains! Clicked these pictures while on the way to Kedarnath. pic.twitter.com/Jpcq6n52sr

— Chowkidar Narendra Modi (@narendramodi) May 18, 2019
The town suffered extensive destruction during June 2013 from flash floods caused by torrential rains in Uttarakhand state.
One of the earliest references to Kedarnath occurs in the Skanda Purana , which names Kedara (Kedarnath) as the place where Shiva released the holy water from his matted hair, resulting in the formation of the sacred Ganga river.