Exit polls suggest NDA government led by Narendra Modi to continue
May 19, 2019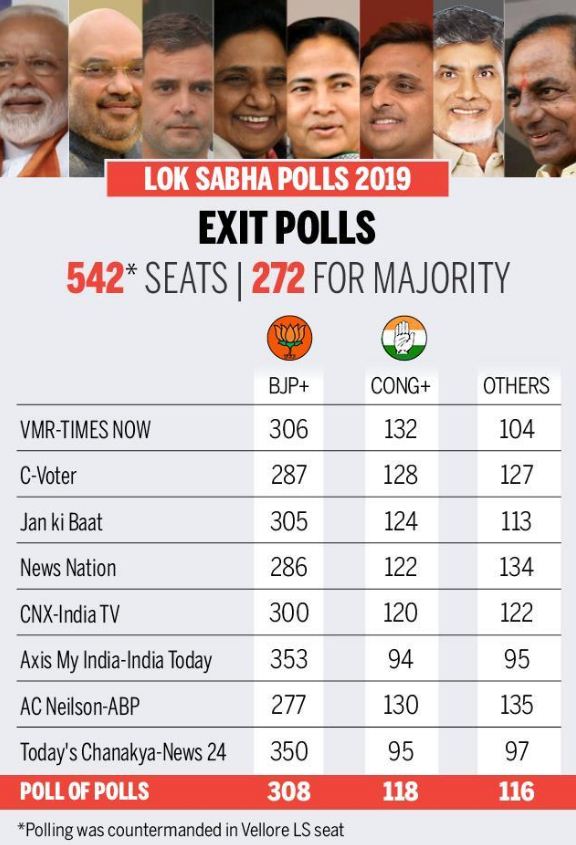 New Delhi: Thanks to the powerful Narendra Modi wave and strategic alliances in states with social groups, the BJP seems to be heading for majority in the Lok Sabha polls and has apparently strengthened its grip in the Mamata Banerjee ruled West Bengal and set to retain ground in Uttar Pradesh as well.
According to four surveys, the saffron party is set to win at least 11 seats in West Bengal where it had showed good performance only in 2 seats in 2014.
The Republic TV Jan ki Baat exit poll gives BJP win in 18-26 seats while Trinamool Congress could make it only in 13-21 seats.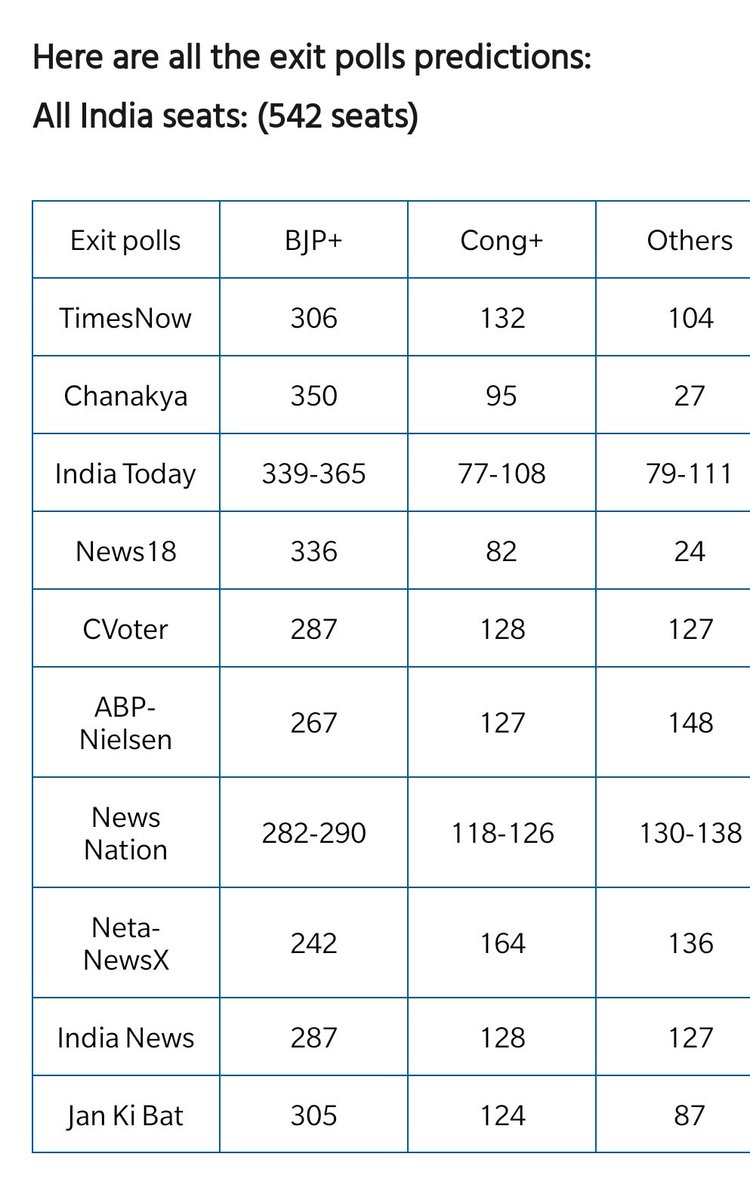 Times Now-VMR gives BJP 11 seats and predicts 28 seats for Mamata Banerjee-led outfit while two for Congress and one Left.
The India News-Polstrat gives saffron party 14 seats and says Trinamool could win in 26 seats out of 42.
According to Poll of Polls – the BJP-led NDA, which had won 73 seats in 2014, is now likely to make it to 44 and 34 for BSP-SP-RLD Mahagatbandhan.
Times Now-VMR exit polls show 55 for BJP and its ally and 23 for Mahagatbandhan and Congress two.
According to surveys, BJP seems to have regained lost ground in three crucial Hindi heartland states of Rajasthan, Madhya Pradesh and Chhattisgarh which the Lotus party had lost in December 2018 assembly polls to the Congress.
Sources: BJP's exit poll
U.P.; 61-75
Bihar; 17
Jhar; 6
Bengal; 13-23
MAHA; 22
M.P.; 24
CG; 6
Raj; 24
Guj; 24
Har; 9
PUN; 3
UK; 5
J&k; 2
HP; 4
Del; 7
NE; 17 (NDA)
Karnatak; 20
Orissa; 8-13
AP; 2
TN; 2
Kerala; 1
Goa; 2
Total= 279-308

— Vikas Bhadauria (ABP News) (@vikasbha) May 19, 2019
The exit polls indicate that BJP could win 22 out of 25 total seats in Rajasthan, 25 out of 29 seats in Madhya Pradesh and seven out of 11 seats in Chhattisgarh, where the BJP had suffered maximum loss.
In the national capital of Delhi, Times Now-VMR predict a clean sweep for the BJP on all seven Lok Sabha seats while Poll of Polls says the saffron party could win six seats.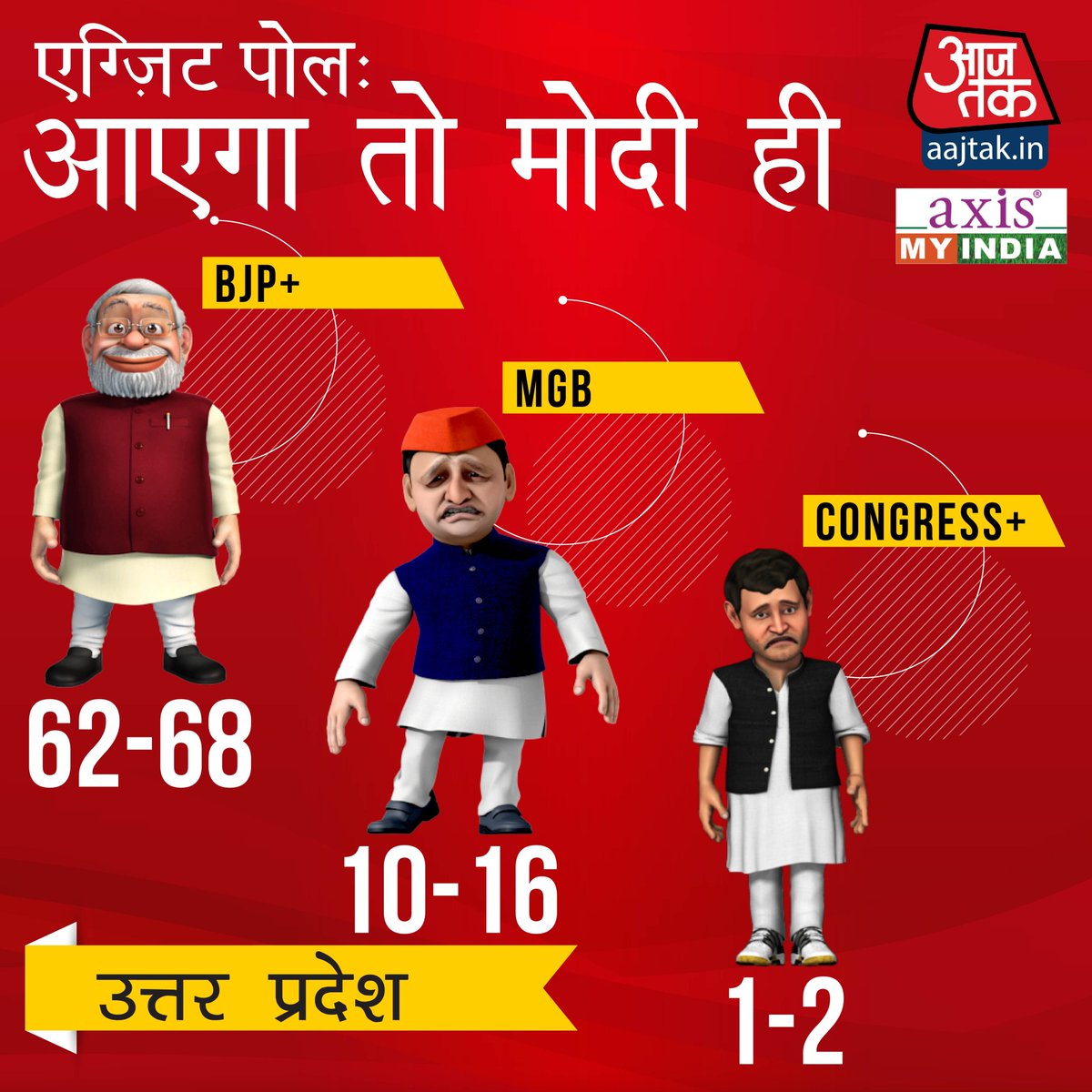 The survey from Bihar also shows that the BJP's gamble to tie up with Nitish Kumar's JD(U) has paid rich dividends with the NDA likely to win 31 seats out of 40.
Ram Vilas Paswan-led LJP is also a partner of the saffron party in the state.
However, amid good showing at the national level, the saffron party poll strategists could be heading for a minor embarrassment as the exit polls show that it could lose two of the 26 seats in Mr Modi's native state of Gujarat.