Six journalists honored with Narad Award in a function in Gujarat
May 19, 2019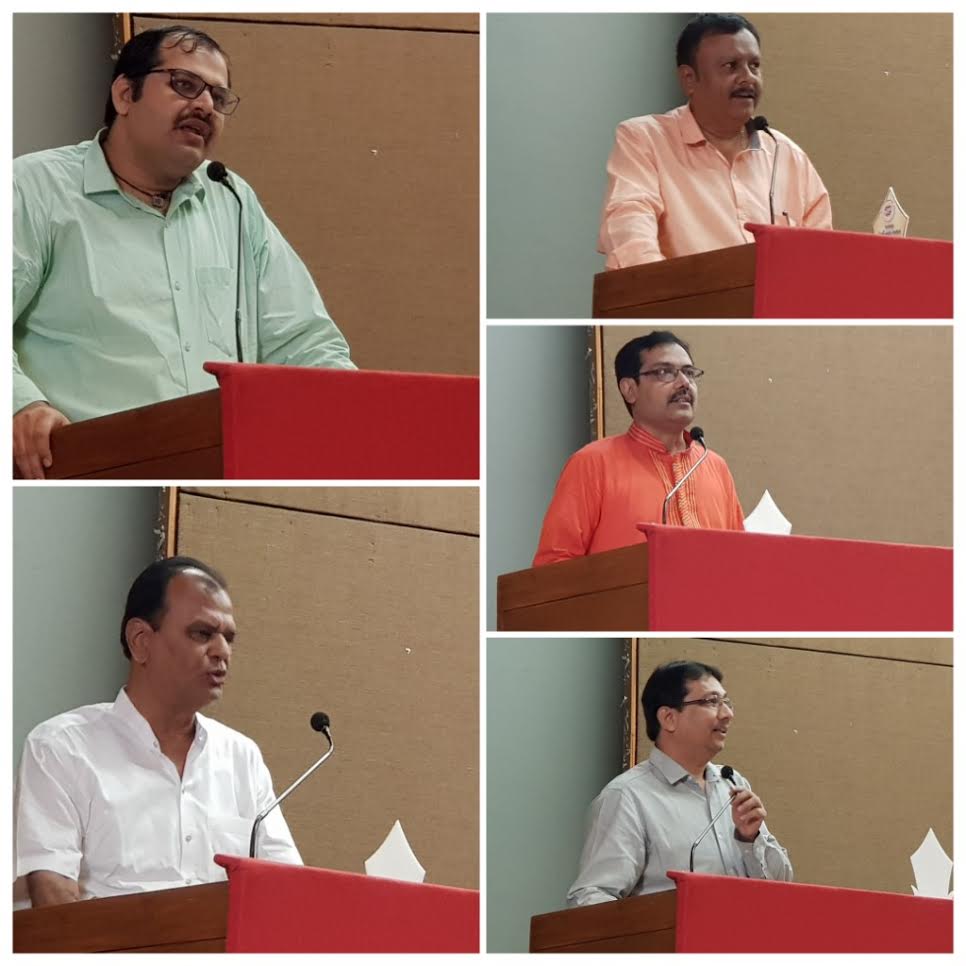 Ahmedabad: Six journalists from media spectrum including print, TV, web and radio were felicitated today with Narad award on the occasion of Narad Jayanti by Vishwa Samvad Kendra at Ahmedabad Management Association (AMA) auditorium here.
Columnist and print journalist Jaywant Pandya, TV journalist and channel head Vivek Bhatt, Print and web journalist Manish Maheta, Radio journalist Maulin Munshi, veteran print journalist Sudarshan Upadhyay and magazine journalist Harshad Yagnik were conferred with Narad award.
In his receiving speech, Jaywant Pandya stressed on journalism with research and positivity. Pandya recalled how he wrote his first column speech while studying in college.
TV journalist Vivek Bhatt who has worked with Aaj Tak and TV9 and currently heading Sandesh News Gujarati TV channel in his receiving speech said country's good must be supreme for everyone and so as for journalists. Bhatt spoke about his upcoming book in which he has tried to compare Israel and India in the backdrop of nationalistic spirit.
Manish Maheta who currently heads Gujarati news website Divya Bhaskar dot com in his speech said the heart of journalism is in people's good. To give voice to people's pain, their problems is only driving force. He also stressed on credibility. He said credibility is like virginity. Once you lose it, you can never get it back. He said it is a big challenge is to establish credibility in digital media. He said Narad would never give fake news. He would deliver news for good of society.
In his speech Maulin Munshi who heads national radio service in the city spoke on importance of radio medium. He said the Prime Minister chose radio as medium for his Mann ki baat addresses as he knows importance of radio as media platform. Munshi said the radio takes the details of various welfare schemes of the government to end person. He recalled how radio proved immensely helpful during year 2001 Gujarat earthquake and how as a head of Akashwani radio station in Dahod he worked with district collector for removal of social evils through targeted radio programmes.
Veteran columnist and journalist Sudarshan Upadhyay speaking after receiving award said, a journalist should have boldness and ability to convince the editor. He said a journalist while starting his/her career should have sufficient knowledge, good translation skill to survive further in the field. Upadhyay said there's shortage of desk journalists who would stick to chair and work dedicatedly.
Veteran journalist Harshad Yagnik who works with Sadhna Gujarati magazine on receiving the award said he has been a man of resistance and organization. He said this in reference to his active participation in various movements in the past. Having worked in teaching and journalism both fields side-be-side, Yagnik said both disciplines have been like two wings of same bird for him.
Speaking in a function former Information Commissioner Bhagyesh Jha said a journalist must have ability to separate truth and untruth. He said journalist passes through test everyday. RSS Western India region head Dr. Jayantibhai Bhadesiya stressed on ethics, morality and patriotism in the field of journalism.
DeshGujarat