20 children dead, 16 injured in major fire in Surat, Gujarat govt announces Rs 4 lakh ex-gratia, orders probe
May 24, 2019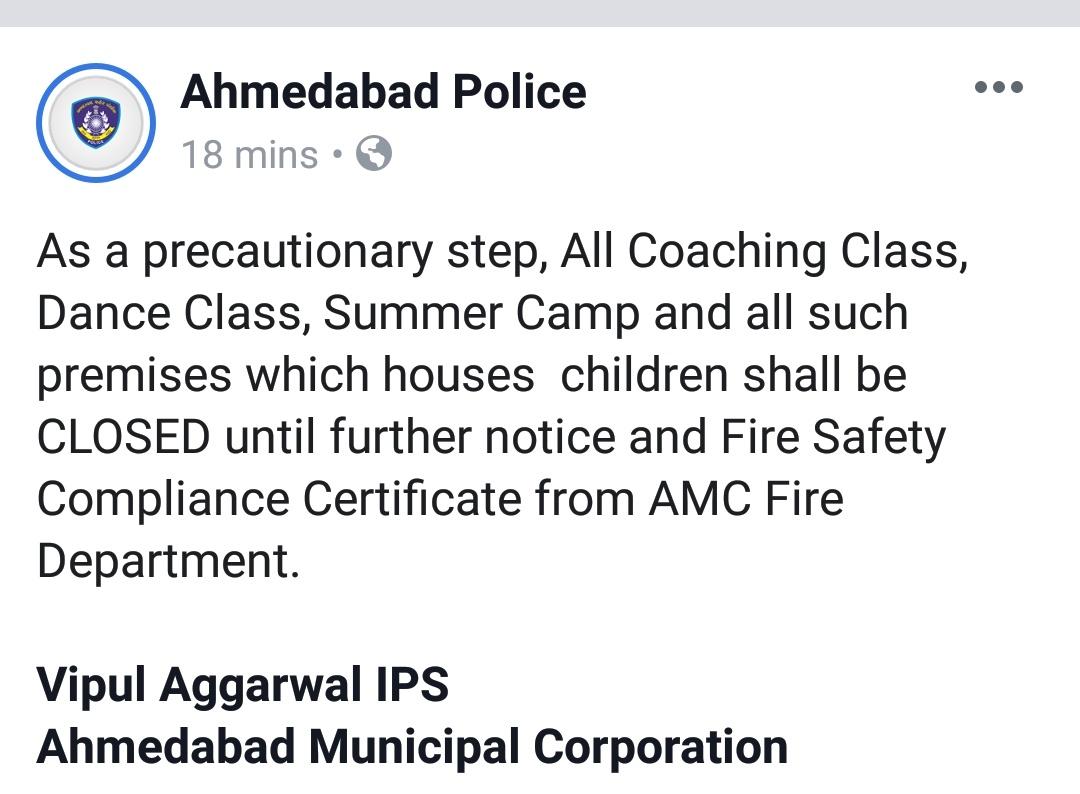 Update: Deputy CM Nitin Patel said that action would be taken against whoever was found guilty of violation of norms after the detailed probe of the fire of the incident by the urban development secretary.He said that around 20 people had died in the incident. A fire official said that at least five of the 12 students who jumped from the terrace had died on the spot. Meanwhile local authorities have ordered all the tuition classes in Ahmedabad and Vadodara cities to not to operate till detailed checking of the fire safety in their buildings.
____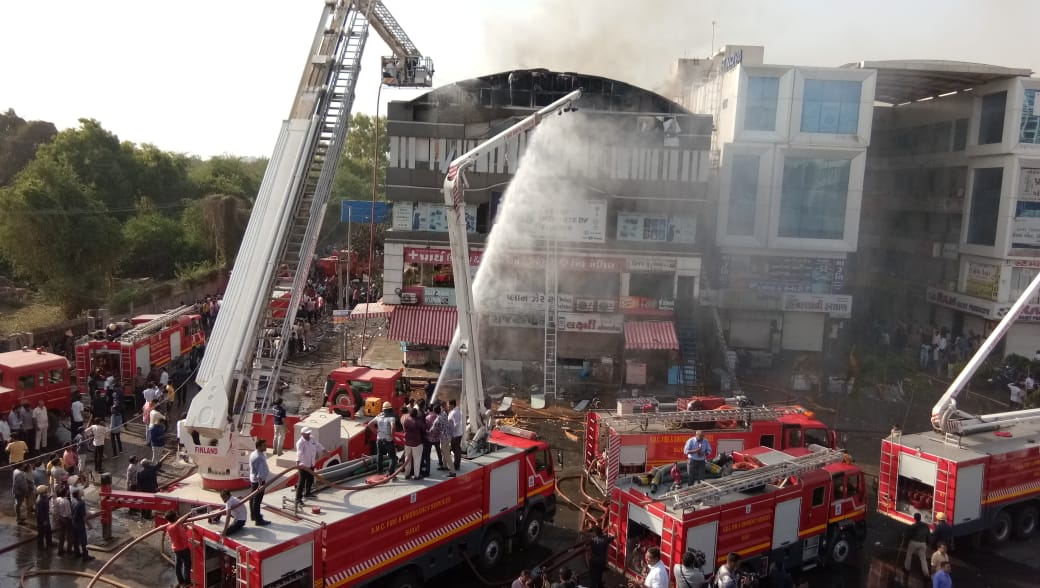 Surat: At least 17 children died and as 16 others injured in a major fire that broke out in a building in Sarthana area of Surat city in Gujarat.
The fire broke out in the Smart design Studio where children take drawing and art classes. It was situated on the third to top floor of a ground to 3 storied building Takshila Arcade. As there was only one entry in to the studio which was blocked due to the fire which spread quickly due to the wooden floor and wall work in it, some of the children jumped off the terrace and died.
Fire Officer Ishwar Patel said that so far 17 deaths have been confirmed. The fire call was received at around 4 pm and was controlled in around 2 hours. 15 to 16 others have been admitted to various hospitals. The drawing classes was on the third floor while a gym was on the second floor. Some charred bodies were recovered from inside. Disturbing videos of the incident showing panicked children jumping to death of the roof have emerged.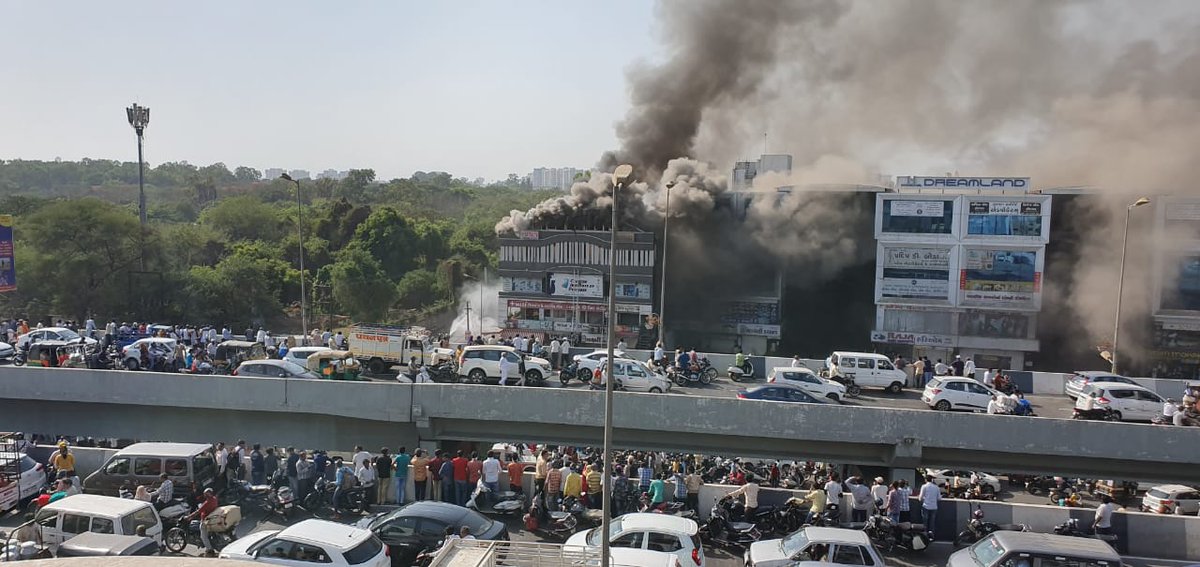 He did not rule out the possibility of increase in the number of casualties. There were no proper fire safety norms followed in the building.
Meanwhile, the state government has ordered a probe in to the incident and sought a report within three days. CM Vijay Rupani has announced Rs 4 lakh ex-gratia to the family of each of the deceased family.
Minister of state for health Kumar Kanani also visited the spot.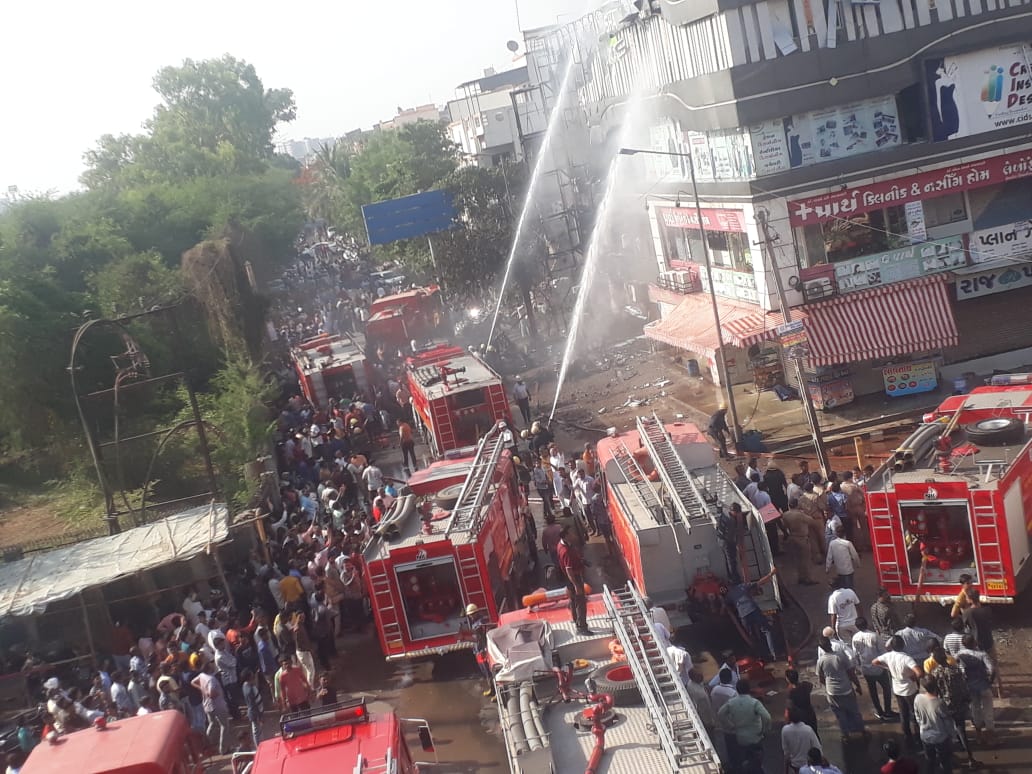 PM Narendara Modi has also expressed grief over the incident. 'Extremely anguished by the fire tragedy in Surat. My thoughts are with bereaved families. May the injured recover quickly. Have asked the Gujarat Government and local authorities to provide all possible assistance to those affected,' he tweeted.
The reason behind the deadly fire was not yet known. It is understood that it started due to short circuit in a sweet-meat shop in the same building.
21 fire fighting vehicles were deployed for dousing the fire.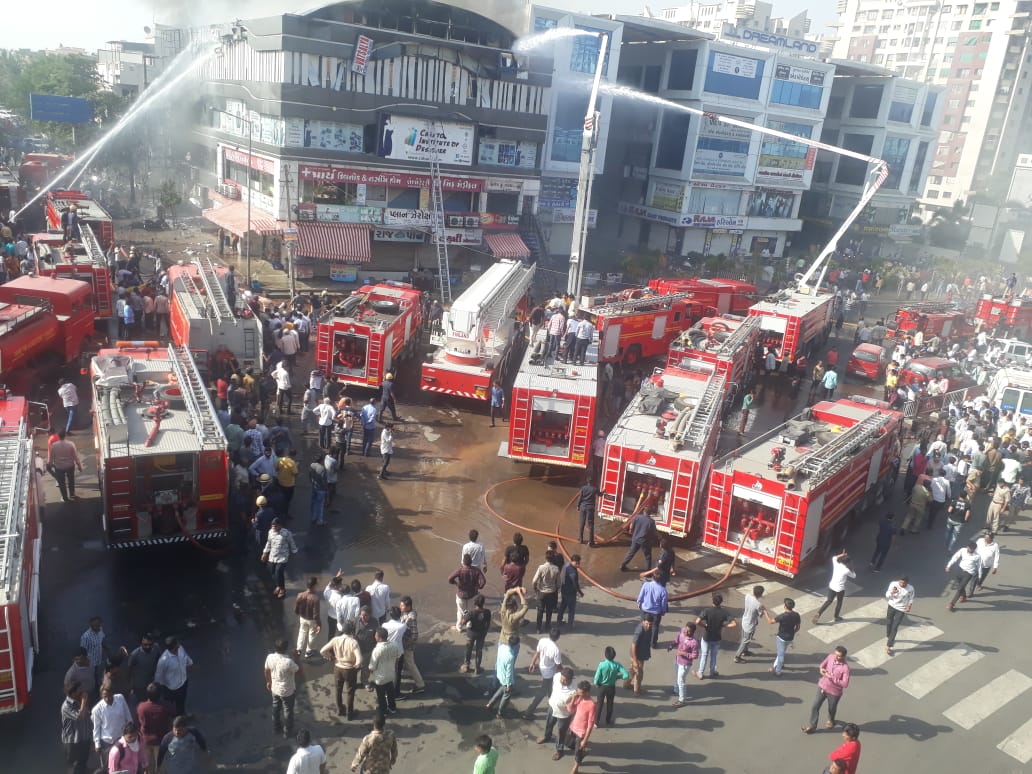 In the same city two lives were lost some time ago in another fire in the city in a tuition classes.
CM Rupani will visit Surat shortly to visit the spot and meet the families of the deceased and injured.
Those injured: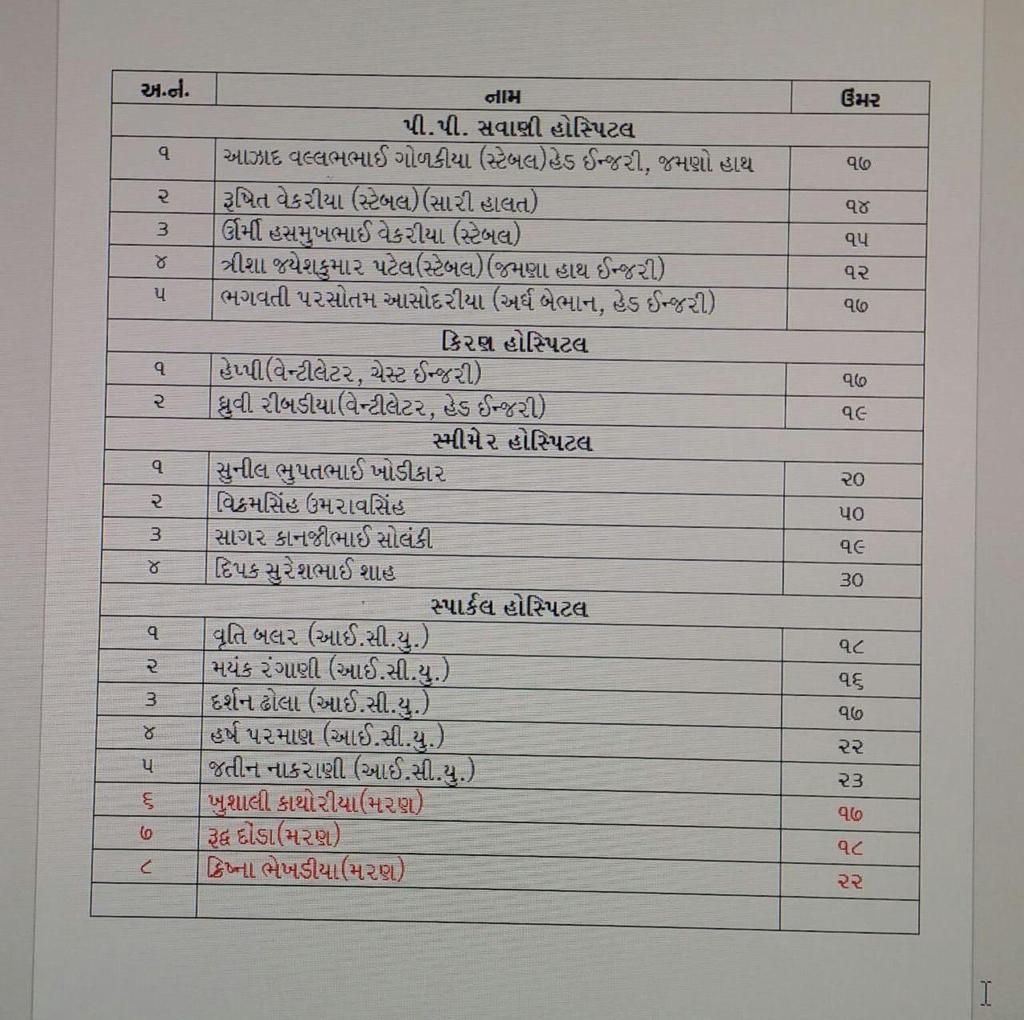 Extremely anguished by the fire tragedy in Surat. My thoughts are with bereaved families. May the injured recover quickly. Have asked the Gujarat Government and local authorities to provide all possible assistance to those affected.

— Narendra Modi (@narendramodi) May 24, 2019
Deeply anguished by the loss of lives due to a tragic fire accident in Surat, Gujarat. My condolences with the bereaved families. I pray for the speedy recovery of those injured. I urge our karyakartas of BJP Surat unit to assist the people in need.

— Amit Shah (@AmitShah) May 24, 2019
सुरत, गुजरात में हुये इस हादसे की ख़बर से बहुत दुःख पहुंचा है।

पीड़ित परिवारों के प्रति, मैं गहरी शोक और संवेदना व्यक्त करता हूँ।

घायलों के जल्द से जल्द स्वस्थ होने की कामना करता हूँ। https://t.co/RWnH8dJTdP

— Rahul Gandhi (@RahulGandhi) May 24, 2019
Deeply saddened by the news of Surat fire tragedy. Instructed officials to do needful. My prayers are with all those affected. May those who have been injured recover at the earliest. I pray for the departed souls. Om Shanti. pic.twitter.com/T4avRHOu5V

— Vijay Rupani (@vijayrupanibjp) May 24, 2019
Saddened by the loss of lives in Surat

My thoughts and prayers are with their families

I appeal to local authorities to provide best possible medical relief to the injured, adequate compensation to families of deceased & ensure fire safety means are in place across Gujarat

— Ahmed Patel (@ahmedpatel) May 24, 2019
This is really terrible and very sad what happened at #sarthana in #Surat@CP_SuratCity @CMOGuj @vijayrupanibjp @PradipsinhGuj https://t.co/WXkB4XAEoi

— Parimal Nathwani (@mpparimal) May 24, 2019
T 3174 – Terrible tragedy in Surat .. a devastating fire and 14-17 year old children caught in it jump off the building and perish ..
Grief beyond expression .. prayers 🙏🙏🙏

— Amitabh Bachchan (@SrBachchan) May 24, 2019
Deeply saddened by the loss of lives due to fire in Surat. #SuratFire #Gujarat @DeshGujarat pic.twitter.com/buGconD72F

— Dhanraj Nathwani (@DhanrajNathwani) May 24, 2019
DeshGujarat