Lok Sabha 2019, a spectacular victory for BJP in Gujarat, like never before for any party, anytime in the past
May 26, 2019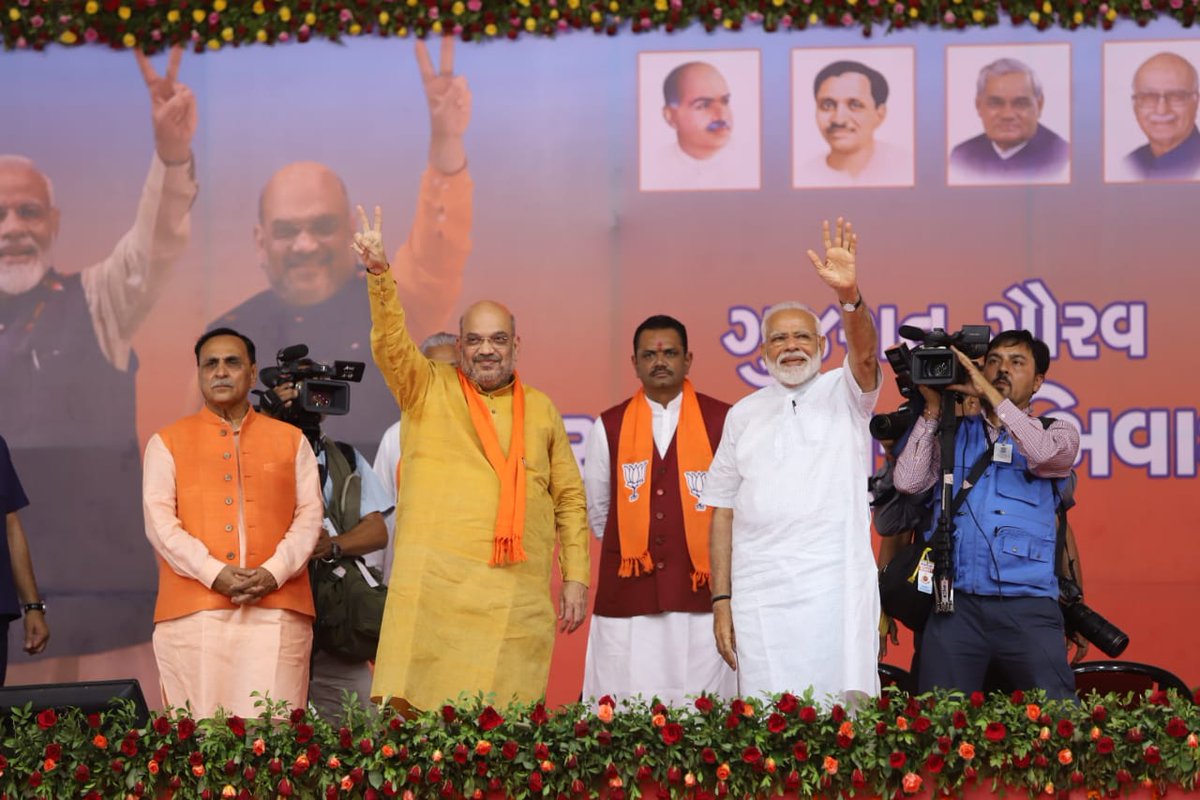 By Japan K Pathak, Gandhinagar: When voters of Gujarat gave all 26 Lok Sabha seats to BJP in year 2014 Lok Sabha elections, it was believed that this was 'na bhuto, na bhavishyati' verdict. It was believed that victory on all Lok Sabha seats for a single party was something that never happened before in Gujarat and will never happen in future in Gujarat.
There was a reason behind this argument. Lok Sabha 2014 was a rare verdict for the State. Even in wave elections of 1971 (after Bangladesh war), 1984 (after Indira's murder) and 1991(a phase of polling affter Rajiv Gandhi's murder), Gujarat had not given all Lok Sabha seats to one party. Highest, one party had reached in terms of numbers in Lok Sabha polls in Gujarat was 25 out of 26 seats in 1980 (Congress).
So before year 2019 Lok Sabha elections, political pundits would tell BJP leaders that – from the top, the only way was down, and BJP would make loses in Gujarat in terms of number. Some Congress leadning pundits would predict 18 seats for BJP, some 20, some 21 while some more neutral or BJP leadning ones would predict 22-23-24 seats for BJP.
However the people of Gujarat once again gave all 26 seats to BJP in 2019, which was unparalleled and amazing success for the party. On prima facie, BJP won 26 seats in 2014 so as in 2019, but if you dig deeper, the verdict in 2019 is even bigger, grander than 2014. It is top performance in the history of Gujarat politics, achieved by any political party ever.
Just one and half year ago (December 2017), general elections of assembly were held in Gujarat in which, ruling BJP's tally came down to 99. In translated to Lok Sabha seats, main opposition Congress was ahead of BJP in 8 Lok Sabha seats – Banaskantha, Patan, Mahesana, Sabarkantha, Surendranagar, Junagadh, Amreli and Anand.
In Sabarkantha Congress was ahead of BJP by 14,000 votes. Similarly the numbers in other districts: Mahesana – 17,000, Patan – 39,000, Banaskantha – 26,000, Surendranagar – 50,000, Amreli – 51,000, Anand – 59,000, and please take care of your breath, in Junagadh Lok Sabha seat area, the margin enjoyed by Congress was whopping 1,68,000. Such were the leads enjoyed by Congress over BJP in 8 Lok Sabha segments in December 2017. Of course it was an assembly election, but the results were very indicative of Congress's emergence.
Now look at the Lok Sabha results – 2019. In Junagadh Lok Sabha seat, BJP is ahead of Congress by 1.50 lakh votes. Yes, the same Junagadh, where just one-and-half year ago BJP was trailing by 1.68 lakh votes. Or look at Anand Lok Sabha seat. BJP's lead in 2019 is 1,97,000 votes in round figure. Same happened in other seats. Just look at the gap that BJP crossed and rose above that level. It's just phenomenal. It's proving a point that I would raise in each TV debate I participated ahead of polling that Lok Sabha and Vidhansabha elections are completely different, and though Vidhansabha results provide most comprehensive and nearest data pool, we just can't plainly project Lok Sabha election outcome based on that data.
Let's dive into more numbers. In 2014 Lok Sabha election results, BJP was trailing in 13 out of total 182 assembly segments in Gujarat. In 2017 assembly elections, this number rose to 83. But in 2019, BJP was trailing in just 9 assembly segments. What a rise and how amazing the rise?! Out of 182 assembly seats, BJP is ahead of Congress in 173 seats if we translate Lok Sabha election result, Vidhansabha wise. This is the highest score any political party has achieved ever be it the assembly polls or the Lok Sabha polls. People gave more votes to BJP in the areas of even big-wing State Congress leaders and office bearers – many of them candidates themselves.
More numbers? In 2014 Lok Sabha polls, BJP's vote share in Gujarat was nearly 60% against Congress's 33% around. In 2017 assembly polls, BJP's vote share came down to 49.1% while Congress increased its vote share to 41.4%. Now look at the 2019 vote share figures: BJP – whopping 62.2% while Congress at 32.1%. BJP increased its vote share by 2.2% in 2019 compared to 2014 and by 13.1% compared to 2017. This is too high a vote share.
In fact, the highest margin achieved by any candidate in 2019 Lok Sabha polls across the country is in Gujarat. Navsari BJP candidate and sitting MP CR Patil won Navsari seat by margin of 6.98 lakh plus in 2019 polls.
Assembly-seat wise results clearly indicate that BJP in 2019 has got votes from all sections including tribals, dalits, farmers, rural, semi-urban, urban, poor, middle class, small traders and even Muslims. It is very much clear that large number of Muslims in Juhapura (part of Vejalpur assembly seat) voted for Amit Shah in Gandhinagar constituency and even in Muslim dominated assembly seat of Dariyapur in wall city Ahmedabad, the BJP candidate achieved majority. BJP candidate achieved majority in Wankaner asembly seat also where Muslim MLA of Congress party is elected regularly in assembly polls.
During the campaign, the first indication of BJP regaining the ground post 2017 election was PM Modi's Jamnagar and Patan public meetings. In Jamnagar, PM spoke in Gujarati in detail on Balakot, national security and nationalism. The speech was spectacular and so was the response from the crowd. In Patan speech, Modi spoke about his Gujarat belonging, roots, identity and connect. Response again was very well.
The second indication of BJP's possible top notch performance was higher voting witnessed on April 23 – the polling day. Political pundits before polling day would say people were not interested in this election, there was extreme heat, there was lack of enthusiasm, it was a boring election etc etc. But voting percentage figure emerged higher than any previous Lok Sabha election in Gujarat ever at 64.11% (in 2014 it was 63.66%). This was very indicative of BJP's top-notch performance. Because conventionally, more voting always help BJP here.
The third indication came as vote share predictions in various exit polls. While couple of exit polls gave all 26 seats to BJP in Gujarat, and some gave 25 seats, an experienced exit poll agency CSDS projected BJP vote-share at 60% in Gujarat, same as 2014. This was indicative of top performance by BJP in the State.
Post 2014(Narendra Modi's departure to Delhi), ruling BJP in Gujarat faced several issues. Due to change in China's policies, cotton export from Gujarat suffered setback. This resulted into fall in cotton price, and therefore resulted into low feeling among farmers. Since 2014, there have been at least three poor monsoons in Gujarat. Summer irrigation had to be denied(once by Anandiben and twice by Rupani government including this year). Then there were few half-successful caste-engineering attempts by opponents triggering violent agitations, police firings and more. The party had to make several leadership changes in organization and government.
While in urban area, ruling BJP remained safe against all challenges in terms of electoral results, in rural areas 1. huge MSP purchases worth thousands of crores and 2. relaxation in scarcity rules and Rs. 13,000 direct transfers to each farmer of scarcity-hit 96 talukas helped to cool down the distress.
During campaigning ahead of Lok Sabha election, BJP avoided discussing locally relevant issues and kept the discourse in the direction of national affairs claiming that the election was national one. While Modi would do rally on top 'fight' seats, Chief Minister Rupani and State BJP chief Vaghani would move almost everyday to places and address rallies. Parshottam Rupals is popular orator and he too would address possible maximum public meetings. Amit Shah also address public meetings in secondary-fight seats. All these leaders would hold organizational meetings of local party unit/workers during their visit and continuously assess the situation on the ground. Community leaders were also moved to places. The men of orgnization, Om Mathur and Bhikhubhai Dalsania would tour and hold meetings constantly to places. Contrary to 2017 assembly polls, Congress had no Kunvarji Bavaliya to influence Koli community vote, no Alpesh Thakor plus two (his two MLA aides) to mobilize Thakor community vote, no Jawahar Chavda to influence Ahir votes.
However, the election results of not only Gujarat, but neighboring states and even beyond, indicate that local-micro-district or even state-level issues/divisions/sentiments were considered as completely irrelevant by voters and their single focus was the national agenda, which ideally should be the case during the national election.
Perception and picture ahead of polling in my words was this – (1). the top or central message of election was in favor of BJP(Modi as PM); (2). the candidates on 'fight-seats' seemed on equal footing and (3). polling day mobilization, more voting in favorable area seemed like a key to victory. So in a way it was Modi(leader)-led but Shah(organization) oriented election.
The people of Gujarat have always ensured BJP's victory during entire period of influence of Narendra Modi over the State politics. Modi was first introduced to voters of Gujarat in late 1980s as party's state organizational general secretary. BJP won Amdavad Municipal Corporation first in 1987 and party's veteran leader late Jayendra Pandit became city's Mayor. BJP won all assembly election after that and in each Lok Sabha polls, BJP got more seats than Congress. In 2001 Modi himself entered into direct electoral politics. In all these years BJP won all assembly elections in Gujarat. BJP won higher number of seats in all Lok Sabha elections in Gujarat. Modi in fact remained as Gujarat Chief Minister for the longest period, breaking all past records. He was reelected as Chief Minister for highest number of times. Party would lose some seats, some by-polls, some local elections here and there, but in assembly and Lok Sabha elections, the people of Gujarat always kept Modi unbeatable and on the top. The people of Gujarat gave all 26 Lok Sabha seats to BJP not once but twice.
In fact these were the reasons why Modi and Shah decided to visit Gujarat and thank the voters here. The people of Gujarat deserved this gesture.
DeshGujarat