Next 50 to 60 hours extremely crucial for Gujarat in the wake of cyclone VAYU: Coast Guard commander
June 12, 2019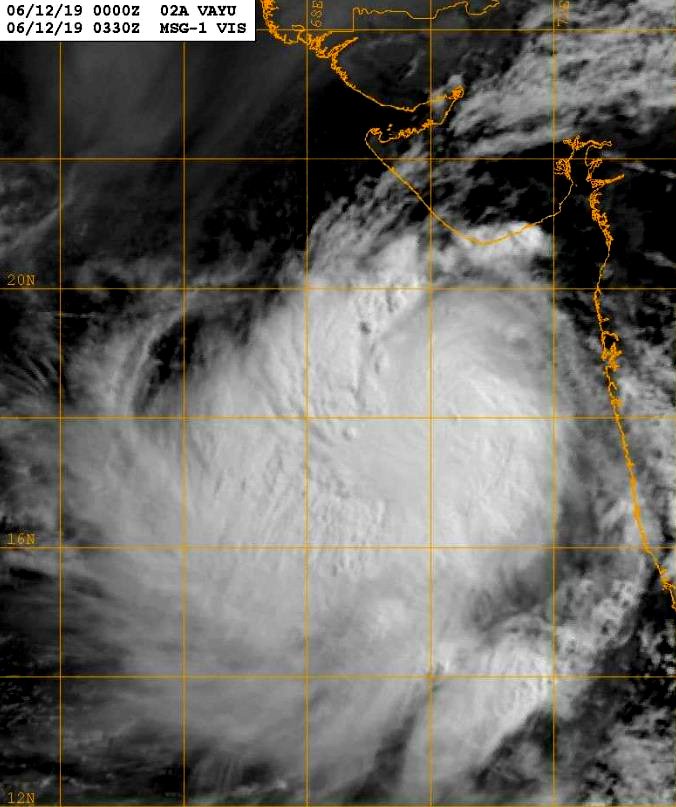 Gandhinagar: Even as the Very Severe Cyclonic Storm 'VAYU'(pronounced as VAA'YU) over Eastcentral Arabian Sea was located at around 300 km south of Veraval coast in Gujarat and was moving at a speed of 18 km per hour with likelihood of making a landfall between Porbandar and Veraval anytime from midnight to early morning tomorrow, the coast guard today said that next 50 to 60 hours were extremely crucial for the western state.
Meanwhile the weather in the coastal Saurashtra has started to show a change with the cyclone inching closer. Strong winds are being witnessed in these areas and high waves were rising in the sea.
During a presentation about the movement of the storm, Coast Guard's operation commander Navtej Singh today said that It would touch the coast somewhere near Veraval and then move towards Somnath and later reach Dwarka on Friday and then cross Gujarat.
'Next 50 to 60 hours were extremely crucial for Gujarat. Due to the elaborate precautionary measures and evacuations, there was no likelihood of any loss of life etc but we need to remain vigilant. At all the seven stations of the coast guard in the Saurashtra region teams have been deployed,' he said.
He said that the speed of the storm was quite high at 71 knots or over 130 kmph.
Meanwhile,according to IMD bulletin it moved north-northwestwards with a speed of about 11kmph in last six hours and lay centred at 0830 hrs IST today near latitude 18.0°N and longitude 70.3°Eover Eastcentral Arabian Sea, about 460km northwest of Goa, 290km west-southwest of Mumbai(Maharashtra) and 320km nearly south of Veraval(Gujarat).It is very likely to move nearly northwards and cross Gujarat coast between Porbandar and Diu around west of Veraval as a Very Severe Cyclonic Storm with wind speed 145-155kmph gusting to170kmph around morning of June 13.
The Commander Coast Guard Region (NW), Inspector General Rakesh Pal informed that presently the position of cyclone is around 300 km south of Veraval and as per Indian meteorological department and Indian satellite research organisation model for predicting the track movement, the cyclone is moving northerly at a speed of 18 km per hour and is likely to make a land fall between Veraval and Porbandar during mid night of 12/13 Jun 19.
Although the ban on the fishing has been implemented by the state with effect from 10 Jun 19, the Coast Guard Ships and Aircraft broadcast on open channel as advisory for the fishermen and merchant vessels regarding the cyclone warning and fishing boats to return harbour. The fishery department has been communicated by the district headquarters and units across the Gujarat border to convey fishery association for return of fishing boat to harbour due cyclone. The Gujarat Maritime Board has been also advised for keeping the ships at anchorage at short notice to weigh anchor and ships to maintain readiness to sail.
The ship and aircraft of this region has been dispersed at various places to enable search and rescue readiness post landfall of cyclone. We have positioned our aircraft at Daman and Ahmadabad and ships at Mundra, Okha and Jakhau. A ship from the western region has also been diverted to North West Region for post cyclone land fall for providing search and rescue requirement and other emergency developing at sea off the Saurashtra and Kutch region.
The ships and aircraft are being manned round the clock and kept on immediate notice for motoring for any emergent situation. The ships and aircraft has been directed to be prepared for any oil spill response by the merchant ship in the region, he said.
DeshGujarat