By-polls for two vacant seats of Rajya Sabha in Gujarat announced; Schedule same, notification and polling for each seat separately
June 15, 2019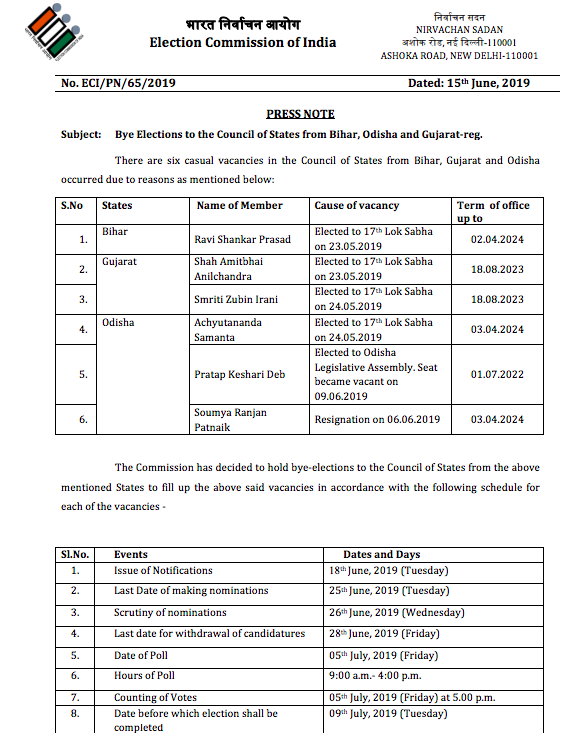 Gandhinagar: Polling for two vacant seats of Rajya Sabha in Gujarat will take place on July 5. Two Rajya Sabha seats are vacant following the resignations of Amit Shah and Smriti Irani. Shah and Irani resigned as Rajya Sabha member to retain their Lok Sabha seats. Shah is representing Gandhinagar Lok Sabha seat in Gujarat while Smriti is elected from Amethi in Uttar Pradesh. Both were elected to Lok Sabha in recently concluded general elections.
ECI note on separate polling:
The Election Commission in its note says: It is further clarified that the vacancies for Bye-­‐‑elections to all Houses, including the Rajya Sabha, are considered as separate vacancies and separate notifications are issued and separate poll is taken for each of the vacancies although the programme schedule for the bye-­‐‑elections may be common.
This is in conformity with the provisions of Section 147 to 151 of the Representation of the People Act, 1951, and has been the consistent practice of the Commission in such cases.
Holding of separate elections has been upheld by the Hon'ble Delhi High Court in Civil W.P. No. 132 of 1994 (A.K. Walia Vs Union of India & Others) and W.P. No. 9357 of 2006 (Satya Pal Malik Vs Election Commission of India) by its decision dated 14.01.1994 & 20.01.2009 respectively.
______
The background: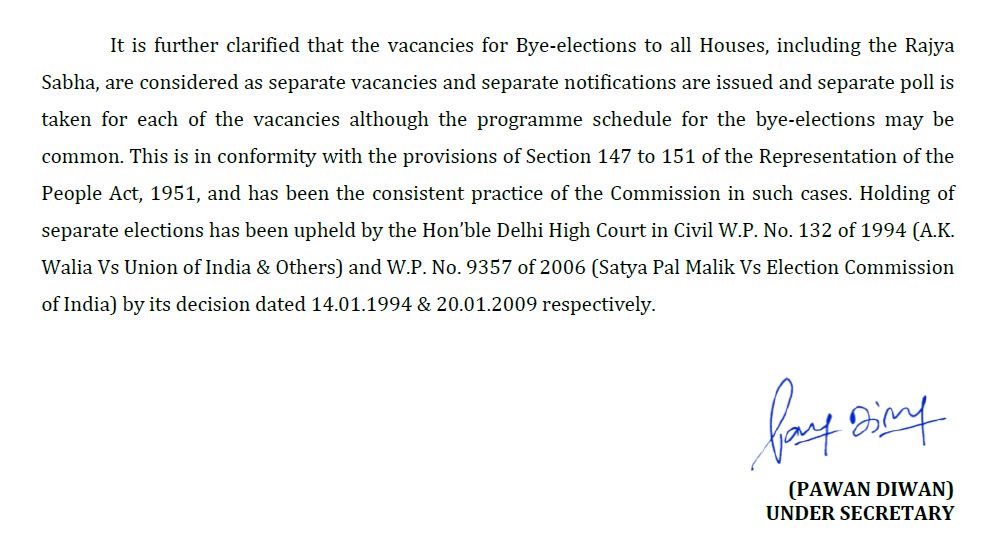 It's worth noting that if the by-poll of two vacant Rajya Sabha seats take place jointly and Congress MLAs cast vote as per mandate, the BJP can lose one seat and retain the other one. However as per the Election Commission note the vacancies are separate and therefore there shall be separate notification and separate poll for each vacancy. With this, ruling BJP is all set to win both vacant seats. It's worth to mention that Congress spokesperson Abhishek Manu Singhvi had recently demanded simultaneous election for both vacant seats. The Election Commission has in its note therefore made it clear that separate polling decision is as per Delhi High Court verdict.
DeshGujarat