Gujarat govt. paid Rs. 9700 crore to farmers in 3 years on MSP purchases: Rupani
June 17, 2019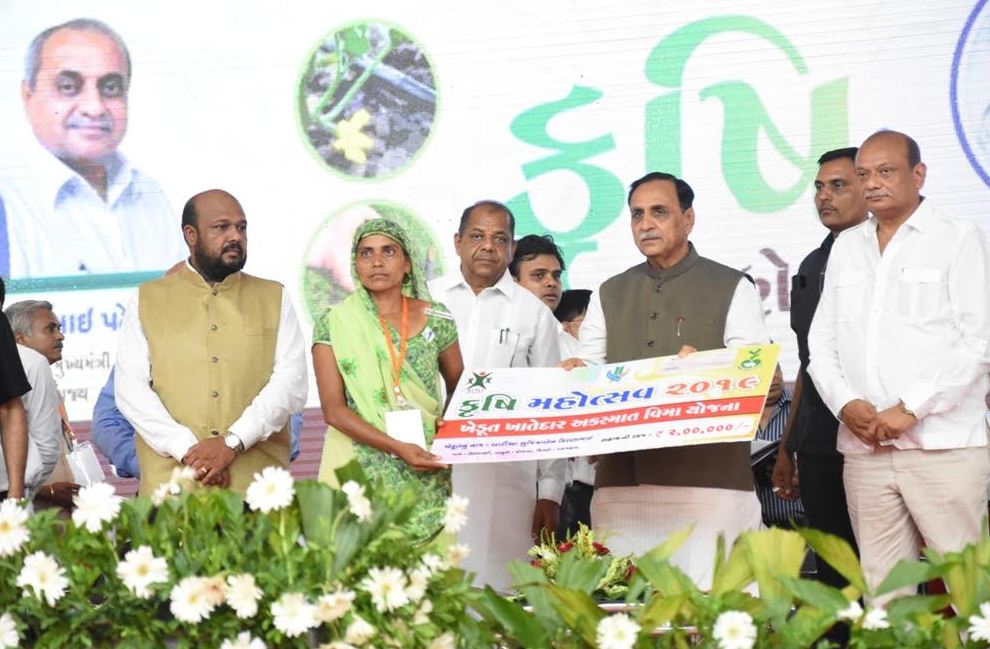 Ahmedabad: Gujarat Chief Minister Vijaybhai Rupani today urged the farmers to become self-dependent by adopting modern and scientific farming systemsto yield maximum crops at minimum cost.
The Chief Minister said that the state is determined to stay ahead in fulfilling the Prime Minister's dream of 'New India' by doubling the income of farmers by year-2022. He was speaking at the inaugural function of state-wide 'Kharif Krushi Mahotsav – 2019' held at Khanpur in Morva-Hadaf tehsil of Panchmahal district. He also inaugurated an agricultural exhibition and visited various stalls.
Rupani also honoured the progressive farmers by conferring them with 'Sardar Patel Awards', 'Best ATMA Farmer Awards', shawls, cash prizes and certifications. He also distributed cheques worth of Rs. 8.45-lakh to beneficiaries of 'Khedut Khatedar Accidental Insurance Scheme'. He also released a book depicting success stories of 121-odd progressive farmers.
The Chief Minister also added that under the 'Pradhan Mantri Kishan Sanman Nidhi Yojna' a handsome amount of RS. 1100-crore was deposited into the bank accounts of 28-lakh beneficiary farmers of Gujarat. Besides this, the state government has paid Rs. 9700-crore as supportive prices for crops of groundnut, tur, moong, urad, and bajri in last three years.
The Chief Minister was honoured in traditional style by various institutions, associations and others by offering him Adivasi Koti (Apron), sword, Safo (Turban), etc.
Others, who spoke on the occasion, included agriculture minister of state Mr. Jaydrathsinh Parmar, additional chief secretary (agriculture, farmers' welfare and cooperative department) Sanjay Prasad.
The event was also graced by minister of state Mr. Bachubhai Khabad, district panchayat president Mr. Rajpalsinh Yadav, MP Mr. Ratansinh Rathod, MLAs – Mr. Jethabhai Ahir, C. K. Raulji, Sumanben Chauhan, and others.
– Information