JP Nadda becomes Working President of BJP; Amit Shah to continue as President for 6 months
June 17, 2019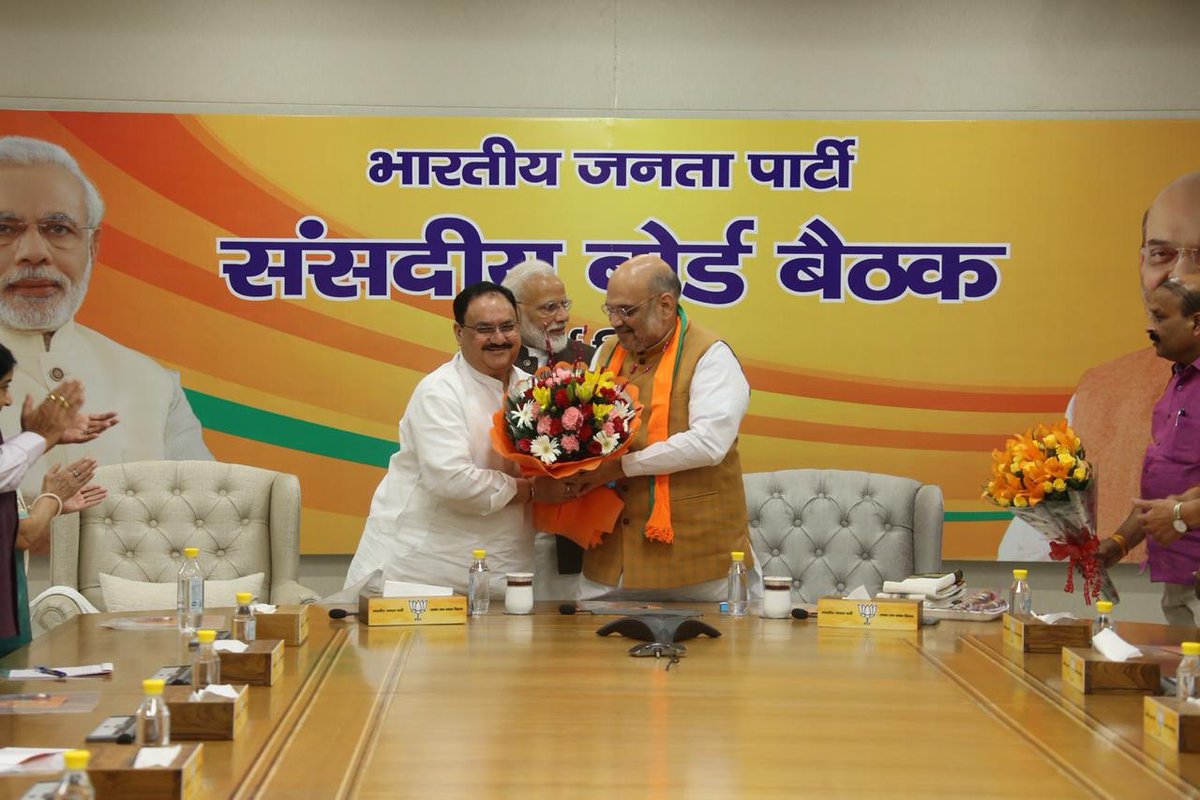 New Delhi: Jagat Prakash Nadda (JP Nadda), the former health minister who had stayed out of Prime Minister Narendra Modi new cabinet, has been appointed the ruling Bharatiya Janata Party's working president.
The appointment was cleared unanimously by the BJP's powerful parliamentary board, the top decision-making body of the party.
Amit Shah, who has become union home minister, will continue as the BJP president till Nadda is formally elected to the post.
Nadda, a Rajya Sabha member from Himachal Pradesh will be formally elected as the chief of the ruling party after the party's membership drive and organisational elections are over by December-January.
Defence Minister Rajnath Singh announced Nadda's appointment.
"Amit Shah said at the meeting that he was unable to devote time to the party as he was also looking after the home ministry and the party president's post should be given to some other leader," Singh told reporters after the parliamentary board meeting.
"The board members urged Shah to continue till the completion of the membership drive," Singh said. The BJP will launch its membership drive from July 6 and aims to enroll at least 2.20 crore new members over and above its exiting cadre base of 11 crore.
Once the membership drive is over, the BJP will hold its internal election at the mandal, district and state level. The election of the BJP president can take place only after organisational elections are complete in 50% of the states.
"This entire exercise will take about 6 months," the senior BJP leader later said, adding that Nadda's appointment was designed to ensure a smooth transition in light of Amit Shah's induction in PM Modi's new team.
As he congratulated Nadda on his new assignment, Defence Minister Rajnath Singh also credited Amit Shah for the many elections that the party had won after his elevation as party boss.
Fifty eight-year-old Nadda has been an Akhil Bharatiya Vidyarthi Parishad (ABVP) veteran, the students wing of the Rashtriya Swayamsewak Sangh where he has spent many years as a pracharak of the RSS.
Nadda became president of BJP's youth wing at an early age of 31 in 1991 and shares good relations with all factions of the party. Current BJP president Amit Shah was national treasurer of BJP's youth wing in 1997. Nadda was first elected to the Himachal Pradesh Legislative Assembly in 1993 and was twice re-elected to the state assembly in 1998 and 2007. He was a cabinet minister in the BJP government between 1998 and 2003 and also between 2008 and 2010. Nadda moved to the national politics in 2010 as party's national general secretary after Nitin Gadkari, the Nagpur leader backed by the RSS, was appointed BJP chief in 2009.
Nadda made his entry in the Rajya Sabha in 2012 and was appointed a minister in the Narendra Modi government in the first expansion of the council of ministers in November 2014. He held the crucial health ministry since then.
Nadda was in contention for the BJP president's post in 2014 after Rajnath Singh became the home minister in Narendra Modi's first term as Prime Minister. However, he lost out to Amit Shah who was Prime Minister Narendra Modi's choice for the BJP president post then.
Early Life of Jagat Prakash Nadda
Born in Patna on 2nd December, 1960, Nadda entered politics in the year 1975 when he joined the then ongoing Sampurna Kranti (total revolution) movement started by Jayaprakash Narayan (JP) movement against the autocratic rule of the then prime minister Indira Gandhi.
Nadda later joined Akhil Bharatiya Vidyarthi Parishad (ABVP), the youth wing of Bharatiya Janata Party, while he was studying in Patna University and entered student politics. His father NL Nadda was Vice Chancellor of Patna University.
On a ticket of the ABVP, he won election as Secretary, Patna university students union in 1977. Simultaneously, he also got actively involved in the day-to-day workings of ABVP and worked on several positions. After graduating from the Patna University, Nadda completed his Bachelor of Laws (LL.B) degree from the Himachal University. Nadda has been a sports enthusiast also and during his school days, he got a chance to represent Bihar in a swimming championship held at Delhi.
 He is married to Dr Mallika Nadda, who is daughter of Lok Sabha MP from Jabalpur (in Madhya Pradesh), Jayshree Banerjee. Mallika is a professor of history at the Himachal Pradesh University. She has also been a member of ABVP, the student wing of BJP. From 1988 to 1999, she was also its national general secretary.
"I am confident that under Naddaji's leadership, party will continue to be strengthened further. We will sincerely work to implement Modi government's welfare measures and work according to party's principles," Mr Shah tweeted in Hindi.
"I am confident that under the leadership of Amit Shah and J PNadda, and powered by the hardwork of our Karyakartas, the BJP will continue winning people's trust and serving our society. We remain committed to building a strong, developed and inclusive India," Mr Modi exuded confidence.
"Shri JP Nadda is a diligent Karyakarta of the Party, who has risen through the ranks due to his hardwork and organisational skills…. Congratulations to him on becoming the Working President of the Party," Prime Minister wrote.
The organisational elections in BJP would be over by January 2020.
A three-time MLA, Mr Nadda represents Himachal Pradesh in Rajya Sabha and is known for being a RSS confidant and also someone who enjoys the confidence of both PM Modi and party chief Shah.
The BJP will start its massive membership drive from July 6, birth anniversary of its founder Syama Prasad Mookerjee.
Political Career of Jagat Prakash Nadda
In 1987, Nadda had to face a 45-day detention for organising an anti-government campaign against the ruling Congress Party by forming a Rashtriya Sangharsh Morcha.
 During the Lok Sabha Polls held in the year 1989, he was assigned a major responsibility as election in-charge of the BJP's youth wing when he was just 29 years old. Moving ahead, just three years later in 1991, he was made National President of Bharatiya Janata Yuva Morcha at the young age of 31 years.
 Later, he fought Assembly elections from his home state Himachal Pradesh and won three times. He has been a Cabinet Minister in the Himachal Pradesh for three terms – from 1993 to1998, 1998 to 2003 and then during 2007-2012 and handled ministries such as Forest, Environment, Science and Technology. As part of his noted achievements, Nadda has been known as a minister who effectively established forest police stations in the state to curb forest crimes. He has also been credited for boosting the green cover in Shimla and for the purpose he remains engaged in launching several tree plantation drives in the state.
J P Nadda has also visited several countries including Costa Rica, Greece, Turkey, UK, Canada, etc as part of different delegations representing India.
 In 2012 he got elected to the Rajya Sabha. He has also been a member of the Committees on Transport, Tourism and Culture.