By-election for two Rajya Sabha seats in Gujarat tomorrow
July 04, 2019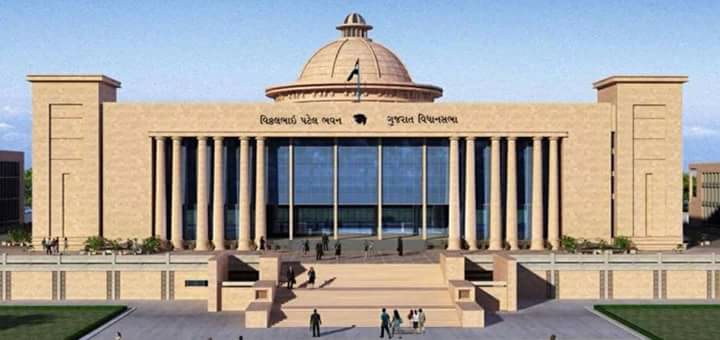 Gandhinagar: The by-polls for two Rajya Sabha seat in Gujarat will be held in the assembly premises here tomorrow.
Looking at the arithmetic of the state assembly ruling BJP candidates External Affairs minister S.Jaishankar and Jugalji Thakor (Lokhandwala) were almost certain to win.
The seats fell vacant following resignations of union ministers Amit Shah and Smriti Irani. Both offered their resignations after their election to Lok Sabha in recently concluded general election.
Congress has fielded party leader in South Gujarat Gaurav Pandya and former woman MLA from Mangrol seat and also ex-minister from Saurashtra Chandrikaben Chudasama.
Currently four seats in the 182 member assembly are vacant due to resignation of as many BJP MLAs who were elected for Loksabha. Three other MLAs Bhagwan Barad (Talala seat) of Congress, Pabubha Manek (Dwarka) and Independent Bhupendra Khant (Morwa Hadaf) have been disqualified. So there are in all 175 MLA ie voters. Of these 100 are from BJP, 71 from Congress including two of its rebel MLAs Alpesh Thakor and Dhawal Zala, 2 from Bhartiya Tribal Party (Congress ally) and 1 of NCP and 1 Congress supported independent Jignesh Mewani.
The candidate getting 88 first priority votes would win and this way in the separate voting for the two seats BJP is bound to win. However, Congress has flocked and taken its 69 MLAs (apart from Thakor and Zala) to a resort in North Gujarat due to an apparent fear of horse-trading/cross-voting.
Returning Officer cum Deputy Secretary of the Gujarat Legislature Secretariat C B Pandya said that the polling would be held from 9am to 4pm tomorrow and counting would be done from 5 pm the same evening after which the results would also be declared. Two different coloured (White and Pink) ballots have been prepared for the two by-polls. Two of the MLAs Parshottam Solanki and Shambuji Thakor would cast votes with the help of assistants due to their illness. They have taken prior permission for that.
Earlier the Supreme Court had on June 25 refused to interfere in the election on the Congress plea objecting to holding the two election on the same date but separately.
The by-elections would be held separately (ie each MLA can cast separate votes) but simultaneously.
Notably, the commission had announced the poll on June 15 after which Congress opposed it for the by-polls being held separately. It had approached the Supreme Court on June 17 demanding simultaneous by-polls (ie one MLA can cast vote for either of the candidate rather than current provision of one can cast separate votes for the two seats).
The EC had clarified that as each vacancy is considered a separate one, hence the by-polls were being held separately even though on the same date.
Notably, Shah and Irani had won in the last Rajyasabha polls held in August 2017 when elections were held simultaneously on the 3 seats of Gujarat quota. In a nail-biting finish Congress leader Ahmed Patel had won the third seat with a close margin.
State Congress president Chavda had said that the party would approach the apex court with an election petition after the election to save the democracy and the constitution. It has decided to field candidates.
Congress has issued whip to all its MLAs to cast votes in favour of the party candidates. Meanwhile, the sole NCP MLA Kandhal Jadeja today was reportedly present during meeting of BJP MLAs on the eve of the by-polls.
DeshGujarat