Junagadh Congress leaders hold sit-in protest outside Amipara's bungalow against ticket distribution
July 07, 2019
Junagadh: Around two dozen Congress workers including sitting Councillors and other local leaders held sit-in protest outside the residence of Vinu Amipara who resigned yesterday from the post of the city Congress president.
Sit-in protesters were seeking party to not accept Vinu Amipara's resignation.
When interviewed, those participating sit-in protest blamed party observers for mess in local unit of party ahead of Junagadh Municipal Corporation (JMC) election, polling for which is going to take place on July 21.
One of the participants in sit-in protest said, 'when Amipara and local party MLA Bhikhabhai Joshi visited Gandhinagar and met state party chief and leader of opposition there, they were promised that all sitting party Councillors will get ticket from same ward. However many sitting Councillors are discontinued. Promise has been breached.'
Another party worker said, 'Amipara and MLA Joshi were not consulted while finalizing the candidates which is unfair. If Vinubhai doesn't take back his resignation or if party doesn't reject his resignation, all supporters will withdraw their nomination forms.'
Almost all of those present outside Amipara's bungalow in sit-in protest opined that party observers spoiled the election by fielding wrong candidates.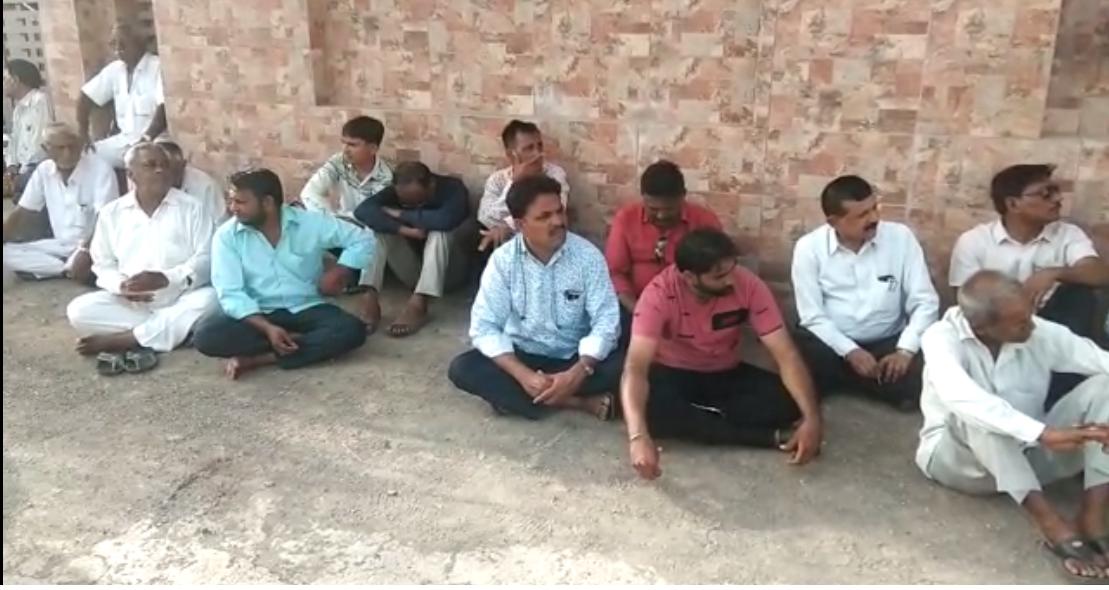 The observers according to them were party Morbi MLA Brijesh Merja, Una MLA Punja Vansh, Rajkot based Hemang Vasavada, MK Bloch and Kalpana Joshi.
Some of protesters alleged that tickets were sold for money.
When asked about allegations, one of observers Hemang Vasavada said: 'If 600 party men demand ticket for 60 seats, we can't increase the number of seats. We can select only 60. The party has given tickets after analysis, survey and even Facebook search. None is neglected. Amipara and Joshi had met state party chief Amit Chavda in Gandhinagar. Dissident party man Vijay Vora was to be shifted to other ward as candidate due to merger of wards, however it was not acceptable to him. Another dissident and former Mayor Lakhabhai had put some conditions and he had reiterated that if conditions are not fulfilled, he would not contest. The conditions were however not acceptable to party. Bhikhabhai and Amipara had detailed meeting with state party chief Amit Chavda and it's not true that they were not consulted.'
It's worth noting that while city party chief Amipara has resigned, former Mayor of JMC Lakhabhai Parmar has distributed sweets protesting 'denial of ticket' by party. Local MLA Bhikhabhai Joshi told media persons that he too wanted to resign but some party workers opined that he should not do it. Bhikhabhai said his supporters are denied while those who worked against him have been given ticket. Bhikhabhai said he was highly disappointed and sad. Adreman Panja, a sitting Congress Councillor who resigned from the party following denial of ticket to him alleged that tickets were sold for the price of Rs. 9 lakh each.
Three sitting Councillors of ward number 9, and some 22 office bearers of local party unit have submitted resignations with Vinu Amipara who was party chief of city for last 15 months. MLA Joshi and leader of opposition in JMC, Satish Captain are loggerheads for last some time.
Meanwhile, BJP is criticized for fielding bootlegger Dhiren Kariya's wife Nisha Kariya as candidate. Dhiren had recently contested Lok Sabha general election as independent candidate from jail. His wife has been fielded from ward number 03 after Bharat Karena refused to contest.
DeshGujarat