Through different strategy, two-time finalist, Gujarat Fortune Giants will win PKL title this time: CEO Adesara
July 16, 2019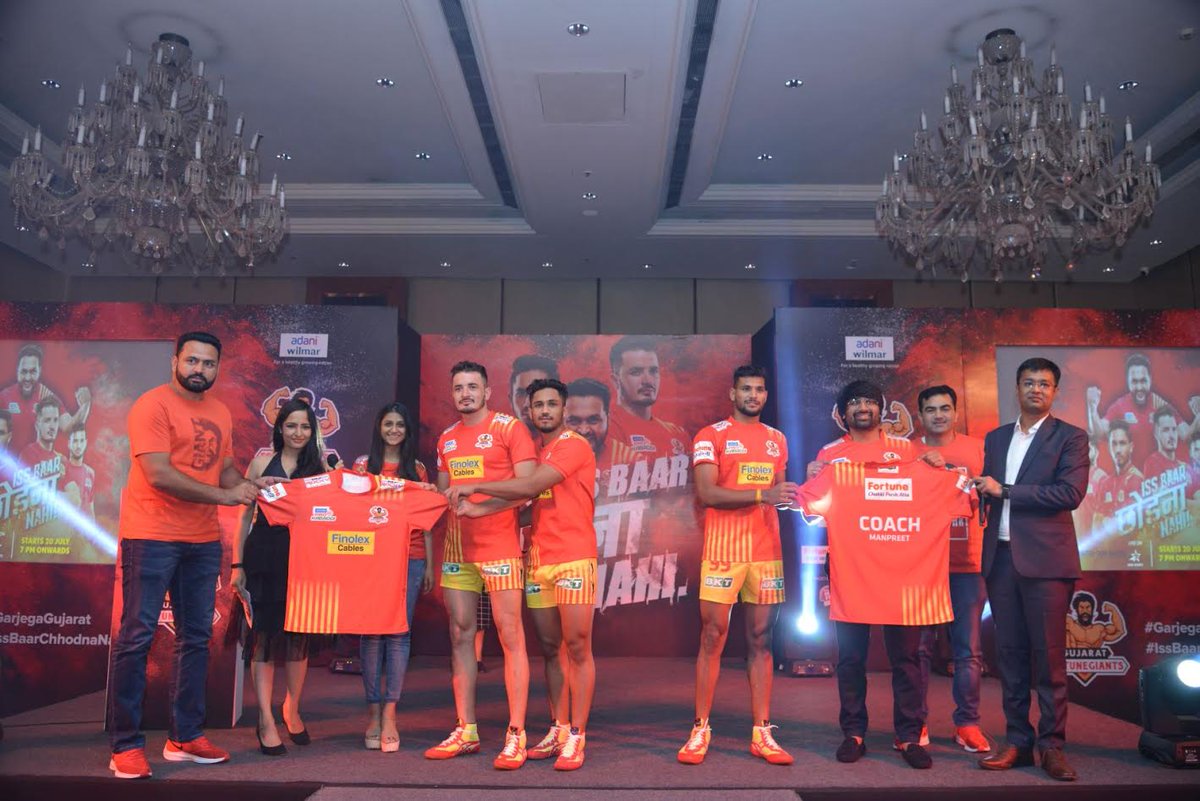 Ahmedabad: Youngest team of the Pro Kabaddi League (PKL) Gujarat Fortune Giants, which had reached the finals in both the seasons since its entry in to the PKL arena, said that it would adopt a different strategy to ensure that it won the title this time around.
On the occasion of the official jersey launch of the team here in presence of players and both the coaches Manpreet Singh and Neer Gulia, CEO of the team Sanjay Adesara, here said that the team has again put its bet on the young talents like the last two times. But the strategy would be somewhat different. The attack has also been strengthened along with defence. Special focus has been given to avoid injuries.
He said that as kabaddi was a physical contact game, chances of injury remained high. The team that managed it well did well. We have also developed a system of taking quick strategic decisions during the game. Our team has participated in rigorous training in SAI, Gandhinagar for the past three months. This time the team's new campaign was 'Iss Baar Chhodna Nahi' and we have planned accordingly. We have every hope that season 7 title would be ours.
To a query he said that efforts were on to find and nurture young Kabaddi players in Gujarat who in the future could be seen not only in our team but all the 12 teams of the PKL. A Kabaddi Academy would also soon be set up in Ahmedabad.
It's worth noting that there's not a single player from Gujarat in Gujarat Fortune Giants team.
Highlights of briefing and interaction:
– Analytic software was used in previous two seasons to build strategy. Such software was also used in selection of team members in auctions.
– The team has Gujarat in its title, but there's not a single Gujarati player. Media persons were told in reply to query that there was none from Gujarat offered in auction itself.
– The media persons were also told that most of the players across teams are from four-five states.
– Making the stars rather than buying established stars has been policy of team.
– Iss baar chhodenge nahi is team's slogan in upcoming Pro Kabaddi League season.
– Average age of Fortune Giants squad is 20 year against 25 in other teams.
– While only 7 players play in the field, the squad is 18-strong. Due to scope of injuries, players are often replaced.
– Fortune Giants squad has players from Iran and Bangladesh too. Kabaddi is national game of Bangladesh.
– The team banks big on its star players Sachin, Sunil, Rohit and Parvez.
– In point table, Gujarat Fortune Giants team was number one in previous two seasons.
– Team members are bring trained at Sports Authority of India facility in Gandhinagar, Gujarat for daily 9-hours.
– Each player is allotted a task as per the overall team strategy during the game.
DeshGujarat