Alpesh Thakor, Dhavalsinh Zala join BJP
July 18, 2019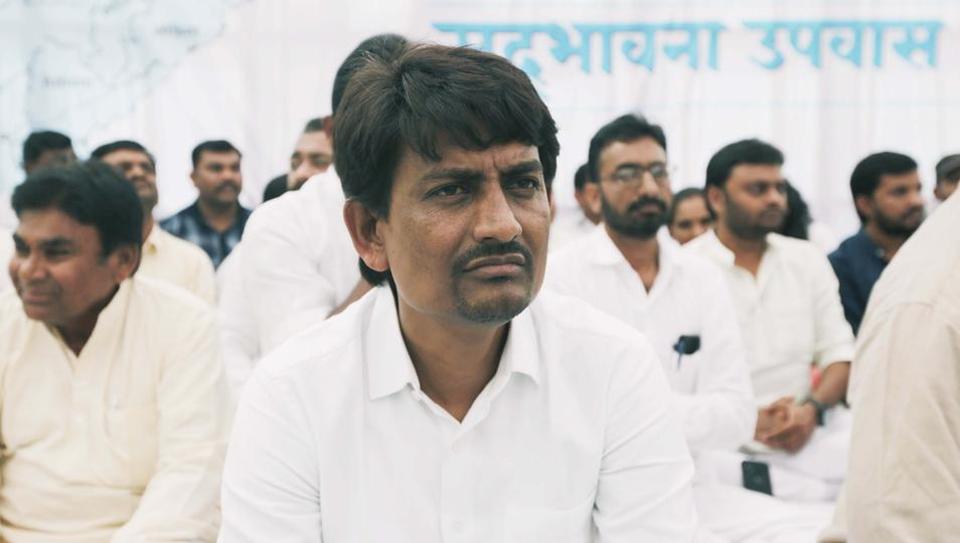 Gandhinagar: Alpesh Thakor and his aide Dhavalsinh Zala today joined BJP at State BJP headquarters 'Kamalam' here. Alpesh and his aide Zala both had resigned from Congress party earlier this month. They had also resigned from State assembly.
Alpesh said, he is taking this decision for people's good and development of poor and rural people. He said he is going to join nationalist ideology and will take all people along.
Alpesh and Dhavalsinh joined BJP in presence of State BJP chief Jitu Vaghani and other BJP leaders. Large number of supporters of Alpesh joined the occasion and the atmosphere outside Kamalam was jubilant. Chief Minister Rupani is in Delhi to attend Niti Aayog meeting.
Alpesh described BJP as disciplined, cadre-based and ideological party. Alpesh said, 'I have entered a Gurukul of vidwan people from a school that had weak teachers : Alpesh Thakor on joining BJP'.
He said, 'Speculations are over today. He said Congress's ideology was not pro poor, backward and common people. Congress is affected by groupsim which is well known. I am witnessed to discussions on how to fail central government's developmental programmes such as Sagarmala. Basic dharma of politics is to be pro-people, for the people but Congress was gripped by selfishness and individual obsession. I want to work for poor, common people. I want to do something for their development, for their jobs.
Alpesh also announced a maha sammelan in near future.
Alpesh revealed that a national leader of Congress party had asked to do even more intense agitation against Bharat Mala project of Government for political benefits to Congress party in tribal belt of the State.
Alpesh said that he had come to the BJP fold due to the able and nationalist leadership of PM Narenada Modi and Amit shah and other leaders in whom he can repose faith. He said that he left Congress because it was faction ridden and was unable to win faith of even the new entrants. It has forgotten its 'mool dharma' and ideology.
To a query he said that his outfit Thakor Sena was a social organization and it would continue to exist even after his joining BJP. BJP governments have also helped the outfit. A maha sammelan of the outfit would be held and various decisions about its future course would be taken. He also said that his campaign against liquor consumption also needed social involvement. Vijay Rupani government had made strict law against illegal liquor business.
He also said that he would contest by-election from Radhanpur assembly seat only if the BJP leadership/parliamentary board decides so. 'I will abide by all the decisions of the party leadership. I won't even complain even if the party does not field me as a candidate,' he added.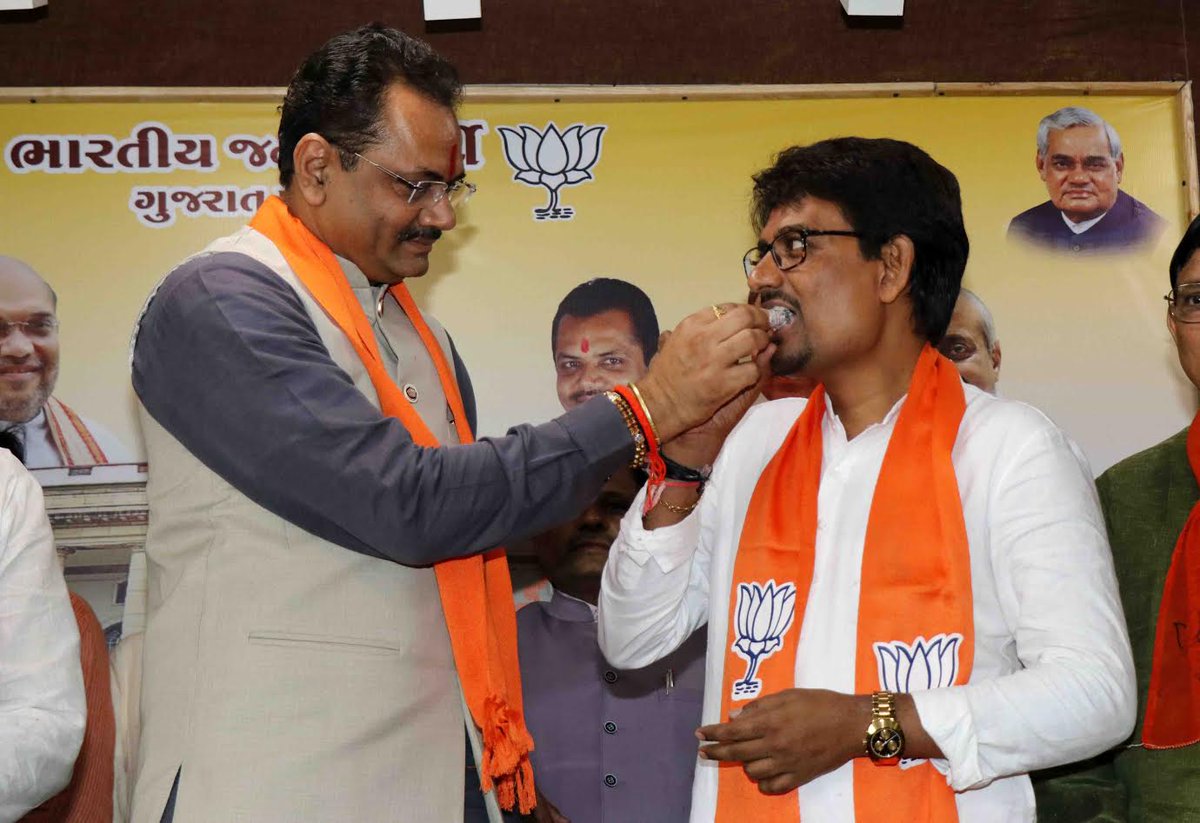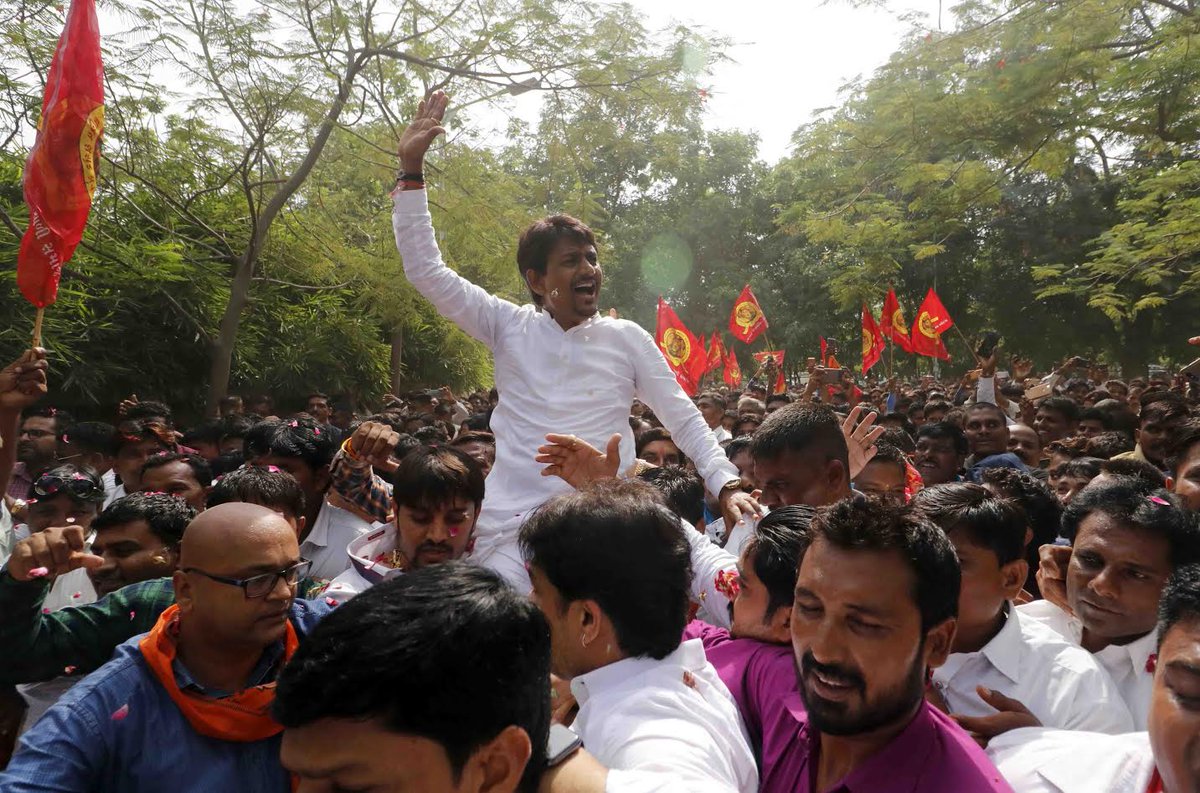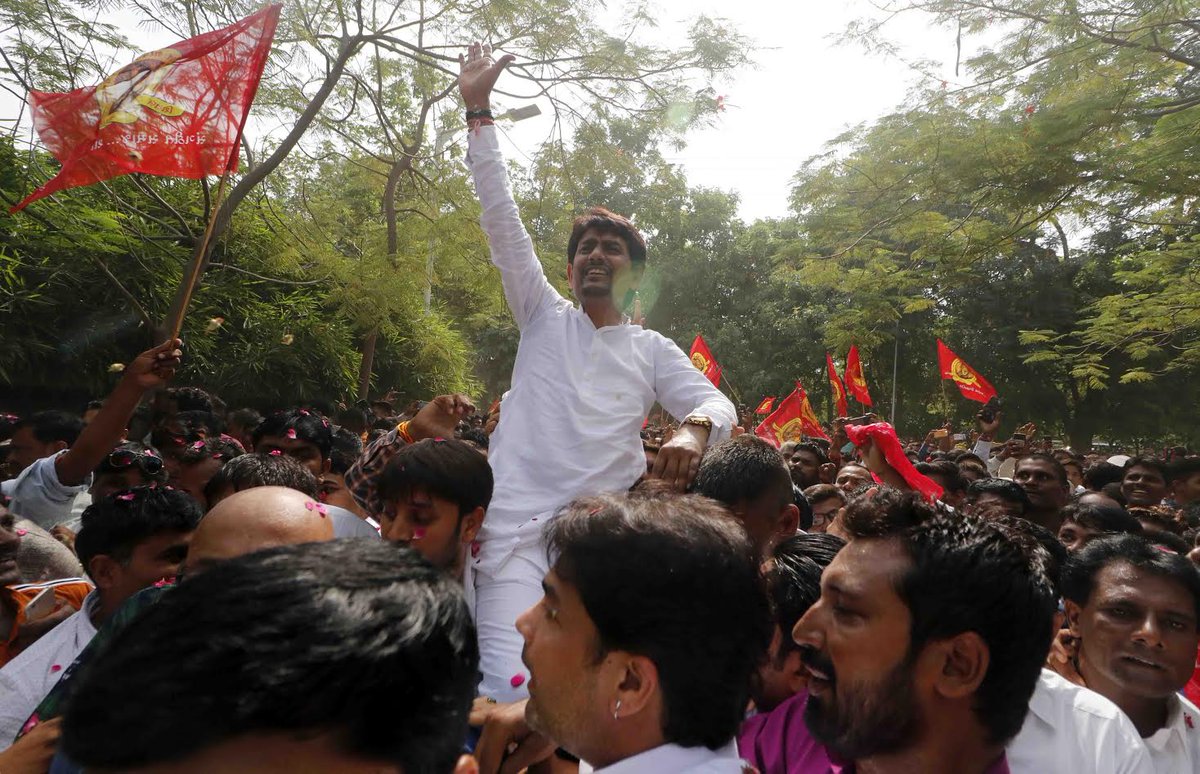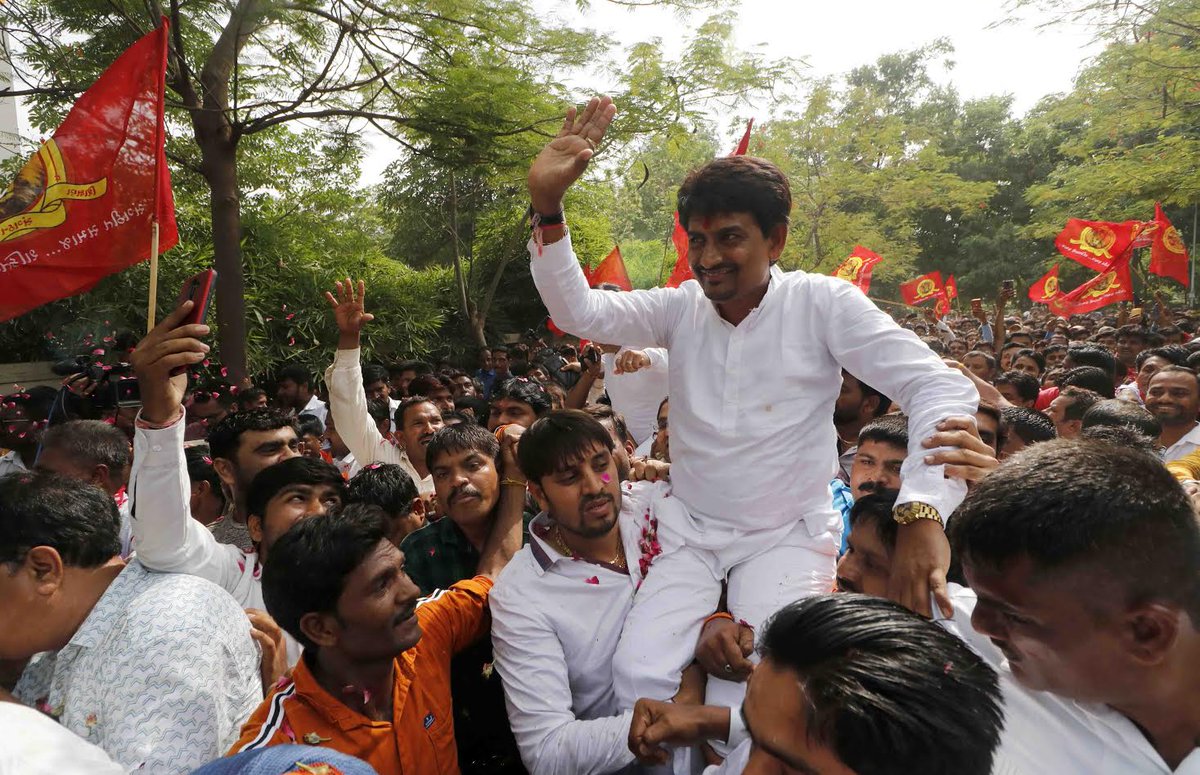 Vaghani on the occasion said that he welcomed both the leaders who have joined the party with the intention of service to Thakor and OBC community. They have left all the posts and membership of Congress to join the BJP. He said that their capabilities would be utilised for betterment of the OBC community. PM Modi also belonged to the same OBC community. To a query about whether Thakor would get a ministerial berth as per speculations, BJP president did not gave a clear answer he said that Thakor had joined the party as an activist.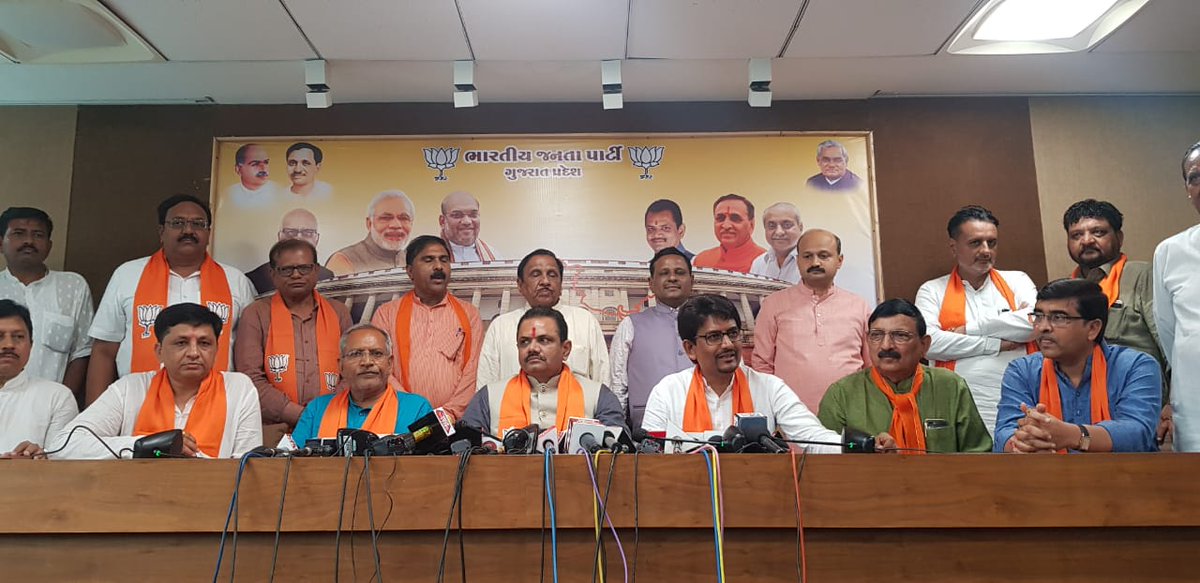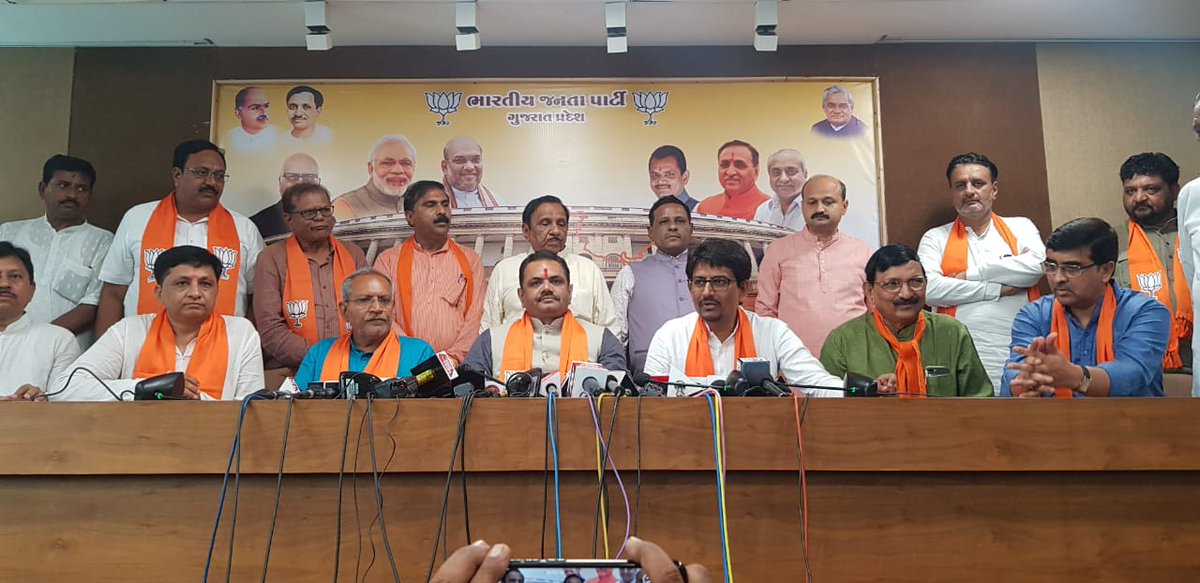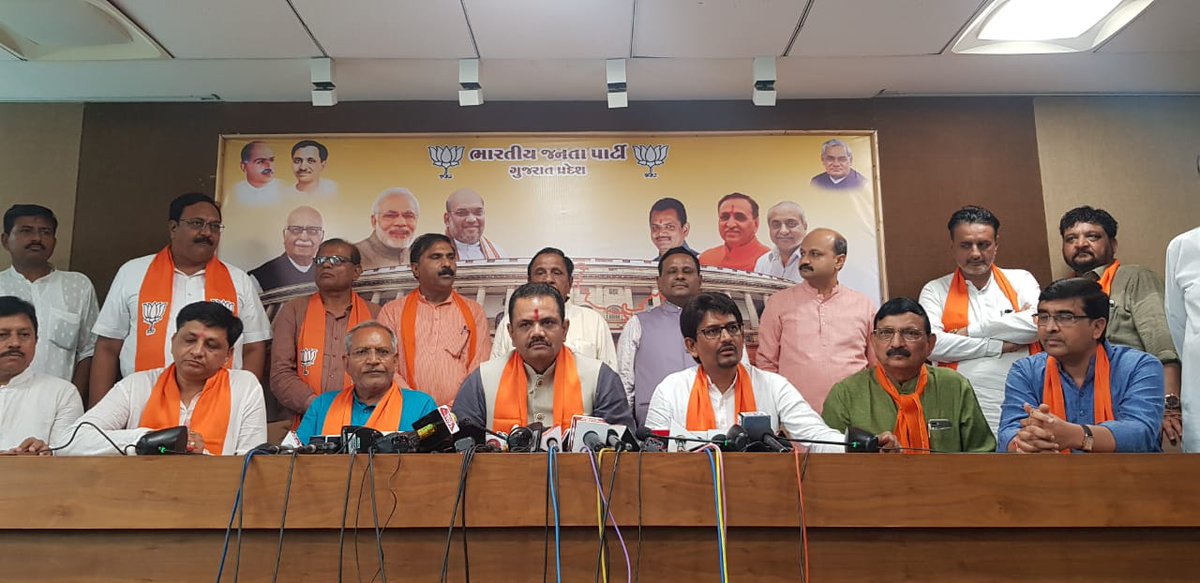 Alpesh when resigned from all posts of Congress party, was national secretary of party.
Alpesh came in to lime light during Hardik Patel led Patidar quota agitation in 2015 when he organized a rally against Patidar agitation in order to save existing quota of Other Backward Class. He then floated SC/ST Kshatriya Ekta Vikas Manch and Thakor Sena outfits. Due to his big demands and too much bargaining, Alpesh couldn't join BJP and choose Congress. Congress party had allotted several assembly tickets to Alpesh's aides in Thakor community dominated areas, of them three – Alpesh Thakor (Radhanpur), Dhavalsinh Zala (Bayad) and Bharatsinh Thakor (Bechraji) could won. Against Alpesh's expectation BJP was elected to power in 2017 general elections. Independent in nature, Alpesh was not comfortable with State Congress leadership which he thought was not superior to him. His meetings with Chief Minister Rupani were frequent. A violent agitation against non-Gujaratis by Thakor Sena gave Alpesh bad name nationally and made Congress feeling embarrassed. It is believed that this episode delayed Alpesh's entry to BJP. However he didn't leave any stone unturned in helping BJP during Lok Sabha general elections 2019. He left all posts of Congress party ahead of LS election and actively campaigned for candidates supported by Thakor Sena. Thus in at least three to five assembly segments, Congress lost its organizational structure and cadres ahead of crucial Lok Sabha election in North Gujarat. While Congress was pleading for his disqualification, the Speaker put the matter on hold. When matter reached court, Alpesh claimed, he had resigned only from Congress party's posts but was continuing to be party's primary member and therefore he couldn't attract disqualification. After cross voting in Rajya Sabha bypolls in favor of BJP candidates, Alpesh and Dhavalsinh tendered resignation.
Alpesh and Dhavalsinh are poised to contest by-polls in Radhanpur and Bayad – their respective seats. By-polls could take place anytime in next two to four months. If Alpesh is successful to influence Thakor community voters in larger areas, he could be helpful to BJP to many constituencies such as Tharad, an assembly seat which is going to witness by-poll.
DeshGujarat